Abstract
It is important to investigate the monthly level of trace metals in freshwater systems to assess environmental health. This information can be used to support effective management and control of natural areas in regard to the introduction and bioavailability of chemicals in the aquatic environment. We aimed to determine monthly changes in the levels of aluminum (Al), arsenic (As), cadmium (Cd), chromium (Cr), copper (Cu), iron (Fe), lead (Pb), mercury (Hg), zinc (Zn), nickel (Ni), and selenium (Se) in water, sediment, and fish samples from Lake Mogan. Five different stations were established in Lake Mogan. Water and sediment samples as well as muscle, liver, kidney, gill, and brain tissues from fish were obtained from these stations every month for 1 year. All analyses were conducted with ICP-OES. In descending order of intensity, the metals identified in the water samples were Fe, Cu, Cr, Zn, Pb, Ni, As, Se, and Hg; those identified in the sediment samples were Fe, Zn, Cu, Ni, Se, Pb, Cr, As, Al, Cd, and Hg; and those identified in fish tissues were Se, Fe, Zn, Cr, Al, Pb, Cu, Ni, As, Hg, and Cd. The most polluted station was located where waste from restaurants and tea gardens were dumped. The level of waste, and thus the level of pollution, was especially high in August. It is concluded that the metals that accumulate in water, sediment, and fish in Lake Mogan originate from anthropogenic activities.
This is a preview of subscription content, log in to check access.
Access options
Buy single article
Instant unlimited access to the full article PDF.
US$ 39.95
Price includes VAT for USA
Subscribe to journal
Immediate online access to all issues from 2019. Subscription will auto renew annually.
US$ 954
This is the net price. Taxes to be calculated in checkout.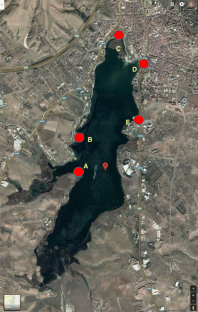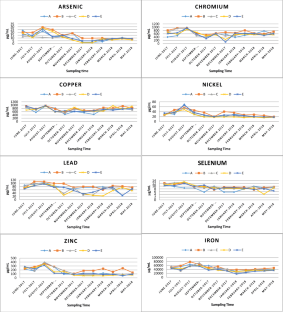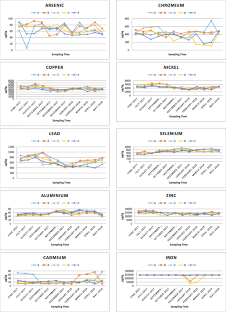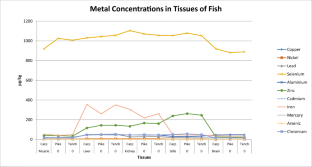 References
1.

Javed M, Usmani N (2019) An overview of the adverse effects of heavy metal contamination on fish health. Proc Natl Acad Sci India Sect B Biol Sci 89(2):389–403. https://doi.org/10.1007/s40011-017-0875-7

2.

Singh SP, Pathak D, Singh R (2002) Hydrobiological studies of two ponds of Satna (M.P.), India. EM International 8(3):289–292

3.

Filazi A, Baskaya R, Kum C, Hismiogullari SE (2003) Metal concentrations in tissues of the Black Sea fish Mugil auratus from Sinop-Icliman, Turkey. Hum Exp Toxicol 22(2):85–87. https://doi.org/10.1191/0960327103ht323oa

4.

Filazi A, Yurdakok-Dikmen B, Kuzukiran O (2016) Fish toxicology. Turkiye Klinikleri J Vet Sci Pharmacol Toxicol-Special Topics 2(1):69–84

5.

Benzer S, Arslan H, Uzel N, Gül A, Yilmaz M (2013) Concentrations of metals in water, sediment and tissues of Cyprinus carpio L., 1758 from Mogan Lake (Turkey). Iran J Fish Sci 12(1):45–55

6.

Atici T, Obali O, Altindag A, Ahiska S, Aydin D (2010) The accumulation of heavy metals (cd, Pb, hg, Cr) and their state in phytoplanktonic algae and zooplanktonic organisms in Beysehir Lake and Mogan Lake, Turkey. Afr J Biotechnol 9(4):475–487

7.

Jinadasa BKKK (2013) A study of trace metals levels in selected fisheries harbours in south and west coast of Sri Lanka. J Natl Aquat Resour Agency (Sri Lanka) 42:1–14

8.

Ranasinghe P, Weerasinghe W, Kaumal MN (2016) Determination of heavy metals in tilapia using various digestion methods. Int J Sci Res Innov Std 3(6):38–48

9.

Osredkar J, Sustar N (2011) Copper and zinc, biological role and significance of copper/zinc imbalance. J Clinic Toxicol S3:001. https://doi.org/10.4172/2161-0495.S3-001

10.

Das KK, Das SN, Dhundasi SA (2008) Nickel, its adverse health effects and oxidative stress. Indian J Med Res 128:412–425

11.

Barlas N, Akbulut N, Aydoğan M (2005) Assessment of heavy metal residues in the sediment and water samples of Uluabat Lake, Turkey. Bull Environ Contam Toxicol 74(2):286–293. https://doi.org/10.1007/s00128-004-0582-y

12.

Pulatsü S, Topçu A (2015) Review of 15 years of research on sediment heavy metal contents and sediment nutrient release in inland aquatic ecosystems, Turkey. J Water Resource Prot 7:85–100. https://doi.org/10.4236/jwarp.2015.72007

13.

Caglar M, Canpolat O, Selamoglu Z (2019) Determination of some heavy metal levels in three freshwater fish in Keban dam Lake (Turkey) for public consumption. Iran J Fish Sci 18(1):188–198

14.

Erdoğan K, Kandemir S, Doğru MI, Doğru A, Şimşek I, Yılmaz S, Örün G, Altaş L, Yazıcıoğlu O, Korkmaz N, Örün I (2019) The effects of seasonal heavy-metal pollution of Ladik Lake on pike fish (Esox lucius). Biol Rhythm Res. https://doi.org/10.1080/09291016.2019.1607215

15.

Jabeen G, Manzoor F, Javid A, Azmat H, Arshad M, Fatima S (2018) Evaluation of fish health status and histopathology in gills and liver due to metal contaminated sediments exposure. Bull Environ Contam Toxicol 100(4):492–501. https://doi.org/10.1007/s00128-018-2295-7

16.

Jithesh M, Radhakrishnan MV (2017) Seasonal variation in accumulation of metals in selected tissues of the ribbon fish, Trichiurus lepturus collected from Chaliyar River, Kerala, India. J Entomol Zool Stud 5(1):51–56

17.

Karadede-Akin H (2009) Seasonal variations of heavy metals in water, sediments, pondweed (P. pectinatus L.) and Freshwaterfish (C. c. Umbla) of Lake Hazar. Elazığ-Turkey. Fresenius Environ Bull 18(4):511–518

18.

Kurun A, Balkis N, Erkan M, Balkis H, Aksu A, Erşan MS (2010) Total metal levels in crayfish Astacus Leptodactylus (Eschscholtz, 1823), and surface sediments in Lake Terkos, Turkey. Environ Monitor Assess 169(1–4):385–395. https://doi.org/10.1007/s10661-009-1181-5

19.

Mendil D, Uluözlü DÖ (2007) Determination of trace metal levels in sediment and five fish species from lakes in Tokat, Turkey. Food Chem 101(2):739–745. https://doi.org/10.1016/j.foodchem.2006.01.050

20.

Mico C, Peris M, Sanchez J, Recatala L (2006) Heavy metal content of agricultural soils in a Mediterranean semiarid area: the Segura River valley (Alicante, Spain). Span J Agric Res 4(4):363–372. https://doi.org/10.5424/sjar/2006044-213

21.

Anon (2017). Gölbaşı. Available in http://tvk.csb.gov.tr/golbasi-i-394.,

22.

Dixit S, Tiwari S (2008) Impact assessment of heavy metal pollution of Shahpura Lake, Bhopal, India. Int J Environ Res 2(1):37–42

23.

APHA (2005) American public health association, standard methods for the examination of waste and wastewater, 21 th. Ed., Washington DC. 20005, Washington, p.1134

24.

Gül A, Benzer S, Saylar Ö, Gül G, Yilmaz M (2017) Fish fauna in Mogan Lake. J BAUN Inst Sci Technol 19(1):91–103. https://doi.org/10.25092/baunfbed.321040

25.

Oros A (2007) Heavy metals in water and sediments of Tasaul Lake (2005-2006). Cercet Mar 37:66–74

26.

Abbruzzini TF, Andrade DA, Carneiro WJo, Silva CA (2014) Influence of digestion methods on the recovery of iron, zinc, nickel, chromium, cadmium and lead contents in 11 organic residues. Rev Bras Ciênc Solo 38(1): 166–176. https://doi.org/10.1590/S0100-06832014000100016

27.

USEPA (1998). "method 6020A (SW-846): inductively coupled plasma-mass spectrometry," revision 1. Available in https://19january2017snapshot.epa.gov/homeland-security-research/epa-method-6020a-sw-846-inductively-coupled-plasma-mass-spectrometry_.html.,

28.

Olgun E, Kocaemre TS (2011) Mogan Gölü Su Kalitesinin İncelenmesi (in Turkish). Tabiat ve İnsan 3(3):10–22

29.

Karakoc G, Unlu-Erkoc F, Katircioglu H (2003) Water quality and impacts of pollution sources for Eymir and Mogan Lakes (Turkey). Environ Int 29(1): 21–27. https://doi.org/10.1016/S0160-4120(02)00128-9

30.

Davraz A, Varol S, Sener E, Sener S, Aksever F, Kırkan B, Tokgözlü A (2019) Assessment of water quality and hydrogeochemical processes of Salda alkaline lake (Burdur, Turkey). Environ Monitor Assess 191(11):701–718. https://doi.org/10.1007/s10661-019-7889-y

31.

Gorgij AD, Wu J, Moghadam AA (2019) Groundwater quality ranking using the improved entropy TOPSIS method: a case study in Azarshahr plain aquifer, East Azerbaijan, Iran. Hum Ecol Risk Assessment 25(1–2):176–190. https://doi.org/10.1080/10807039.2018.1564235

32.

Kumar M, Gupta N, Ratn A, Awasthi Y, Prasad R, Trivedi A, Trivedi SP (2019) Biomonitoring of heavy metals in river ganga water, sediments, plant, and fishes of different trophic levels. Biol Trace Elem Res:1–12. https://doi.org/10.1007/s12011-019-01736-0

33.

SWQR. (2015) Surface water quality regulation. Official Gazette of Turkey Republic, Date: 15 April 2015 No: 29327. (in Turkish)

34.

USEPA (2015) Surface water quality standards, chapter 62–302, Office of Water US environmental protection. Agency, Washington. Available in. https://www.epa.gov/sites/production/files/2014-12/documents/fl_section62-302.pdf,

35.

Yavuz H, Filazi A (1995) Ankara Mogan Gölünden sağlanan su, çökelti ve balık örneklerinde ağır metal düzeyleri (in Turkish). Vet Hekim Der Derg 66:1–7

36.

Kritzberg ES, Ekström SM (2012) Increasing iron concentrations in surface waters—a factor behind brownification? Biogeosciences 9:1465–1478. https://doi.org/10.5194/bg-9-1465-2012

37.

Neal C, Lofts S, Evans CD, Reynolds B, Tipping E, Neal M (2008) Increasing iron concentrations in UK upland waters. Aquat Geochem 14(3):263–288. https://doi.org/10.1007/s10498-008-9036-1

38.

Sarkkola S, Nieminen M, Koivusalo H, Laurén A, Kortelainen P, Mattsson T, Palviainen M, Piirainen S, Starr M, Finér L (2013) Iron concentrations are increasing in surface waters from forested headwater catchments in eastern Finland. Sci Total Environ 463–464:683–689. https://doi.org/10.1016/j.scitotenv.2013.06.072

39.

Knorr KH (2013) DOC-dynamics in a small headwater catchment as driven by redox fluctuations and hydrological flow paths—are DOC exports mediated by iron reduction/oxidation cycles? Biogeosciences 10(2):891–904. https://doi.org/10.5194/bg-10-891-2013

40.

Ekström SM, Regnell O, Reader HE, Nilsson PA, Löfgren S, Kritzberg ES (2016) Increasing concentrations of iron in surface waters as a consequence of reducing conditions in the catchment area. J Geophys Res-Biogeo 121(2):479–493. https://doi.org/10.1002/2015JG003141

41.

Özmen H, Külahci F, Cukurovali A, Dogru M (2004) Concentrations of heavy metal and radio activity in surface water and sediment of Hazar Lake (Elazig, Turkey). Chemosphere 55(3):401–408. https://doi.org/10.1016/j.chemosphere.2003.11.003

42.

Avila-Pérez P, Balcázar M, Zarazúa-Ortega G, Barceló-Quintal I, Dı́az-Delgado C (1999) Heavy metal concentrations in water and bottom sediments of Mexican reservoir. Sci Total Environ 234(1–3): 185–196. https://doi.org/10.1016/S0048-9697(99)00258-2

43.

Talbot H, Chegwidden A (1983) Heavy metals in the sediment of Cockbun sound, Western Australia and its surrounding area. Environ Pollut B 5(3):187–205. https://doi.org/10.1016/0143-148X(83)90003-4

44.

Malik N, Biswas AK, Qureshi TA, Borana K, Virha R (2010) Bioaccumulation of heavy metals in fish tissues of a freshwater lake of Bhopal. Environ Monitor Assess 160(1–4):267–276. https://doi.org/10.1007/s10661-008-0693-8

45.

Jain CK, Sharma MK (2001) Distribution of trace metals in the Hindon River system, India. J Hydrol 253(1–4): 81–90. https://doi.org/10.1016/S0022-1694(01)00484-X

46.

Sarkar SK, Saha M, Takada H, Bhattacharya A, Mishra P, Bhattacharya B (2007) Water quality management in the lower stretch of the river ganga, east coast of India: an approach through environmental education. J Clean Prod 15(16):1559–1567. https://doi.org/10.1016/j.jclepro.2006.07.030

47.

Gaur VK, Gupta SK, Pandey SD, Gopal K, Misra V (2005) Distribution of heavy metals in sediment and water of river Gomti. Environ Monitor Assess 102:419–433

48.

Al-Ani T, Al-Ansari N, Dawood AH, Siergieiev D, Knutsson S (2014) Trace metals in water and sediments of the Tigris River, Baghdad City, Iraq. J Environ Hydrol 22:1–17

49.

Bagheri H, Alinejad S, Bastami KD (2011) Heavy metals (co, Cr, cd, Ni, Pb and Zn) in sediment of Gorganrud River, Iran. Res J Environ Toxicol 5:147–151. https://doi.org/. https://doi.org/10.3923/rjet.2011.147.151

50.

Usero J, Izquierdo C, Morillo J, Gracia I (2004) Heavy metals in fish (Solea vulgaris, Anguilla anguilla and Liza aurata) from salt marshes on the southern Atlantic coast of Spain. Environ Int 29(7):949–956. https://doi.org/10.1016/S0160-4120(03)00061-8

51.

El-Moselhy KM, Othman AI, El-Azem HA, El-Metwally MEA (2014) Bioaccumulation of heavy metals in some tissues of fish in the Red Sea, Egypt. Egypt J Basic Appl Sci 1(2):97–105. https://doi.org/10.1016/j.ejbas.2014.06.001

52.

Mathews TJ, Fortner AM, Jett RT, Morris J, Gable J, Peterson MJ, Carriker N (2014) Selenium bioaccumulation in fish exposed to coal ash at the Tennessee Valley authority Kingston spill site. Environ Toxicol Chem 33(10):2273–2279. https://doi.org/10.1002/etc.2673

53.

Xu Y, Wang WX (2002) Exposure and potential food chain transfer factor of cd, se and Zn in marine fish Lutjanus argentimaculatus. Mar Ecol Prog Ser 238:173–186. https://doi.org/10.3354/meps238173

54.

Stewart AR, Luoma SN, Schlekat CE, Doblin MA, Hieb KA (2004) Food web pathway determines how selenium affects aquatic ecosystems: a San Francisco Bay case study. Environ Sci Technol 38(17):4519– 4526. https://doi.org/10.1021/es0499647

55.

Kumar AR, Riyazuddin P (2011) Speciation of selenium in groundwater: seasonal variations and redox transformations. J Hazard Mater 192(1):263–269. https://doi.org/10.1016/j.jhazmat.2011.05.013

56.

Coetzee L, D U Preez HH, Van Vuren JHJ (2002) Metal concentrations in Clarias gariepinus and Labeo umbratus from the Olifants and Klein Olifants River, Mpumalanga, South Africa: zinc, copper, manganese, lead, chromium, nickel, aluminium and iron. Water SA 28(4): 433–448

57.

Canli M, Kalay M (1998) Levels of heavy metals (cd, Pb, cu, Cr and Ni) in tissue of Cyprinus carpio, Barbus capito and Chondrostoma regium from the Seyhan River, Turkey. Turk J Zool 22:149–157

58.

Demirak A, Yilmaz F, Al T, Ozdemir N (2006) Heavy metals in water, sediment and tissues of Leuciscus cephalus from a stream in southwestern Turkey. Chemosphere 63(9):1451–1458. https://doi.org/10.1016/j.chemosphere.2005.09.033

59.

Wong CK, Wong PPK, Chu LM (2001) Heavy metals concentrations in marine fishes collected from fish culture sites in Hong Kong. Arch Environ Contam Toxicol 40(1):60–69. https://doi.org/10.1007/s002440010148

60.

Sivaperumal P, Sankar TV, Nair Viswanathan PG (2007) Heavy metals concentrations in fish, shellfish and fish products from internal markets of India Vis-àvis international standards. Food Chem 102(3):612–620. https://doi.org/10.1016/j.foodchem.2006.05.041

61.

Yang R, Yao T, Xu B, Jiang G, Xi X (2007) Accumulation features of organochlorine pesticides and heavy metals in fish from high mountain lakes and Lhasa River in the Tibetan plateau. Environ Int 33(2):151–156. https://doi.org/10.1016/j.envint.2006.08.008

62.

Dallinger D, Kautzky H (1985) The importance of contaminated food for the uptake of heavy metals by rainbow trout (Salmo gairdneri): a field study. Oecologia (Berlin) 67:82–89

63.

Nsikak UB, Joseph PE, Akan BW, David EB (2007) Mercury accumulation in fishes from tropical aquatic ecosystems in the Niger Delta, Nigeria. Curr Sci 92(6):781–785

64.

Yilmaz AB (2005) Comparison of heavy metals of grey mullet (Mugil cephalus L.) and sea bream (Sparus aurata L.) caught in Iskenderun Bay (Turkey). Turk J Vet Anim Sci 29:257–262

65.

Bhattacharya T, Ray AK, Bhattacharya S (1985) Response of Channa punctatus (Bloch) under short and long term exposure to industrial pollutants: induction of histopathology in the kidney. Z Mikrosk Anat Forsch 99(2):327–334
Ethics declarations
Conflict of Interest
The authors declare that they have no conflict of interest.
Additional information
Publisher's Note
Springer Nature remains neutral with regard to jurisdictional claims in published maps and institutional affiliations.
*This study was summarized from same named PhD thesis by Asli Gul Kucukosmanoglu, Graduate School of Health Sciences, Ankara University.
Electronic supplementary material
About this article
Cite this article
Kucukosmanoglu, A.G., Filazi, A. Investigation of the Metal Pollution Sources in Lake Mogan, Ankara, Turkey *. Biol Trace Elem Res (2020). https://doi.org/10.1007/s12011-020-02031-z
Received:

Accepted:

Published:
Keywords
Fish

Metal

Monthly change

Sediment

Water

ICP-OES