Parvalbumin and Ubiquitin as Potential Biomarkers of Mercury Contamination of Amazonian Brazilian Fish
Abstract
Recent studies have demonstrated the association of mercury (Hg) with some fish proteins, milk, and hair from individuals exposed to the element in the Amazon. However, few studies involve identifying biomarkers of mercury exposure. Therefore, the present study aimed to identify potential biomarkers of Hg exposure in fish. For this, the muscular tissues of two species of fish (Prochilodus lineatus and Mylossoma duriventre) that feed the Amazonian human population were analyzed. Through the analyses obtained by graphite furnace atomic absorption spectrometry (GFAAS), it was possible to identify four protein SPOTS where mercury was present. These SPOTS, identified by mass spectrometry (ESI-MS/MS), included parvalbumin and ubiquitin-40S ribosomal protein S27a, and these being metalloproteins with biomarker characteristics. In addition, the results show the intense Hg/protein ratio observed in the two proteins, which makes metalloproteins strong candidates for biomarkers of mercury exposure.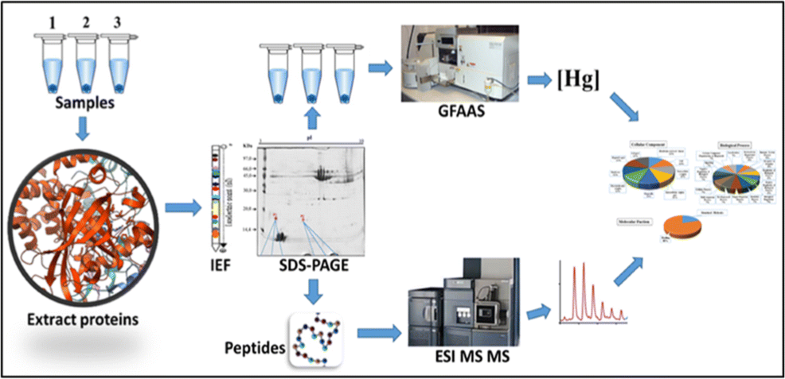 Keywords
Mercury in the Amazon 
Biomarkers 
Fish 
Mercury-bound proteins 
Metalloproteins 
Proteomics 
Notes
Funding Information
The authors thank the Brazilian Research Funding Agencies (FAPESP) (processes 2013/21297-1 and 2014/02668-1), the Coordination of Improvement of Higher Level Personnel (Capes), and the National Electric Energy Agency (ANEEL).
Compliance with Ethical Standards
All the work involved with animal experimentation developed in this paper was approved by the Ethics Committee on the Use of Animals (CEUA) of the Faculty of Veterinary Medicine and Zootechnics (FMVZ) of the São Paulo State University (UNESP), School of Veterinary Medicine and Animal Science, Botucatu, Brazil under the number of protocol 110/2015.
Conflict of Interest
The authors declare that they have no conflict of interest.
Copyright information
© Springer Science+Business Media, LLC, part of Springer Nature 2020