Modulation of Superoxide Dismutase Activity by Mercury, Lead, and Arsenic
Abstract
Arsenic, mercury and lead are the environmental toxicants which exert their toxic effects through binding with certain proteins including their structures and functions. The toxicity of these heavy metal results is associated to its interaction with the metalloenzymes. They replace the essential metals required for normal biochemical functions of enzymes. The superoxide dismutase (SOD), a metalloenzyme, requires certain cofactors such as Cu2+ and Zn2+ for their optimal activity. However, the studies on the in vitro kinetic characterization of SOD from the rat liver cytosolic fraction have not been reported. The main objective of this study concerns the determination of the effect of three heavy metals such as arsenic, mercury, and lead on the activity of cytosolic SOD isolated from post nuclear supernatant (PNS) of rat liver. The activity of SOD was calculated using pyrogallol as a substrate. The stability and the sensitivity of enzyme activity were measured by assaying the enzyme activity at different temperature conditions. In order to determine the IC50 of the heavy metals, the enzyme activity was monitored in the presence of different concentrations of heavy metals. The values of all kinetic parameters including Km, Vmax, and Kcat were calculated by assaying SOD in the presence and absence of heavy metals. The results indicated that these heavy metals were able to significantly modulate the kinetic behavior of hepatic SOD. The data from present study could be utilized to develop suitable antidotes to mitigate the adverse effects of these heavy metals.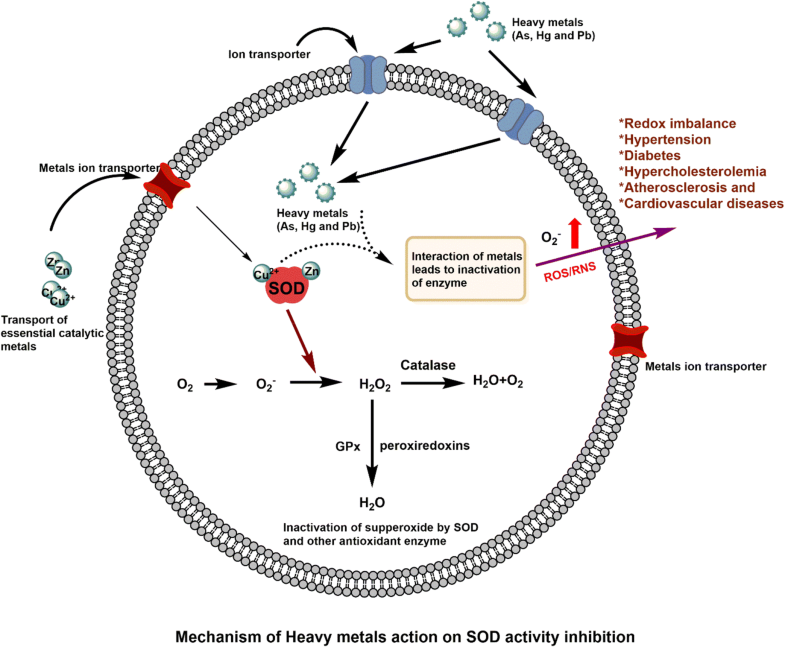 Keywords
Lead 
Arsenic 
Mercury 
Superoxide dismutase 
Hepatotoxicity 
Notes
Acknowledgments
AK and Khushboo are grateful to University Grants Commission-New Delhi for providing financial support in the form of research fellowships. RP acknowledges UGC-New Delhi for providing financial support. The authors acknowledge DST-FIST, New Delhi, and UGC-SAP, New Delhi for providing grants to generate research facilities at the Department of Biochemistry of University of Allahabad, India.
Compliance with Ethical Standards
Conflict of Interest
The authors declare that they have no conflict of interest.
Copyright information
© Springer Science+Business Media, LLC, part of Springer Nature 2020