In Vitro Cytotoxicity Studies on Human Thyroid Gland Undifferentiated Carcinoma Cells Using the Nickel Complex of (Z)-3-Bromo-5-((p-tolylimino)methyl)phenol
Abstract
Metal complexes for medical applications are the promising area of research and metallo-drugs have been developed and evaluated to enhance the efficiency of drugs and minimize their side effects. This study describes the synthesis of a Schiff base ligand (Z)-3-bromo-5-((p-tolylimino)methyl)phenol from the reaction of 5-bromosalicilaldehyde and p-toluidine, and its subsequent complexation with nickel. Characterization and cell viability studies were performed for both Schiff base ligand and its metal complex with 1H-NMR, FTIR, TG analysis, and UV–VIS spectrometry. With the aim of proving the Ni complex formation, quantitative analysis was done with flame atomic absorption spectrometry. The recovery result obtained for the formed complex was 103.9%. The cell viability of human thyroid gland undifferentiated carcinoma cells (8305C) treated with the Ni-ligand complex was determined as 12.7 ± 0.17%. It was observed that the nickel complex could be a significant anticancer agent as tested by the MTT assay method.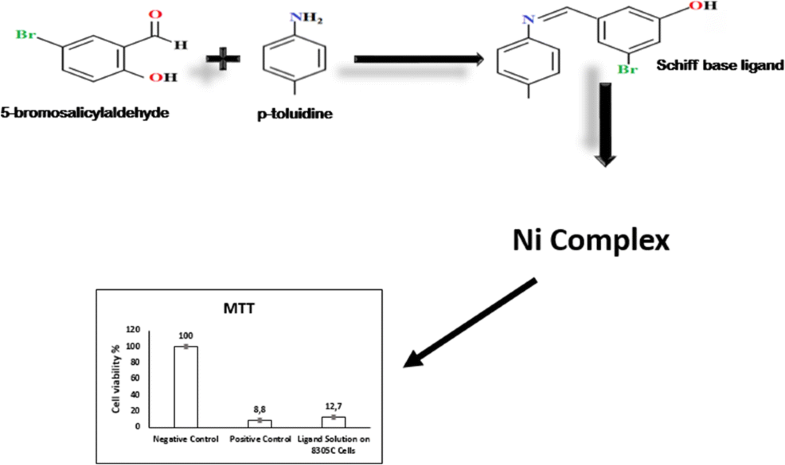 Keywords
FAAS 
1H-NMR 
IR 
MTT assay 
Nickel 
Schiff base 
Notes
Compliance with Ethical Standards
Conflict of Interest
The author declares that she has no conflict of interest.
Copyright information
© Springer Science+Business Media, LLC, part of Springer Nature 2019