Gentamicin-Assisted Mycogenic Selenium Nanoparticles Synthesized Under Gamma Irradiation for Robust Reluctance of Resistant Urinary Tract Infection-Causing Pathogens
Abstract
The purpose of this research is to compare and enhance the antimicrobial and antibiofilm potentials of the biogenic selenium nanoparticles (Se NPs) produced by cost-effective and eco-friendly green methods. The synthesis of Se NPs is described in this manuscript by two different methods: a biogenic process using Penicillium chrysogenum filtrate and by utilizing gentamicin drug (CN) following the application of gamma irradiation. Se NPs were characterized by UV-Vis., HRTM, FTIR, XRD, DLS, SEM, and EDX mapping technique. Antimicrobial and antibiofilm activities of the synthesized Se NPs were investigated against multidrug-resistant (MDR) bacteria and yeast causing severe diseases such as urinary tract infection (UTI). The biogenic Se NPs exhibited an absorption peak at 435.0 nm while Se NPs-CN showed an absorption peak at 350.0 nm which is related to the surface plasmon resonance (SPR). Data obtained from HRTEM, SEM/mapping, and XRD analysis confirmed the mono-dispersion and crystalline nature of the prepared samples with an average diameter of 33.84 nm and 22.37 nm for the mycogenic Se NPs and Se NPs-CN, respectively. The synthesized Se NPs-CN possesses an encouraging antimicrobial potential with respect to the biogenic Se NPs against all examined UTI-causing microbes. Remarkably, Se NPs-CN showed antimicrobial potential toward Candida albicans with a zone of Inhibition (ZOI) recorded at 26.0 mm, 23.0 mm ZOI for Escherichia coli and 20.0 mm ZOI against Staphylococcus aureus. In addition, the incorporated Se NPs-CN displayed an enhanced percentage of biofilm inhibition of 88.67%, 87.93%, and 85.20% against S. aureus, P. aeruginosa, and E. coli, respectively. Accordingly, the novelty of the present research involves the green synthesis of mono-dispersed Se NPs and combining the synergistic potential of CN with Se NPs for potential biomedical, pharmaceutical, and therapeutic applications especially in the treatment of UTI.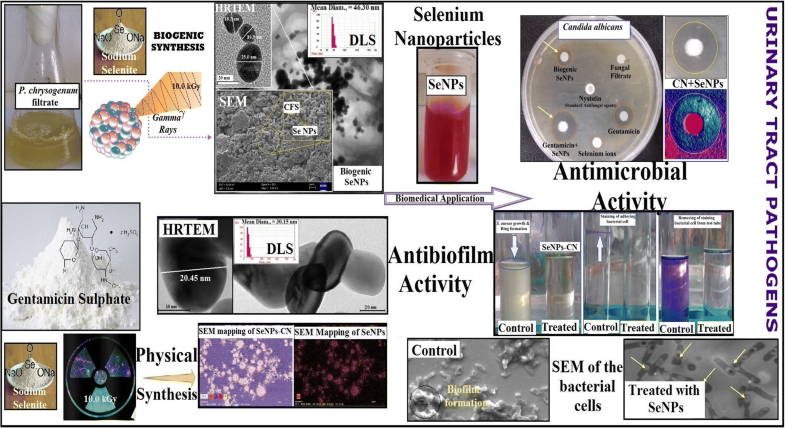 Keywords
Selenium nanoparticles 
Gentamicin 
Gamma irradiation 
E. coli
Penicillium chrysogenum
Urinary tract pathogens 
Notes
Acknowledgments
The authors acknowledge the P.I. of Nanotechnology Research Unit (Prof. Dr. Ahmed I. El-Batal) for financing and supporting this study under the project "Nutraceuticals and Functional Foods Production by Using Nano/Biotechnological and Irradiation Processes." Also, the authors would like to thank Dr. Muhammed I. Abdel Maksoud (Lecturer at NCRRT) and Zeiss microscope team at Cairo, Egypt, for their invaluable support of this study.
Compliance with Ethical Standards
Conflict of Interest
The authors declare that they have no conflict of interest.
Ethical Statement
This study does not contain any deal with humans or animals.
Copyright information
© Springer Science+Business Media, LLC, part of Springer Nature 2019