Abstract
Cadmium (Cd) is the most common heavy metal and is easily detected in aquatic environments on a global scale. Vitamin C was a widely used vitamin in aquaculture. The aim of this study was to explore the potential of vitamin C in ameliorating Cd-induced toxicity in grass carp kidney (CIK) cells. Cell viability, oxidative response, metallothionein (MT), and immune-related gene expression was analyzed in the present study. The results show that cell viability was significantly reduced following Cd exposure, but the vitamin C supplementation attenuated the increased in cell viability. In addition, vitamin C supplementation can increase the antioxidation response and MT and immune-related gene expression. These results indicate that vitamin C has the potential to alleviate the effects of Cd toxicity in CIK cells.
This is a preview of subscription content, log in to check access.
Access options
Buy single article
Instant access to the full article PDF.
US$ 39.95
Price includes VAT for USA
Subscribe to journal
Immediate online access to all issues from 2019. Subscription will auto renew annually.
US$ 954
This is the net price. Taxes to be calculated in checkout.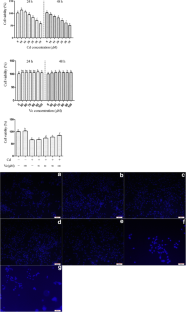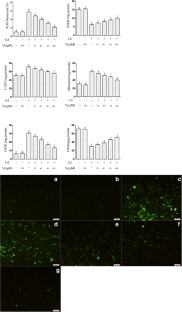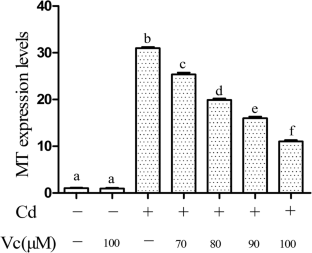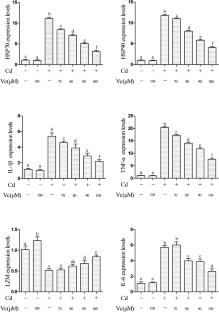 References
1.

Asagba SO, Eriyamremu GE, Igberaese ME (2008) Bioaccumulation of cadmium and its biochemical effect on selected tissues of the catfish ( Clarias gariepinus ). Fish Physiol Biochem 34(1):61–69

2.

Adeyeye EI, Akinyugha NJ, Fesobi ME, Tenabe VO (1996) Determination of some metals in Clarias gariepinus (Cuvier and Vallenciennes), Cyprinus carpio (L.) and Oreochromis niloticus (L.) fishes in a polyculture fresh water pond and their environments. Aquaculture 147(3–4):205–214

3.

Kraemer LD, Campbell PG, Hare L (2005) Dynamics of Cd, Cu and Zn accumulation in organs and sub-cellular fractions in field transplanted juvenile yellow perch (Perca flavescens). Environ Pollut 138(2):324–337

4.

Monteiro C, Santos C, Pinho S, Oliveira H, Pedrosa T, Dias MC (2012) Cadmium-induced cyto- and genotoxicity are organ-dependent in lettuce. Chem Res Toxicol 25(7):1423–1434

5.

Tang W, Shan B, Hong Z, Mao Z (2010) Heavy metal sources and associated risk in response to agricultural intensification in the estuarine sediments of Chaohu Lake Valley, East China. J Hazard Mater 176(1–3):945–951

6.

Meng W, Qin Y, Zheng B, Zhang L (2008) Heavy metal pollution in Tianjin Bohai Bay, China. J Environ Sci 20(7):814–819

7.

Jaroslav A, Ivan S, Peter M, Miroslav V (2006) Accumulation of some metals in muscles of five fish species from lower Nitra river. J Environ Sci Health A 41:2607–2622

8.

Abboud P, Wilkinson KJ (2013) Role of metal mixtures (Ca, Cu and Pb) on Cd bioaccumulation and phytochelatin production by Chlamydomonas reinhardtii. Environ Pollut 179:33–38

9.

Zhang T, Yu Z, Deliang L, Xiao TY, Jie L (2013) Exposure of silver carp (Hypophthalmichthys molitrix) to environmentally relevant levels of cadmium:hematology,muscle physiology,and implications for stock enhancement in the Xiangjiang River (Hunan,China). Science China Life Sciences 56:66–72

10.

Sarnat HB, Netsky MG (2002) When does a ganglion become a brain? Evolutionary origin of the central nervous system. Semin Pediatr Neurol 9(4):240–253

11.

Bogdan C, Röllinghoff M, Diefenbach A (2000) Corrigendum : reactive oxygen and reactive nitrogen intermediates in innate and specific immunity. Curr Opin Immunol 12(1):64–76

12.

Valavanidis A, Vlahogianni T, Dassenakis M, Scoullos M (2006) Molecular biomarkers of oxidative stress in aquatic organisms in relation to toxic environmental pollutants. Ecotoxicol Environ Saf 64(2):178–189

13.

Storey KB (1996) Oxidative stress: animal adaptations in nature. Brazilian Journal of Medical and Biological Research 29(12):1715

14.

Jenny MJ, Ringwood AH, Kevin S, Warr GW, Chapman RW (2010) Diversity of metallothioneins in the American oyster, Crassostrea virginica, revealed by transcriptomic and proteomic approaches. FEBS J 271(9):1702–1712

15.

Zhang CN, Zhang JL, Ren HT, Zhou BH, Wu QJ, Ping S (2017) Effect of tributyltin on antioxidant ability and immune responses of zebrafish ( Danio rerio ). Ecotoxicol Environ Saf 138(2017):1–8

16.

Chisolm JJ (1990) Evaluation of the potential role of chelation therapy in treatment of low to moderate lead exposures. Environ Health Perspect 89:67–74

17.

Wang J, Ren T, Wang F, Han Y, Liao M, Jiang Z (2016) Effects of dietary cadmium on growth, antioxidants and bioaccumulation of sea cucumber ( Apostichopus japonicus ) and influence of dietary vitamin C supplementation. Ecotoxicol Environ Saf 129(2016):145–153

18.

Kumari J, Sahoo PK (2005) High dietary vitamin C affects growth, non-specific immune responses and disease resistance in Asian catfish, Clarias batrachus. Mol Cell Biochem 280(1–2):25–33

19.

Kim JH, Kang JC (2017) Toxic effects on bioaccumulation and hematological parameters of juvenile rockfish Sebastes schlegelii exposed to dietary lead (Pb) and ascorbic acid. Chemosphere 176(2017):131–140

20.

Jin X, Su R, Li R, Song L, Chen M, Cheng L (2016) Amelioration of particulate matter-induced oxidative damage by vitamin c and quercetin in human bronchial epithelial cells. Chemosphere 144(2016):459–466

21.

Jashoman B, Dhiman M, Diamond MP, Abu-Soud HM (2012) Melatonin prevents hypochlorous acid-induced alterations in microtubule and chromosomal structure in metaphase-II mouse oocytes. J Pineal Res 53(2):122–128

22.

Khalil WA, Marei WFA, Muhammad K (2013) Protective effects of antioxidants on linoleic acid-treated bovine oocytes during maturation and subsequent embryo development. Theriogenology 80(2):161–168

23.

Dai J, Zhang L, Du X, Zhang P, Li W, Guo X (2018) Effect of Lead on antioxidant ability and immune responses of crucian carp. Biol Trace Elem Res 186(1):1–8

24.

Alsop D, Ng YT, Chowdhury MJ, Wood CM (2016) Interactions of waterborne and dietborne Pb in rainbow trout, Oncorhynchus mykiss : bioaccumulation, physiological responses, and chronic toxicity. Aquat Toxicol 177:343–354

25.

Kim JH, Kang JC (2014) The selenium accumulation and its effect on growth, and haematological parameters in red sea bream, Pagrus major , exposed to waterborne selenium. Ecotoxicol Environ Saf 104(2014):96–102

26.

Marina N, Aleksandra PA, Jelena D, Ivana M, Dina M, Anja P (2015) Toxicity of oral cadmium intake: impact on gut immunity. Toxicol Lett 237(2):89–99

27.

Kim JH, Kang JC (2017) Effects of sub-chronic exposure to lead (Pb) and ascorbic acid in juvenile rockfish: antioxidant responses, MT gene expression, and neurotransmitters. Chemosphere 171:520–527

28.

Wang Q, Ju X, Chen Y, Dong X, Luo S, Liu H (2016) Effects of L-carnitine against H2O2-induced oxidative stress in grass carp ovary cells ( Ctenopharyngodon idellus ). Fish Physiol Biochem 42(3):845–857

29.

Shahkar E, Yun H, Kim DJ, Kim SK, Lee BI, Bai SC (2015) Effects of dietary vitamin C levels on tissue ascorbic acid concentration, hematology, non-specific immune response and gonad histology in broodstock Japanese eel, Anguilla japonica. Aquaculture 438:115–121

30.

Milnerowicz H, Śliwińska-Mossoń M, Sobiech KA (2017) The effect of ozone on the expression of metallothionein in tissues of rats chronically exposed to cadmium. Environ Toxicol Pharmacol 52:27–37

31.

Kamil P, Claudia G, Robertina G, Andrea B, Laura C, Francesco P (2018) Zinc supplementation can reduce accumulation of cadmium in aged metallothionein transgenic mice. Chemosphere 211:855–860

32.

Alam MU, Harken Jaknorn AM (2009) Transgenic expression of Hsc70 in pancreatic islets enhances autoimmune diabetes in response to beta cell damage. J Immunol 183(9):5728–5737

33.

Shuhei T, Kevin M, Xiaokai L, Dabeiba BR, Rauch JN, Gestwicki JE (2015) Defining Hsp70 subnetworks in dengue virus replication reveals key vulnerability in Flavivirus infection. Cell 163(5):1108–1123

34.

Low C, Wadsworth S, Burrells C, Secombes CJ (2003) Expression of immune genes in turbot ( Scophthalmus maximus ) fed a nucleotide-supplemented diet. Aquaculture 221:23–40

35.

Sassi S, Khaled M, Gisbert E (2013) Cadmium exposure affects the expression of genes involved in;skeletogenesis and stress response in gilthead sea bream larvae. Fish Physiol Biochem 39:649–659
Funding
The work was supported by the National Natural Sciences Foundational of China (no. 30972191) and the 948 Program from Ministry of Agriculture of China (no. 2014Z34).
Ethics declarations
Conflict of Interest
The authors declare that they have no conflict of interest.
Additional information
Publisher's Note
Springer Nature remains neutral with regard to jurisdictional claims in published maps and institutional affiliations.
About this article
Cite this article
Yin, Y., Zhang, P., Liu, J. et al. Amelioration of Cd-Induced Oxidative Stress, MT Gene Expression, and Immune Damage by Vitamin C in Grass Carp Kidney Cells. Biol Trace Elem Res 194, 552–559 (2020). https://doi.org/10.1007/s12011-019-01808-1
Received:

Accepted:

Published:

Issue Date:
Keywords
Cd

Vitamin C

CIK cells

Oxidative response