Abstract
Acute kidney injury (AKI) is a clinical syndrome associated with the incidence of rhabdomyolysis (RM). The current study was carried out to evaluate whether selenium nanoparticles (SeNPs) can protect against the glycerol-induced AKI model. Rats were distributed into four equal groups (n = 7): the control group (G1), SeNPs group (G2), AKI group (G3), and SeNPs+AKI group (G4). Rats in G1 were intramuscularly injected with physiological saline (0.9% NaCl). Rats in G2 were gavaged with SeNPs (0.1 mg/kg) for 14 days. Rats in G3 were intramuscularly injected with 50% glycerol (10 ml/kg). Rats in G4 were administered with SeNPs for 14 days and then injected with glycerol, as in G3. Glycerol-injected rats showed a significant increase in the kidney relative weight, as well as in the serum urea, creatinine, Kim-1, and renal malondialdehyde, nitric oxide, TNF-α, IL-1β, cytochrome c, Bax, and caspase-3 levels. In addition, a significant decrease in glutathione, glutathione peroxidase, glutathione reductase, superoxide dismutase, and catalase was recorded in the renal tissue. Selenium nanoparticles reduced the biochemical, molecular, and histological changes produced by glycerol. Overall, our results suggest that selenium nanoparticles could be used to protect against AKI development via antioxidant, anti-inflammatory, and anti-apoptotic activities.
This is a preview of subscription content, log in to check access.
Access options
Buy single article
Instant access to the full article PDF.
US$ 39.95
Price includes VAT for USA
Subscribe to journal
Immediate online access to all issues from 2019. Subscription will auto renew annually.
US$ 954
This is the net price. Taxes to be calculated in checkout.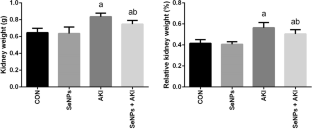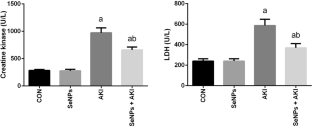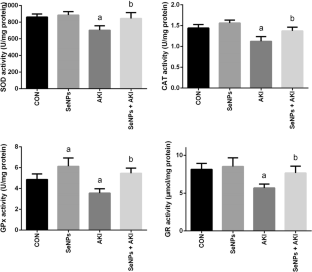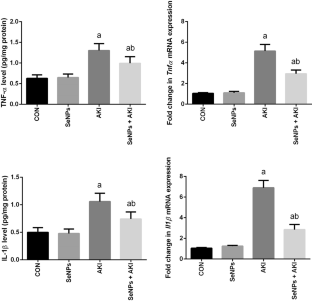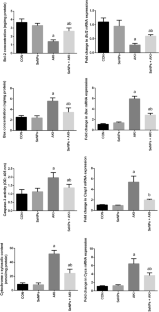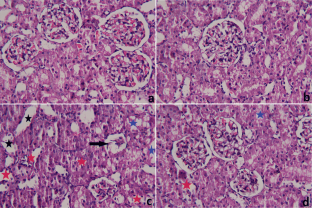 References
1.

Shi Y, Xu L, Tang J, Fang L, Ma S, Ma X, Nie J, Pi X, Qiu A, Zhuang S, Liu N (2017) Inhibition of HDAC6 protects against rhabdomyolysis-induced acute kidney injury. Am J Physiol Ren Physiol 312(3):F502–F515. https://doi.org/10.1152/ajprenal.00546.2016

2.

Bosch X, Poch E, Grau JM (2009) Rhabdomyolysis and acute kidney injury. N Engl J Med 361(1):62–72. https://doi.org/10.1056/NEJMra0801327

3.

Petejova N, Martinek A (2014) Acute kidney injury due to rhabdomyolysis and renal replacement therapy: a critical review. Crit Care 18(3):224. https://doi.org/10.1186/cc13897

4.

Korrapati MC, Shaner BE, Schnellmann RG (2012) Recovery from glycerol-induced acute kidney injury is accelerated by suramin. J Pharmacol Exp Ther 341(1):126–136. https://doi.org/10.1124/jpet.111.190249

5.

Singh AP, Junemann A, Muthuraman A, Jaggi AS, Singh N, Grover K, Dhawan R (2012) Animal models of acute renal failure. Pharmacol Rep 64(1):31–44

6.

Al Asmari AK, Al Sadoon KT, Obaid AA, Yesunayagam D, Tariq M (2017) Protective effect of quinacrine against glycerol-induced acute kidney injury in rats. BMC Nephrol 18(1):41. https://doi.org/10.1186/s12882-017-0450-8

7.

Boutaud O, Moore KP, Reeder BJ, Harry D, Howie AJ, Wang S, Carney CK, Masterson TS, Amin T, Wright DW, Wilson MT, Oates JA, Roberts LJ 2nd (2010) Acetaminophen inhibits hemoprotein-catalyzed lipid peroxidation and attenuates rhabdomyolysis-induced renal failure. Proc Natl Acad Sci U S A 107(6):2699–2704. https://doi.org/10.1073/pnas.0910174107

8.

Iglesias P, Selgas R, Romero S, Diez JJ (2013) Selenium and kidney disease. J Nephrol 26(2):266–272. https://doi.org/10.5301/jn.5000213

9.

Bai K, Hong B, Hong Z, Sun J, Wang C (2017) Selenium nanoparticles-loaded chitosan/citrate complex and its protection against oxidative stress in d-galactose-induced aging mice. J Nanobiotechnol 15(1):92. https://doi.org/10.1186/s12951-017-0324-z

10.

Krishnan V, Loganathan C, Thayumanavan P (2019) Green synthesized selenium nanoparticles using Spermacoce hispida as carrier of s-allyl glutathione: to accomplish hepatoprotective and nephroprotective activity against acetaminophen toxicity. Artif Cells Nanomed Biotechnol 47(1):56–63. https://doi.org/10.1080/21691401.2018.1543192

11.

Loeschner K, Hadrup N, Hansen M, Pereira SA, Gammelgaard B, Moller LH, Mortensen A, Lam HR, Larsen EH (2014) Absorption, distribution, metabolism and excretion of selenium following oral administration of elemental selenium nanoparticles or selenite in rats. Metallomics 6(2):330–337. https://doi.org/10.1039/c3mt00309d

12.

Al-Quraishy S, Dkhil MA, Abdel Moneim AE (2015) Anti-hyperglycemic activity of selenium nanoparticles in streptozotocin-induced diabetic rats. Int J Nanomedicine 10:6741–6756. https://doi.org/10.2147/IJN.S91377

13.

Kim JH, Lee SS, Jung MH, Yeo HD, Kim HJ, Yang JI, Roh GS, Chang SH, Park DJ (2010) N-acetylcysteine attenuates glycerol-induced acute kidney injury by regulating MAPKs and Bcl-2 family proteins. Nephrol Dial Transplant 25(5):1435–1443

14.

Almeer RS, AlBasher GI, Alarifi S, Alkahtani S, Ali D, Abdel Moneim AE (2019) Royal jelly attenuates cadmium-induced nephrotoxicity in male mice. Sci Rep 9(1):5825. https://doi.org/10.1038/s41598-019-42368-7

15.

Lowry OH, Rosebrough NJ, Farr AL, Randall RJ (1951) Protein measurement with the Folin phenol reagent. J Biol Chem 193(1):265–275

16.

Ohkawa H, Ohishi N, Yagi K (1979) Assay for lipid peroxides in animal tissues by thiobarbituric acid reaction. Anal Biochem 95(2):351–358

17.

Green LC, Wagner DA, Glogowski J, Skipper PL, Wishnok JS, Tannenbaum SR (1982) Analysis of nitrate, nitrite, and [15N]nitrate in biological fluids. Anal Biochem 126(1):131–138

18.

Ellman GL (1959) Tissue sulfhydryl groups. Arch Biochem Biophys 82(1):70–77

19.

Nishikimi M, Appaji N, Yagi K (1972) The occurrence of superoxide anion in the reaction of reduced phenazine methosulfate and molecular oxygen. Biochem Biophys Res Commun 46(2):849–854

20.

Aebi H (1984) Catalase in vitro. Methods Enzymol 105:121–126

21.

Paglia DE, Valentine WN (1967) Studies on the quantitative and qualitative characterization of erythrocyte glutathione peroxidase. J Lab Clin Med 70(1):158–169

22.

De Vega L, Fernandez RP, Mateo MC, Bustamante JB, Herrero AM, Munguira EB (2002) Glutathione determination and a study of the activity of glutathione-peroxidase, glutathione-transferase, and glutathione-reductase in renal transplants. Ren Fail 24(4):421–432

23.

Livak KJ, Schmittgen TD (2001) Analysis of relative gene expression data using real-time quantitative PCR and the 2(-Delta Delta C(T)) Method. Methods 25(4):402–408. https://doi.org/10.1006/meth.2001.1262

24.

Abdel Moneim AE (2016) Indigofera oblongifolia prevents lead acetate-induced hepatotoxicity, oxidative stress, fibrosis and apoptosis in rats. PLoS One 11(7):e0158965. https://doi.org/10.1371/journal.pone.0158965

25.

Mousleh R, Al Laham S, Al-Manadili A (2018) The preventive role of pioglitazone in glycerol-induced acute kidney injury in rats during two different treatment periods. Iran J Med Sci 43(2):184–194

26.

Shanu A, Groebler L, Kim HB, Wood S, Weekley CM, Aitken JB, Harris HH, Witting PK (2013) Selenium inhibits renal oxidation and inflammation but not acute kidney injury in an animal model of rhabdomyolysis. Antioxid Redox Signal 18(7):756–769. https://doi.org/10.1089/ars.2012.4591

27.

Al-Brakati AY, Kassab RB, Lokman MS, Elmahallawy EK, Amin HK, Abdel Moneim AE (2018) Role of thymoquinone and ebselen in the prevention of sodium arsenite-induced nephrotoxicity in female rats. Hum Exp Toxicol 38:482–493. https://doi.org/10.1177/0960327118818246

28.

Sharawy MH, Abdelrahman RS, El-Kashef DH (2018) Agmatine attenuates rhabdomyolysis-induced acute kidney injury in rats in a dose dependent manner. Life Sci 208:79–86. https://doi.org/10.1016/j.lfs.2018.07.019

29.

Yalcinkaya Yavuz O, Aydogdu N, Tastekin E, Sut N (2018) The Effects of baicalin on myoglobinuric acute renal failure in rats. Balkan Med J 35(1):68–76. https://doi.org/10.4274/balkanmedj.2017.0040

30.

Kassab RB, Lokman MS, Essawy EA (2018) Neurochemical alterations following the exposure to di-n-butyl phthalate in rats. Metab Brain Dis 34:235–244. https://doi.org/10.1007/s11011-018-0341-0

31.

Al-Olayan EM, El-Khadragy MF, Omer SA, Shata MT, Kassab RB, Abdel Moneim AE (2016) The beneficial effect of cape gooseberry juice on carbon tetrachloride-induced neuronal damage. CNS Neurol Disord Drug Targets 15(3):344–350

32.

Sun X, Luan Q, Qiu S (2018) Valsartan prevents glycerol-induced acute kidney injury in male albino rats by downregulating TLR4 and NF-kappaB expression. Int J Biol Macromol 119:565–571. https://doi.org/10.1016/j.ijbiomac.2018.07.149

33.

Shang Y, Siow YL, Isaak CK, O K (2016) Downregulation of glutathione biosynthesis contributes to oxidative stress and liver dysfunction in acute kidney injury. Oxidative Med Cell Longev 2016:9707292. https://doi.org/10.1155/2016/9707292

34.

Zhao B, Sun X, Gao X (2014) Pretreatment with hydrogen-rich saline reduces the damage caused by glycerol-induced rhabdomyolysis and acute kidney injury in rats. J Surg Res 188(1):243–249. https://doi.org/10.1016/j.jss.2013.12.007

35.

Nishida K, Watanabe H, Ogaki S, Kodama A, Tanaka R, Imafuku T, Ishima Y, Chuang VT, Toyoda M, Kondoh M, Wu Q, Fukagawa M, Otagiri M, Maruyama T (2015) Renoprotective effect of long acting thioredoxin by modulating oxidative stress and macrophage migration inhibitory factor against rhabdomyolysis-associated acute kidney injury. Sci Rep 5:14471. https://doi.org/10.1038/srep14471

36.

Bizerea TO, Dezsi SG, Marginean O, Stroescu R, Rogobete A, Bizerea-Spiridon O, Ilie C (2018) The link between selenium, oxidative stress and pregnancy induced hypertensive disorders. Clin Lab 64(10):1593–1610. https://doi.org/10.7754/Clin.Lab.2018.180307

37.

Dkhil MA, Zrieq R, Al-Quraishy S, Abdel Moneim AE (2016) Selenium nanoparticles attenuate oxidative stress and testicular damage in streptozotocin-induced diabetic rats. Molecules 21(11). https://doi.org/10.3390/molecules21111517

38.

Rayman MP (2000) The importance of selenium to human health. Lancet 356(9225):233–241. https://doi.org/10.1016/S0140-6736(00)02490-9

39.

Kunak CS, Ugan RA, Cadirci E, Karakus E, Polat B, Un H, Halici Z, Saritemur M, Atmaca HT, Karaman A (2016) Nephroprotective potential of carnitine against glycerol and contrast-induced kidney injury in rats through modulation of oxidative stress, proinflammatory cytokines, and apoptosis. Br J Radiol 89(1058):20140724. https://doi.org/10.1259/bjr.20140724

40.

Homsi E, Janino P, de Faria JB (2006) Role of caspases on cell death, inflammation, and cell cycle in glycerol-induced acute renal failure. Kidney Int 69(8):1385–1392. https://doi.org/10.1038/sj.ki.5000315

41.

Gois PHF, Canale D, Volpini RA, Ferreira D, Veras MM, Andrade-Oliveira V, Camara NOS, Shimizu MHM, Seguro AC (2016) Allopurinol attenuates rhabdomyolysis-associated acute kidney injury: renal and muscular protection. Free Radic Biol Med 101:176–189. https://doi.org/10.1016/j.freeradbiomed.2016.10.012

42.

Khurana A, Tekula S, Saifi MA, Venkatesh P, Godugu C (2019) Therapeutic applications of selenium nanoparticles. Biomed Pharmacother 111:802–812. https://doi.org/10.1016/j.biopha.2018.12.146

43.

Havasi A, Borkan SC (2011) Apoptosis and acute kidney injury. Kidney Int 80(1):29–40. https://doi.org/10.1038/ki.2011.120

44.

Brooks C, Wei Q, Cho SG, Dong Z (2009) Regulation of mitochondrial dynamics in acute kidney injury in cell culture and rodent models. J Clin Invest 119(5):1275–1285. https://doi.org/10.1172/JCI37829
Acknowledgments
The authors extend their appreciation to the Deanship of Scientific Research and RSSU-RSSUF at King Saud University for the technical support and language editing.
Funding
This study was financially supported by the Deanship of Scientific Research at King Saud University (research group no. RG-1439-60).
Ethics declarations
Conflict of Interest
The authors declare that they have no conflict of interest.
Additional information
Publisher's Note
Springer Nature remains neutral with regard to jurisdictional claims in published maps and institutional affiliations.
Electronic supplementary material
Morphological characterization of SeNPs freshly synthesized in aqueous solution. A: EDX analysis of one SeNP of panel. B-C: Measurement of size distribution of SeNPs by dynamic light scattering. (JPG 214 kb)
About this article
Cite this article
AlBasher, G., Alfarraj, S., Alarifi, S. et al. Nephroprotective Role of Selenium Nanoparticles Against Glycerol-Induced Acute Kidney Injury in Rats. Biol Trace Elem Res 194, 444–454 (2020). https://doi.org/10.1007/s12011-019-01793-5
Received:

Accepted:

Published:

Issue Date:
Keywords
Selenium nanoparticles

Acute kidney injury

Oxidative stress

Inflammation

Apoptosis