Mixture of Macromolecular Crowding Agents Has a Non-additive Effect on the Stability of Proteins
Abstract
The folding and unfolding of proteins inside a cell take place in the presence of macromolecules of various shapes and sizes. Such crowded conditions can significantly affect folding, stability, and biophysical properties of proteins. Thus, to logically mimic the intracellular environment, the thermodynamic stability of two different proteins (lysozyme and α-lactalbumin) was investigated in the presence of mixtures of three crowding agents (ficoll 70, dextran 70, and dextran 40) at different pH values. These crowders possess different shapes and sizes. It was observed that the stabilizing effect of mixtures of crowders is more than the sum effects of the individual crowder, i.e., the stabilizing effect is non-additive in nature. Moreover, dextran 40 (in the mixture) has been found to exhibit the greatest stabilization when compared with other crowders in the mixture. In other words, the small size of the crowder has been observed to be a dominant factor in stabilization of the proteins.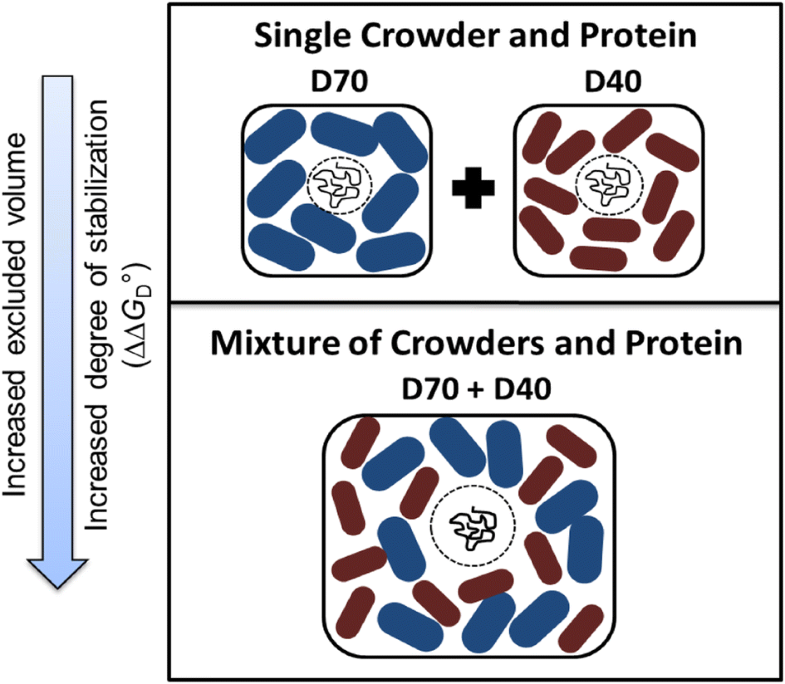 Keywords
Mixed macromolecular crowding 
Protein stability 
Crowder size 
Crowder shape 
Exclusion volume 
Abbreviations
GdmCl

Guanidinium chloride

UV

Ultra-violet

Tm

Midpoint of thermal denaturation

ΔHm

Enthalpy change at Tm

ΔCp

Constant-pressure heat capacity change

∆GD°

Gibbs free energy change at 25 °C

F70

Ficoll 70

D70

Dextran 70

D40

Dextran 40
Notes
Funding Information
This work was supported by grant from the Science & Engineering Research Board (SERB), India (SR/FT/LS-48/2010), FIST Program (SR/FST/LSI-541/2012), and Council of Scientific and Industrial Research (CSIR), India (37(1604)/13/EMR-II). SS is thankful to Maulana Azad National Fellowship, University Grants Commission (Government of India), for providing fellowship. FA is grateful to Indian National Science Academy for the award of Senior Scientist Position.
Copyright information
© Springer Science+Business Media, LLC, part of Springer Nature 2019