Synthesis and Pharmacological Evaluation of Novel Selenoethers Glycerol Derivatives for the Treatment of Pain and Inflammation: Involvement of Nitrergic and Glutamatergic Systems
Abstract
In the present study, the synthesis of new selenoethers from nucleophilic substitution reaction between organyl halides and nucleophilic species of selenium generated in situ was demonstrated. After, this method was applied for the synthesis of pyridylselenides glycerol derivatives 9b and 9c and the antinociceptive and anti-inflammatory effects, as well as, acute toxicity were evaluated. In the formalin test, the compound 9b caused a reduction in licking time in both phases. Compounds 9b and 9c increased the latency to response in the hot-plate test and reduced the licking time induced by glutamate. Our results revealed the involvement of the nitrergic and/or glutamatergic pathways in the antinociceptive action of the compounds. Additionally, 9b and 9c did not cause any toxicity signals and oxidative stress parameters were not modified by treatments. Here, it was developed an alternative and efficient method for the synthesis of selenoethers glycerol derivatives. Furthermore, we demonstrated that this class is indeed interesting for the research of new drugs.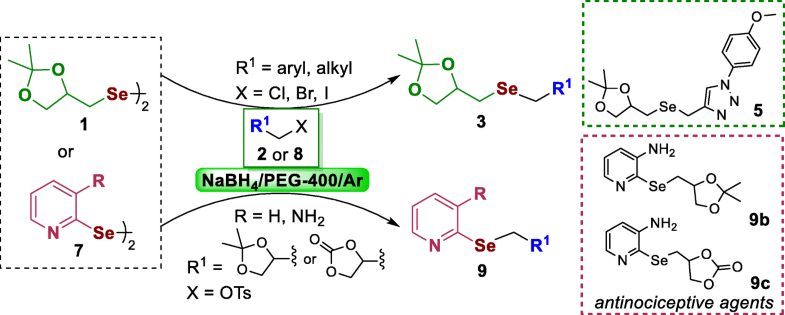 Keywords
Nociception 
Nitric oxide 
Glutamate 
Selenoether 
Glycerol 
3-Aminopyridil compounds 
Notes
Acknowledgments
The authors are grateful to CNPq, FAPERGS, CAPES, and FINEP for the financial support. CNPq is also acknowledged for the fellowship for C.L., E.A.W. and G.P.
Contributors
The authors declare that they participated in the research and/or article preparation and approved the final article.
Funding
This study was supported by Brazilian agencies CNPq (UNIVERSAL 408874/2016-3) and FAPERGS (PRONEM 16/2551-0000240-1, PRONUPEQ 16/2551-0000526-5; PqG 17/2551-0001013-2).
Compliance with Ethical Standards
Conflict of Interest
The authors declare that they have no conflict of interest.
Copyright information
© Springer Science+Business Media, LLC, part of Springer Nature 2018