Abstract
Background
Surgical hip dislocation allows for a 360° view of the acetabulum and may facilitate a reduction in selected acetabular fractures. To our knowledge there is no description in the literature of the different techniques used to reduce acetabular fractures through this approach. The aims of this study are to describe a technique of hip surgical dislocation to treat a variety of acetabular fracture patterns and to ascertain the early results with this technique, including the quality of fracture reductions achieved, clinical results, operative time, and complications such as avascular necrosis and heterotopic ossification.
Description of Technique
The procedure involves digastric trochanteric flip osteotomy and safe dislocation of the femoral head, preserving its vessels. T-type, transverse fractures alone or associated with posterior wall could be reduced with specific clamps and reduction adequacy can be judged by direct view. Anterior column fixation could be performed with one or two screws; the posterior column could be fixed with a single posterior plate or with two plates if a transverse fracture is associated with a posterior wall fracture.
Methods
Between 2005 and 2011, we used this approach selectively to manage those types of fractures; during the period in question, we treated 312 acetabular fractures surgically, of which 31 (10%) were treated using this approach. Patient demographic, injury, and surgical variables as well as complications were recorded. Outcomes were evaluated with the Merle d'Aubigné and Postel system. Radiographic outcome was scored according to Matta's criteria on postoperative radiographs (AP and Judet views). Minimum followup was 24 months (mean, 43 months; range, 24–87 months).
Results
Fracture reduction was defined as anatomic in 65% cases, imperfect in 16%, and poor in 19%. Mean Merle d'Aubigné score was 15 points (out of 18, with higher scores being better). Two patients developed symptomatic femoral head avascular necrosis.
Conclusions
In complex cases, surgical dislocation presents several advantages; a single approach may reduce surgical time, permit direct intraarticular assessment, and facilitate screw placement closer to the articular surface. It also presents several limitations; some difficulties with bone-reduction clamp positioning, limited fixation of the anterior column, and a small risk of greater trochanter malunion.
This is a preview of subscription content, log in to check access.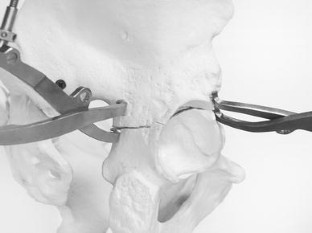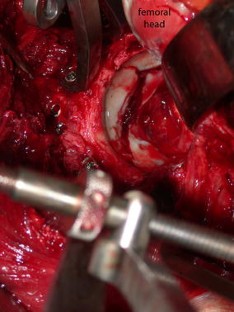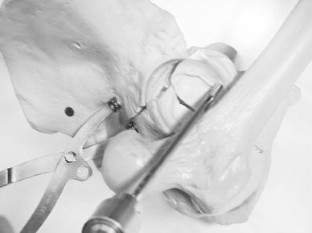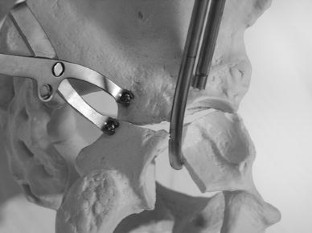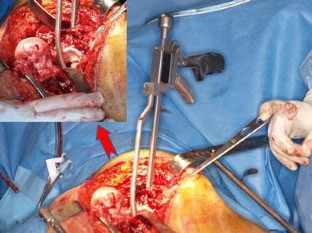 References
1.

Alonso JE, Davila R, Bradley E. Extended iliofemoral versus triradiate approaches in management of associated acetabular fractures. Clin Orthop Relat Res. 1994;305:81–87.

2.

Brooker A, Bowerman J, Robinson R, Riley LH. Ectopic ossification following total hip replacement: incidence and a method of classification. J Bone Joint Surg Am. 1955;55:1629–1632.

3.

Chiu FY, Chen CM, Lo WH. Surgical treatment of displaced acetabular fractures in 72 cases followed for 10 (6 ± 14) years. Injury. 2000;31:181–185.

4.

Cohen JA. A coefficient of agreement of nominal scales. Educ Psychol Measure. 1960;20:37–46.

5.

Collinge C, Archdeacon M, Sagi HC. Quality of radiographic reduction and perioperative complications for transverse acetabular fractures treated by the Kocher-Langenbeck approach: prone versus lateral position. J Orthop Trauma. 2011;25:538–542.

6.

d'Aubigné RM, Postel M. The Classic: Functional results of hip arthroplasty with acrylic prosthesis. 1954. Clin Orthop Relat Res. 2009;467:7–27.

7.

Daum WJ, Scarborough MT, Gordon W Jr, Uchida T. Heterotopic ossification and other perioperative complications of acetabular fractures. J Orthop Trauma. 1992;6:427–432.

8.

Ganz R, Gill TJ, Gautier E, Ganz K, Krügel N, Berlemann U. Surgical dislocation of the adult hip a technique with full access to the femoral head and acetabulum without the risk of avascular necrosis. J Bone Joint Surg Br. 2001;83:1119–1124.

9.

Gardner MJ, Suk, Pearle A, Buly RL, Helfet DL, Lorich DG. Surgical dislocation of the hip for fractures of the femoral head. J Orthop Trauma. 2005;19:334–342.

10.

Gautier E, Ganz K, Krügel N, Gill T, Ganz R. Anatomy of the medial femoral circumflex artery and its surgical implications. J Bone Joint Surg Br. 2000;82:679–683.

11.

Ghalambor N, Matta JM, Bernstein L. Heterotopic ossification following operative treatment of acetabular fracture. An analysis of risk factors. Clin Orthop Relat Res. 1994;305:96–105.

12.

Giannoudis PV, Grotz MRW, Papakostidis C, Dinopoulos H. Operative treatment of displaced fractures of the acetabulum. J Bone Joint Surg Br. 2005;87:2–9.

13.

Griffin DB, Beaulé PE, Matta JM. Safety and efficacy of the extended iliofemoral approach in the treatment of complex fractures of the acetabulum. J Bone Joint Surg Br. 2005;87:1391–1396.

14.

Harris AM, Althausen P, Kellam JF, Bosse MJ. Simultaneous anterior and posterior approaches for complex acetabular fractures. J Orthop Trauma. 2008;22:494–497.

15.

Heeg M, Klasen HJ, Visser JD. Operative treatment for acetabular fractures. J Bone Joint Surg Br. 1990;72:383–386.

16.

Heeg M, Oostvogel HJ, Klasen HJ. Conservative treatment of acetabular fractures: the role of the weight-bearing dome and anatomic reduction in the ultimate results. J Trauma. 1987;27:555–559.

17.

Iselin LD, Wahl P, Studer P, Munro JT, Gautier E. Associated lesions in posterior wall acetabular fractures: not a valid predictor of failure. J Orthop Traumatol. 2013 June 4 [Epub ahead of print]. DOI: 10.1007/s10195-013-0247-x.

18.

Johnson EE, Matta JM, Mast JW, Letournel E. Delayed reconstruction of acetabular fractures 21–120 days following injury. Clin Orthop Relat Res. 1994;305:20–30.

19.

Kaempffe FA, Bone LB, Border JR. Open reduction and internal fixation of acetabular fractures: heterotopic ossification and other complications of treatment. J Orthop Trauma. 1991;5:439–445.

20.

Kinik H, Armangil M. Extensile triradiate approach in the management of combined acetabular fractures. Arch Orthop Trauma Surg. 2004;124:476–482.

21.

Kumar A, Shah NA, Kershaw SA, Clayson AD. Operative management of acetabular fractures. A review of 73 fractures. Injury. 2005;36:605–612.

22.

Letournel E, Judet R. Fractures of the Acetabulum. 2nd ed. Berlin, Germany: Springer-Verlag; 1993:521–588.

23.

Li XG, Tang TS, Sun JY. Results after surgical treatment of transtectal transverse acetabular fractures. Orthop Surg. 2010;2:7–13.

24.

Liu Q, Wu D, Li P, Han SF. Surgical treatment for complex acetabular fractures. Chin J Traumatol. 2006;9:325–328.

25.

Massè A, Aprato A, Grappiolo G, Turchetto L, Campacci A, Ganz R. Surgical hip dislocation for anatomic reorientation of slipped capital femoral epiphysis: preliminary results. Hip Int. 2012;22:137–144.

26.

Matta JM. Fractures of the acetabulum: accuracy of reduction and clinical results in patients managed operatively within three weeks after the injury. J Bone Joint Surg Am. 1996;78:1632–1645.

27.

Matta JM, Anderson LM, Epstein HC, Hendricks P. Fractures of the acetabulum. A retrospective analysis. Clin Orthop Relat Res. 1986;205:230–240.

28.

Mears DC, Velyvis JH, Chang CP. Displaced acetabular fractures managed operatively: indicators of outcome. Clin Orthop Relat Res. 2003;407:173–186.

29.

Moed BR, Carr SE, Gruson KI, Watson JT, Craig JG. Computed tomographic assessment of fractures of the posterior wall of the acetabulum after operative treatment. J Bone Joint Surg Am. 2003;85:512–522.

30.

Naranje S, Shamshery P, Yadav CS, Gupta V, Nag HL. Digastric trochanteric flip osteotomy and surgical dislocation of hip in the management of acetabular fractures. Arch Orthop Trauma Surg. 2010;130:93–101.

31.

Negrin LL, Benson CD, Seligson D. Prone or lateral? Use of the Kocher-Langenbeck approach to treat acetabular fractures. J Trauma. 2010;69:137–141.

32.

Nötzli HP, Siebenrock KA, Hempfing A, Ramseier LE, Ganz R. Perfusion of the femoral head during surgical dislocation of the hip. Monitoring by laser Doppler flowmetry. J Bone Joint Surg Br. 2002;84:300–304.

33.

Oh CW, Kim PT, Park BC, Kim SY, Kyung HS, Jeon IH, Cheon SH, Min WK. Results after operative treatment of transverse acetabular fractures. J Orthop Sci. 2006;11:478–484.

34.

Onche II, Obiano SK, Udoh MK. A prospective evaluation of the management and outcome of traumatic posterior dislocation of the hip: a preliminary report. Niger J Med. 2008;17:163–167.

35.

Peters CL, Erickson JA. Treatment of femoro-acetabular impingement with surgical dislocation and débridement in young adults. J Bone Joint Surg Am. 2006;88:1735–1741.

36.

Porter SE, Graves ML, Allan Maples R, Woodall JJ, Wallace JG, Russell GV. Acetabular fracture reductions in the obese patient. J Orthop Trauma. 2011;25:371–377.

37.

Reinert CM, Bosse MJ, Poka A, Schacherer T, Brumback RJ, Burgess AR. A modified extensile exposure for the treatment of complex or malunited acetabular fractures. J Bone Joint Surg Am. 1988;70:329–337.

38.

Siebenrock KA, Gautier E, Woo AK, Ganz R. Surgical dislocation of the femoral head for joint débridement and accurate reduction of fractures of the acetabulum. J Orthop Trauma. 2002;16:543–552.

39.

Siebenrock KA, Gautier E, Ziran BH, Ganz R. Trochanteric flip osteotomy for cranial extension and muscle protection in acetabular fracture fixation using a Kocher-Langenbeck approach. J Orthop Trauma. 1998;12:387–391.

40.

Sink EL, Beaulé PE, Sucato D, Kim YJ, Millis MB, Dayton M, Trousdale RT, Sierra RJ, Zaltz I, Schoenecker P, Monreal A, Clohisy J. Multicentre study of complications following surgical dislocation of the hip. J Bone Joint Surg Am. 2011;93:1132–1136.

41.

Spencer S, Millis MB, Kim YJ. Early results of treatment for hip impingement syndrome in slipped capital femoral epiphysis and pistol grip deformity of femoral head-neck junction using the surgical dislocation technique. J Pediatr Orthop. 2006;26:281–285.

42.

Stannard JP, Harris HW, Volgas DA, Alonso JE. Functional outcome of patients with femoral head fractures associated with hip dislocations. Clin Orthop Relat Res. 2000;377:44–56.

43.

Starr AJ, Watson JT, Reinert CM, Jones AL, Whitlock S, Griffin DR, Borer DS. Complications following the 'T extensile' approach: a modified extensile approach for acetabular fracture surgery—report of forty-three patients. J Orthop Trauma. 2002;16:535–542.

44.

Stöckle U, Hoffmann R, Südkamp NP, Reindl R, Haas NP. Treatment of complex acetabular fractures through a modified extended iliofemoral approach. J Orthop Trauma. 2002;16:220–230.

45.

Tannast M, Krüger A, Mack PW, Powell JN, Hosalkar HS, Siebenrock KA. Surgical dislocation of the hip for the fixation of acetabular fractures. J Bone Joint Surg Br. 2010;92:842–852.

46.

Triantaphillopoulos PG, Panagiotopoulos EC, Mousafiris C, Tyllianakis M, Dimacopoulos P, Lambiris EE. Long-term results in surgically treated acetabular fractures through the posterior approaches. J Trauma. 2007;62:378–382.
Acknowledgments
We acknowledge the important assistance of Gianluca Amadore, IT administrator, for radiographic information technology support. We would like to thank Dr. Marco M. Favuto for his help with the revision of the discussion session.
Additional information
Each author certifies that he or she, or a member of his or her immediate family, has no funding or commercial associations (eg, consultancies, stock ownership, equity interest, patent/licensing arrangements, etc) that might pose a conflict of interest in connection with the submitted article.
All ICMJE Conflict of Interest Forms for authors and Clinical Orthopaedics and Related Research editors and board members are on file with the publication and can be viewed on request.
Clinical Orthopaedics and Related Research neither advocates nor endorses the use of any treatment, drug, or device. Readers are encouraged to always seek additional information, including FDA-approval status, of any drug or device prior to clinical use.
Each author certifies that his or her institution approved the human protocol for this investigation, that all investigations were conducted in conformity with ethical principles of research, and that informed consent for participation in the study was obtained.
This study was performed in the Orthopaedic Department, San Luigi Hospital of Orbassano, University of Turin, Turin, Italy.
Electronic supplementary material
Below is the link to the electronic supplementary material.
Video 1 The different techniques for the reduction of fractures through the surgical dislocation technique are shown. (WMV 339487 kb)
Video 2 Reduction of a transverse fracture is commonly performed by pushing the inferior part of the pelvic brim outward and downward. (AVI 39548 kb)
About this article
Cite this article
Masse, A., Aprato, A., Rollero, L. et al. Surgical Dislocation Technique for the Treatment of Acetabular Fractures. Clin Orthop Relat Res 471, 4056–4064 (2013). https://doi.org/10.1007/s11999-013-3228-8
Received:

Accepted:

Published:

Issue Date:
Keywords
Femoral Head

Heterotopic Ossification

Acetabular Fracture

Anterior Column

Transverse Fracture