Abstract
Background
When considering arthroscopic surgery for treatment of hip pain, it is important to understand the influence of joint degeneration on the likelihood of success. Previous research has shown poorer outcomes among patients with osteoarthritis but new arthroscopic techniques including femoroacetabular impingement correction and microfracture may lead to better arthroscopic outcomes.
Questions/Purposes
We investigated the effect of intraarthroscopic articular and rim cartilage degeneration on the outcome after hip arthroscopy using contemporary techniques.
Methods
The modified Harris hip score (MHHS) and nonarthritic hip score (NAHS) were completed preoperatively and 12 months postoperatively by 560 patients undergoing hip arthroscopy after March 2007. Change in these scores was compared between patients with and without acetabular or femoral articular cartilage degeneration and between patients with and without rim cartilage degeneration. Correlation and regression analyses were used to predict the change in outcome scores based on the severity of cartilage degeneration.
Results
Hips without degeneration had greater improvement in the outcome scores. The presence of cartilage degeneration showed negative correlations with change in outcomes. The best model to explain change in MHHS included preoperative score, articular cartilage degeneration grade, and rim lesion grade (adjusted R2 = 0.24).
Conclusions
Our data support previous findings regarding the negative influence of cartilage degeneration on improvement after hip arthroscopy. Nevertheless, many patients with cartilage degeneration still improved and the severity of degeneration accounts for little of the resulting variance in change. Future studies must determine the clinical importance of the improvements gained by patients with cartilage degeneration and identify other predictors of outcome.
Level of Evidence
Level III, prognostic study. See Instructions for Authors for a complete description of levels of evidence.
This is a preview of subscription content, log in to check access.
Access options
Buy single article
Instant access to the full article PDF.
US$ 39.95
Price includes VAT for USA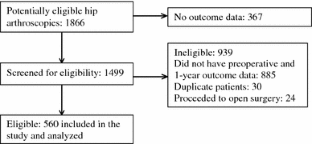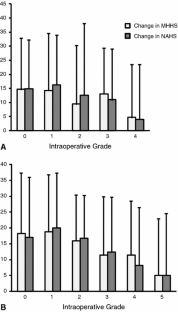 References
1.

Byrd JW, Jones KS. Prospective analysis of hip arthroscopy with 2-year follow-up. Arthroscopy. 2000;16:578–587.

2.

Christensen CP, Althausen PL, Mittleman MA, Lee JA, McCarthy JC. The nonarthritic hip score: reliable and validated. Clin Orthop Relat Res. 2003;406:75–83.

3.

Clohisy JC, Wright RW. Hip arthroscopy in the treatment of osteoarthritis. Oper Tech Sports Med. 2002;10:219–223.

4.

Crawford K, Philippon MJ, Sekiya JK, Rodkey WG, Steadman JR. Microfracture of the hip in athletes. Clin Sports Med. 2006;25:327–335, x.

5.

Department of Human Services. Medicare. Available at: http://www.medicareaustralia.gov.au/. Accessed March 9, 2012.

6.

Farjo LA, Glick JM, Sampson TG. Hip arthroscopy for acetabular labral tears. Arthroscopy. 1999;15:132–137.

7.

Gray AJ, Villar RN. The ligamentum teres of the hip: an arthroscopic classification of its pathology. Arthroscopy. 1997;13:575–578.

8.

Harris WH. Traumatic arthritis of the hip after dislocation and acetabular fractures: treatment by mold arthroplasty. An end-result study using a new method of result evaluation. J Bone Joint Surg Am. 1969;51:737–755.

9.

Haviv B, O'Donnell J. The incidence of total hip arthroplasty after hip arthroscopy in osteoarthritic patients. Sports Med Arthrosc Rehabil Ther Technol. 2010;2:18.

10.

Haviv B, O'Donnell J. Arthroscopic treatment for acetabular labral tears of the hip without bony dysmorphism. Am J Sports Med. 2011;39(suppl):79S–84S.

11.

Haviv B, Singh PJ, Takla A, O'Donnell J. Arthroscopic femoral osteochondroplasty for cam lesions with isolated acetabular chondral damage. J Bone Joint Surg Br. 2010;92:629–633.

12.

Horisberger M, Brunner A, Herzog RF. Arthroscopic treatment of femoral acetabular impingement in patients with preoperative generalized degenerative changes. Arthroscopy. 2010;26:623–629.

13.

Kelly BT, Williams RJ 3rd, Philippon MJ. Hip arthroscopy: current indications, treatment options, and management issues. Am J Sports Med. 2003;31:1020–1037.

14.

Larson CM, Giveans MR, Taylor M. Does arthroscopic FAI correction improve function with radiographic arthritis? Clin Orthop Relat Res. 2011;469:1667–1676.

15.

Mason JB, McCarthy JC, O'Donnell J, Barsoum W, Mayor MB, Busconi BD, Krebs VE, Owens BD. Hip arthroscopy: surgical approach, positioning, and distraction. Clin Orthop Relat Res. 2003;406:29–37.

16.

McCarthy JC. Hip arthroscopy: when it is and when it is not indicated. Instr Course Lect. 2004;53:615–621.

17.

McCarthy JC, Noble PC, Schuck MR, Wright J, Lee J. The watershed labral lesion: its relationship to early arthritis of the hip. J Arthroplasty. 2001;16(8 suppl 1):81–87.

18.

Meftah M, Rodriguez JA, Panagopoulos G, Alexiades MM. Long-term results of arthroscopic labral debridement: predictors of outcomes. Orthopedics. 2011;34:e588–e592.

19.

Outerbridge RE. The etiology of chondromalacia patellae. J Bone Joint Surg Br. 1961;43:752–757.

20.

Philippon MJ, Briggs KK, Yen YM, Kuppersmith DA. Outcomes following hip arthroscopy for femoroacetabular impingement with associated chondrolabral dysfunction: minimum two-year follow-up. J Bone Joint Surg Br. 2009;91:16–23.

21.

Potter BK, Freedman BA, Andersen RC, Bojescul JA, Kuklo TR, Murphy KP. Correlation of Short Form-36 and disability status with outcomes of arthroscopic acetabular labral debridement. Am J Sports Med. 2005;33:864–870.

22.

Richmond J, Hunter D, Irrgang J, Jones MH, Levy B, Marx R, Snyder-Mackler L, Watters WC 3rd, Haralson RH 3rd, Turkelson CM, Wies JL, Boyer KM, Anderson S, St Andre J, Sluka P, McGowan R; American Academy of Orthopaedic Surgeons. Treatment of osteoarthritis of the knee (nonarthroplasty). J Am Acad Orthop Surg. 2009;17:591–600.

23.

Seldes RM, Tan V, Hunt J, Katz M, Winiarsky R, Fitzgerald RH Jr. Anatomy, histologic features, and vascularity of the adult acetabular labrum. Clin Orthop Relat Res. 2001;382:232–240.

24.

Tijssen M, van Cingel R, van Melick N, de Visser E. Patient-Reported Outcome questionnaires for hip arthroscopy: a systematic review of the psychometric evidence. BMC Musculoskelet Disord. 2011;12:117.
Acknowledgments
We thank Jess O'Donnell BA, BComm, for assisting with extraction of data from the database for this study.
Additional information
One of the authors (JO) certifies that he has or may receive payments or benefits, during the study period, an amount of $10,000 to $100,000, from Smith & Nephew Inc (Memphis, TN, USA).
All ICMJE Conflict of Interest Forms for authors and Clinical Orthopaedics and Related Research editors and board members are on file with the publication and can be viewed on request.
Each author certifies that his or her institution approved the human protocol for this investigation, that all investigations were conducted in conformity with ethical principles of research, and that informed consent for participation in the study was obtained.
This work was performed at The University of Melbourne, Carlton, VIC, Australia.
About this article
Cite this article
Egerton, T., Hinman, R.S., Takla, A. et al. Intraoperative Cartilage Degeneration Predicts Outcome 12 Months After Hip Arthroscopy. Clin Orthop Relat Res 471, 593–599 (2013). https://doi.org/10.1007/s11999-012-2594-y
Received:

Accepted:

Published:

Issue Date:
Keywords
Articular Cartilage

NAHS

Cartilage Degeneration

Preoperative Score

Labral Repair