Abstract
Background
Joint-preserving surgery is performed in select patients with bone sarcomas of extremities and allows patients to retain the native joint with better joint function. However, recurrences may relate to achieving adequate margins and there is frequently little room for error in tumors close to the joint surface. Further, the tumor margin on preoperative CT and/or MR images is difficult to transpose to the actual extent of tumor in the bone in the operating room.
Questions/purposes
We therefore determined whether joint-preserving tumor surgery could be performed accurately under image-guided computer navigation and determined local recurrences, function, and complications.
Methods
We retrospectively studied eight patients with bone sarcoma of extremities treated surgically by navigation with fused CT-MR images. We assessed the accuracy of resection in six patients by comparing the cross sections at the resection plane with complementary prosthesis templates. Mean age was 17 years (range, 6–46 years). Minimum followup was 25 months (mean, 41 months; range, 25–60 months).
Results
The achieved resection was accurate, with a difference of 2 mm or less in any dimension compared to that planned in patients with custom prostheses. We noted no local recurrence at latest followup. The mean Musculoskeletal Tumor Society score was 29 (range, 28–30). There were no complications related to navigation planning and procedures. There was no failure of fixation at the remaining epiphysis.
Conclusions
In selected patients, the computer-assisted approach facilitates precise planning and execution of joint-preserving tumor resection and reconstruction. Further followup assessment in a larger study population is required in these patients.
Level of Evidence
Level IV, therapeutic study. See Instructions for Authors for a complete description of levels of evidence.
This is a preview of subscription content, log in to check access.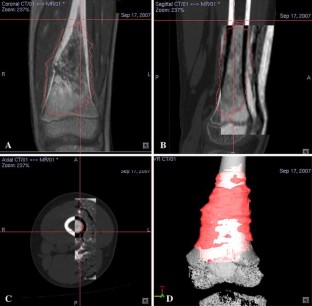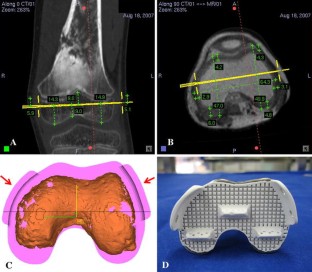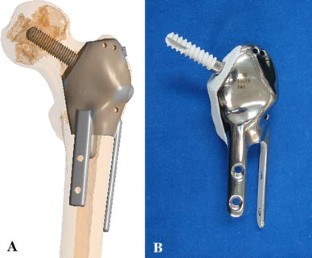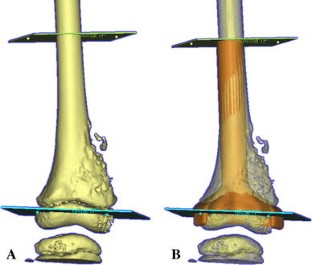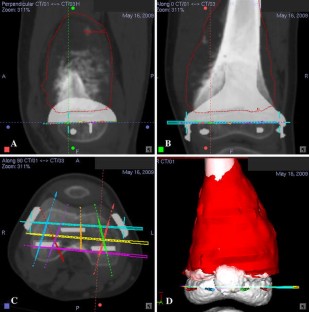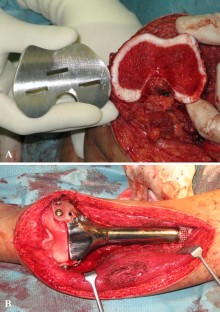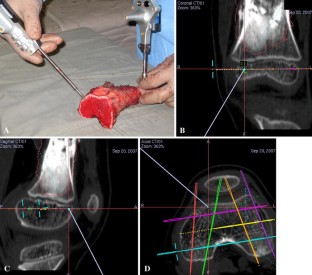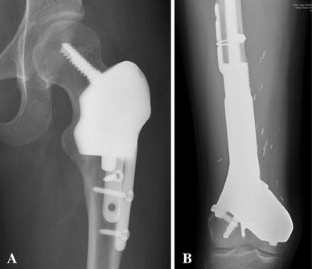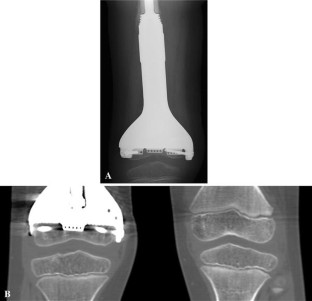 References
1.

Agarwal M, Puri A, Anchan C, Shah M, Jambhekar N. Hemicortical excision for low-grade selected surface sarcomas of bone. Clin Orthop Relat Res. 2007;459:161–166.

2.

Agarwal M, Puri A, Gulia A, Reddy K. Joint-sparing or physeal-sparing diaphyseal resections: the challenge of holding small fragments. Clin Orthop Relat Res. 2010;468:2924–2932.

3.

Avedian RS, Haydon RC, Peabody TD. Multiplanar osteotomy with limited wide margins: a tissue preserving surgical technique for high-grade bone sarcomas. Clin Orthop Relat Res. 2010;468:2754–2764.

4.

Cho HS, Oh JH, Han I, Kim HS. Joint-preserving limb salvage surgery under navigation guidance. J Surg Oncol. 2009;100:227–232.

5.

Deijkers RL, Bloem RM, Hogendoorn PC, Verlaan JJ, Kroon HM, Taminiau AH. Hemicortical allograft reconstruction after resection of low-grade malignant bone tumours. J Bone Joint Surg Br. 2002;84:1009–1014.

6.

Deijkers RL, Bloem RM, Kroon HM, Van Lent JB, Brand R, Taminiau AH. Epidiaphyseal versus other intercalary allografts for tumors of the lower limb. Clin Orthop Relat Res. 2005;439:151–160.

7.

Enneking WF, Dunham W, Gebhardt MC, Malawar M, Pritchard DJ. A system for the functional evaluation of reconstructive procedures after surgical treatment of tumors of the musculoskeletal system. Clin Orthop Relat Res. 1993;286:241–246.

8.

Gillespy T, Manfrini M, Ruggieri P, Spanier SS, Pettersson H, Springfield DS. Staging of intraosseous extent of osteosarcoma: correlation of preoperative CT and MR imaging with pathologic macroslides. Radiology. 1988;167:765–767.

9.

Gupta A, Pollock R, Cannon SR, Briggs TW, Skinner J, Blunn G. A knee-sparing distal femoral endoprosthesis using hydroxyapatite-coated extracortical plates: preliminary results. J Bone Joint Surg Br. 2006;88:1367–1372.

10.

Kumta SM, Chow TC, Griffith J, Li CK, Kew J, Leung PC. Classifying the location of osteosarcoma with reference to the epiphyseal plate helps determine the optimal skeletal resection in limb salvage procedures. Arch Orthop Trauma Surg. 1999;119:327–331.

11.

Muscolo DL, Ayerza MA, Aponte-Tinao LA, Ranalletta M. Partial epiphyseal preservation and intercalary allograft reconstruction in high-grade metaphyseal osteosarcoma of the knee. J Bone Joint Surg Am. 2005; 87(suppl 1 pt 2):226–236.

12.

Picci P, Sangiorgi L, Rougraff BT, Neff JR, Casadei R, Campanacci M. Relationship of chemotherapy-induced necrosis and surgical margins to local recurrence in osteosarcoma. J Clin Oncol. 1994;12:2699–2705.

13.

Scapinelli R. Vascular anatomy of the human cruciate ligaments and surrounding structures. Clin Anat. 1997;10:151–162.

14.

So TY, Lam YL, Mak KL. Computer-assisted navigation in bone tumor surgery: seamless workflow model and evolution of technique. Clin Orthop Relat Res. 2010;468:2985–2991.

15.

Tsuchiya H, Abdel-Wanis ME, Sakurakichi K, Yamashiro T, Tomita K. Osteosarcoma around the knee: intraepiphyseal excision and biological reconstruction with distraction osteogenesis. J Bone Joint Surg Br. 2002;84:1162–1166.

16.

Wong KC, Kumta SM, Antonio GE, Tse LF. Image fusion for computer-assisted bone tumor surgery. Clin Orthop Relat Res. 2008;466:2533–2541.

17.

Wong KC, Kumta SM, Chiu KH, Antonio GE, Unwin P, Leung KS. Precision tumour resection and reconstruction using image-guided computer navigation. J Bone Joint Surg Br. 2007;89:943–947.

18.

Wong KC, Kumta SM, Chiu KH, Cheung KW, Leung KS, Unwin P, Wong MC. Computer assisted pelvic tumor resection and reconstruction with a custom-made prosthesis using an innovative adaptation and its validation. Comput Aided Surg. 2007;12:225–232.

19.

Wong KC, Kumta SM, Leung KS, Ng KW, Ng EW, Lee KS. Integration of CAD/CAM planning into computer assisted orthopaedic surgery. Comput Aided Surg. 2010;15:65–74.
Acknowledgments
We thank Mr. Eric Wai-Kin Ng and Mr. Keith Kam-Shing Lee (ACAOS-ITAV team, Department of Orthopaedics and Traumatology, Prince of Wales Hospital, The Chinese University of Hong Kong) for setup of the navigation system and documentation of operative procedures. We also thank Mr. Sudha Shunmugam, the design team, and Dr. Paul Unwin (Stanmore Implants Worldwide Ltd) for design and manufacture of the CAD custom prostheses. We acknowledge the great assistance of Mr. Rock Hu and Ms. Yukin Zhao (Bio-Medical Engineering, Materialise China, Shanghai, China) in using the MIMICS® software.
Additional information
Each author certifies that he or she, or a member of his or her immediate family, has no commercial associations (eg, consultancies, stock ownership, equity interest, patent/licensing arrangements, etc) that might pose a conflict of interest in connection with the submitted article.
All ICMJE Conflict of Interest Forms for authors and Clinical Orthopaedics and Related Research editors and board members are on file with the publication and can be viewed on request.
Clinical Orthopaedics and Related Research neither advocates nor endorses the use of any treatment, drug, or device. Readers are encouraged to always seek additional information, including FDA approval status, of any drug or device before clinical use.
Each author certifies that his or her institution approved the human protocol for this investigation, that all investigations were conducted in conformity with ethical principles of research, and that informed consent for participation in the study was obtained.
Electronic supplementary material
Below is the link to the electronic supplementary material.
Supplementary material 1 (MPG 34935 kb)
Supplementary material 2 (MPG 4491 kb)
About this article
Cite this article
Wong, K.C., Kumta, S.M. Joint-preserving Tumor Resection and Reconstruction Using Image-guided Computer Navigation. Clin Orthop Relat Res 471, 762–773 (2013) doi:10.1007/s11999-012-2536-8
Keywords
Bone Resection

Bone Sarcoma

Computer Navigation

Resection Plane

MSTS Score