Abstract
Background
Premature bone loss after childhood chemotherapy may be underestimated in patients with bone sarcoma. Methotrexate (MTX), a standard agent in osteosarcoma protocols, reportedly reduces bone mineral density (BMD). The literature, however, has reported cases of BMD reduction in patients with Ewing's sarcoma treated without MTX. Thus, it is unclear whether osteoporosis after chemotherapy relates to MTX or to other factors.
Questions/purposes
We therefore asked whether (1) young patients with a bone sarcoma had BMD reduction, (2) patients treated with MTX had lower BMD, and (3) other factors (eg, lactose intolerance or vitamin D deficiency) posed additional risks for low BMD.
Methods
We retrospectively reviewed 43 patients with malignancies who had dual-energy x-ray absorptiometry (DEXA) (lumbar, femoral); 18 with Ewing's sarcoma (mean age, 26 ± 8 years), and 25 with an osteosarcoma (mean age, 27 ± 10 years). The mean time since diagnosis was 8 ± 4 years in the group with Ewing's sarcoma and 7 ± 5 years in the group with osteosarcoma. At last followup we determined BMD (computing z-scores), fracture rate, and lifestyle, and performed serum analysis.
Results
BMD reduction was present in 58% of patients (37% had a z-score between −1 and −2 SD, 21% had a z-score less than −2 SD) in at least one measured site. Seven of the 43 patients (16%) had nontrauma or tumor-associated fractures after chemotherapy. Findings were similar in the Ewing and osteosarcoma subgroups. We found vitamin D deficiency in 38 patients (88%) and borderline elevated bone metabolism; lactose intolerance was present in 16 patients (37%).
Conclusion
Doctors should be aware of the possibility of major bone loss after chemotherapy with a risk of pathologic fracture. Vitamin D deficiency, calcium malnutrition, and lactose intolerance may potentiate the negative effects of chemotherapy, and should be considered in long-term patient management.
Level of Evidence
Level II, prognostic study. See Guidelines for Authors for a complete description of levels of evidence.
This is a preview of subscription content, log in to check access.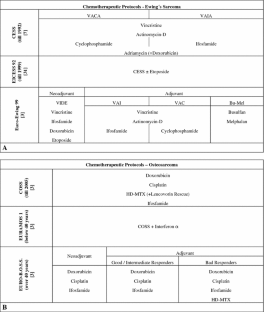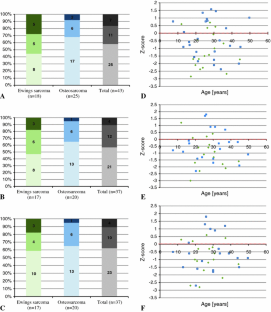 References
1.

Arikoski P, Komulainen J, Riikonen P, Voutilainen R, Knip M, Kröger H. Alterations in bone turnover and impaired development of bone mineral density in newly diagnosed children with cancer: a 1-year prospective study. J Clin Endocrinol Metab. 1999;84:3174–3181.

2.

Baroncelli GI, Bertelloni S, Sodini F, Saggese G. Osteoporosis in children and adolescents: etiology and management. Paediatr Drugs. 2005;7:295–323.

3.

Berger DP, Engelbrecht R, Mertelsmann R. [The Red Book - Hämatology and Internistic Onkology] [in German]. Landsberg, Germany: Hüthig Jehle Rehm GmbH; 2006.

4.

Bielack S, Kempf-Bielack B, Schwenzer D, Birkfellner T, Delling G, Ewerbeck V, Exner GU, Fuchs N, Göbel U, Graf N, Heise U, Helmke K, von Hochstetter AR, Jürgens H, Maas R, Münchow N, Salzer-Kuntschik M, Treuner J, Veltmann U, Werner M, Winkelmann W, Zoubek A, Kotz R. [Neoadjuvant therapy for localized osteosarcoma of extremities; results from the Cooperative Osteosarcoma study group COSS of 925 patients] [in German]. Klin Pädiatr. 1999;211:260–270.

5.

Bob A, Bob K. [Internal Medicine] [in German]. Stuttgart, Germany: Thieme; 2009.

6.

Carrle D, Bielack SS. Current strategies of chemotherapy in osteosarcoma. Int Orthop. 2006;30:445–451.

7.

Dunst J, Ahrens S, Paulussen M, Rübe C, Winkelmann W, Zoubek A, Harms D, Jürgens H. Second malignancies after treatment for Ewing's sarcoma: a report of the CESS-studies. Int J Radiat Oncol Biol Phys. 1998;42:379–384.

8.

Ecklund K, Laor T, Goorin AM, Connolly LP, Jaramillo D. Methothrexate osteopathy in patients with osteosarcoma. Radiology. 1997;202:543–547.

9.

Gilsanz V. Bone density in children: a review of the available techniques and indications. Eur J Radiol. 1998;26:177–182.

10.

Giustina A, Mazziotti G, Canalis E. Growth hormone, insulin-like growth factors, and the skeleton. Endocr Rev. 2008;29:535–559.

11.

Gnudi S, Butturini L, Ripamonti C, Avella M, Bacci G. The effects of methotrexate (MTX) on bone: a densitometric study conducted on 59 patients with MTX administered at different doses. Ital J Orthop Traumatol. 1988;14:227–231.

12.

Goeman JJ, van de Geer SA, de Kort F, van Houwelingen HC. A global test for groups of genes: testing association with a clinical outcome. Bioinformatics. 2004;20:93–99.

13.

Guise TA. Bone loss and fracture risk associated with cancer therapy. Oncologist. 2006;11:1121–1131.

14.

Herold G. [Internal Medicine] [in German]. Köln, Germany: Herold; 2008.

15.

Hogendoorn PC; ESMO/EUROBONET Working Group, Athanasou N, Bielack S, De Alava E, Dei Tos AP, Ferrari S, Gelderblom H, Grimer R, Hall KS, Hassan B, Hogendoorn PC, Jurgens H, Paulussen M, Rozeman L, Taminiau AH, Whelan J, Vanel D. Bone sarcomas: ESMO Clinical Practice Guidelines for diagnosis, treatment and follow-up. Ann Oncol. 2010;21(suppl 5):v204–v213.

16.

Holick MF. High prevalence of vitamin D inadequacy and implications for health. Mayo Clin Proc. 2006;81:353–373.

17.

Holzer G, Krepler P, Koschat MA, Grampp S, Dominkus M, Kotz R. Bone mineral density in long-term survivors of highly malignant osteosarcoma. J Bone Joint Surg Br. 2003;85:231–237.

18.

Honkanen R, Pulkkinen P, Järvinen R, Kröger H, Lindstedt K, Tuppurainen M, Uusitupa M. Does lactose intolerance predispose to low bone density? A population-based study of perimenopausal Finnish women. Bone. 1996;19:23–28.

19.

IARC, International Agency for Research on Cancer. World Health Organization Classification of Tumours. Lyon, France: IARC Press; 2002.

20.

Jackson KA, Savaiano DA. Lactose maldigestion, calcium intake and osteoporosis in African-, Asian-, and Hispanic-Americans. J Am Coll Nutr. 2001;20(2 suppl):198S–207S.

21.

Kager L, Zoubek A, Dominkus M, Lang S, Bodmer N, Jungt G, Klingebiel T, Jürgens H, Gadner H, Bielack S; COSS Study Group. Osteosarcoma in very young children. Cancer. 2010;116:5316–5324.

22.

Kaste SC. Skeletal toxicities of treatment in children with cancer. Pediatr Blood Cancer. 2008;50(2 suppl):469–473; discussion 486.

23.

Kaste SC, Chesney RW, Hudson MM, Lustig RH, Rose SR, Carbone LD. Bone mineral status during and after therapy of childhood cancer: an increasing population with multiple risk factors for impaired bone health. (Comment on J Bone Miner Res. 2009;14:2002–2009). J Bone Miner Res. 1999;14:2010–2014.

24.

Krall EA, Sahyoun N, Tannenbaum S, Dallal GE, Dawson-Hughes B. Effect of vitamin D intake on seasonal variations in parathyroid hormone secretion in postmenopausal women. N Engl J Med. 1989;321:1777–1783.

25.

Kull M, Kallikorm R, Lember M. Impact of molecularly defined hypolactasia, self-perceived milk intolerance and milk consumption on bone mineral density in a population sample in Northern Europe. Scand J Gastroenterol. 2009;44:415–421.

26.

Minaire P. Immobilization osteoporosis: a review. Clin Rheumatol. 1989;8(suppl 2):95–103.

27.

Obermayer-Pietsch BM, Bonelli CM, Walter DE, Kuhn RJ, Fahrleitner-Pammer A, Berghold A, Goessler W, Stepan V, Dobnig H, Leb G, Renner W. Genetic predisposition for adult lactose intolerance and relation to diet, bone density, and bone fractures. J Bone Miner Res. 2004;19:42–47.

28.

Ooms ME, Lips P, Roos JC, van der Vijgh WJ, Popp-Snijders C, Bezemer PD, Bouter LM. Vitamin D status and sex hormone binding globulin: determinants of bone turnover and bone mineral density in elderly women. J Bone Miner Res. 1995;10:1177–1184.

29.

Outila TA, Kärkkäinen MU, Lamberg-Allardt CJ. Vitamin D status affects serum parathyroid hormone concentrations during winter in female adolescents: associations with forearm bone mineral density. Am J Clin Nutr. 2001;74:206–210.

30.

Pasco JA, Henry MJ, Kotowicz MA, Sanders KM, Seeman E, Pasco JR, Schneider HG, Nicholson GC. Seasonal periodicity of serum vitamin D and parathyroid hormone, bone resorption, and fractures: the Geelong Osteoporosis Study. J Bone Miner Res. 2004;19:752–758.

31.

Paulussen M, Craft AW, Lewis I, Hackshaw A, Douglas C, Dunst J, Schuck A, Winkelmann W, Köhler G, Poremba C, Zoubek A, Ladenstein R, van den Berg H, Hunold A, Cassoni A, Spooner D, Grimer R, Whelan J, McTiernan A, Jürgens H; European Intergroup Cooperative Ewing's Sarcoma Study-92. Results of the EICESS-92 Study: two randomized trials of Ewing's sarcoma treatment: cyclophosphamide compared with ifosfamide in standard-risk patients and assessment of benefit of etoposide added to standard treatment in high-risk patients. J Clin Oncol. 2008;26:4385–4393.

32.

Perrini S, Laviola L, Carreira MC, Cignarelli A, Natalicchio A, Giorgino F. The GH/IGF1 axis and signaling pathways in the muscle and bone: mechanisms underlying age-related skeletal muscle wasting and osteoporosis. J Endocrinol. 2010;205:201–210.

33.

Ruza E, Sierrasesúmaga L, Azcona C, Patiño-Garcia A. Bone mineral density and bone metabolism in children treated for bone sarcomas. Pediatr Res. 2006;59:866–871.

34.

Sala A, Barr RD. Osteopenia and cancer in children and adolescents: the fragility of success. Cancer. 2007;109:1420–1431.

35.

Segal E, Dvorkin L, Lavy A, Rozen GS, Yaniv I, Raz B, Tamir A, Ish-Shalom S. Bone density in axial and appendicular skeleton in patients with lactose intolerance: influence of calcium intake and vitamin D status. J Am Coll Nutr. 2003;22:201–207.

36.

Sievänen H. Immobilization and bone structure in humans. Arch Biochem Biophys. 2010;503:146–152.

37.

Slemenda CW, Peacock M, Hui S, Zhou L, Johnston CC. Reduced rates of skeletal remodeling are associated with increased bone mineral density during the development of peak skeletal mass. J Bone Miner Res. 1997;12:676–682.

38.

Ueland T. Bone metabolism in relation to alterations in systemic growth hormone. Growth Horm IGF Res. 2004;14:404–417.

39.

Unuvar T, Buyukgebiz A. Nutritional rickets and vitamin D deficiency in infants, children and adolescents. Pediatr Endocrinol Rev. 2010;7:283–291.

40.

van der Sluis IM, van den Heuvel-Eibrink MM. Osteoporosis in children with cancer. Pediatr Blood Cancer. 2008;50(2 suppl):474–478; discussion 486.

41.

Wasilewski-Masker K, Kaste SC, Hudson MM, Esiashvili N, Mattano LA, Meacham LR. Bone mineral density deficits in survivors of childhood cancer: long-term follow-up guidelines and review of the literature. Pediatrics. 2008;121:e705–e713.
Acknowledgments
We thank Franz Quehenberger PhD, Institute of Medical Informatics, Statistics and Documentation, for statistical analysis, and Thomas Lovse MD, Karin Novotny, and Andreas Frings for their assistance.
Additional information
Each author certifies that he or she, or a member of their immediate family, has no commercial associations (eg, consultancies, stock ownership, equity interest, patent/licensing arrangements, etc) that might pose a conflict of interest in connection with the submitted article.
All ICMJE Conflict of Interest Forms for authors and Clinical Orthopaedics and Related Research editors and board members are on file with the publication and can be viewed on request.
Each author certifies that his or her institution approved the human protocol for this investigation, that all investigations were conducted in conformity with ethical principles of research, and that informed consent for participation in the study was obtained.
About this article
Cite this article
Pirker-Frühauf, U.M., Friesenbichler, J., Urban, E. et al. Osteoporosis in Children and Young Adults: A Late Effect After Chemotherapy for Bone Sarcoma. Clin Orthop Relat Res 470, 2874–2885 (2012). https://doi.org/10.1007/s11999-012-2448-7
Received:

Accepted:

Published:

Issue Date:
Keywords
Bone Mineral Density

Osteoporosis

Osteosarcoma

Lower Bone Mineral Density

Lactose Intolerance