Abstract
Arthroscopic surgery of the hip is a well-established technique with numerous recognized indications. Despite the well-accepted nature of this procedure, there have been no outcomes studies with extended followup. We investigated the response to hip arthroscopy in a consecutive series of patients with 10 years followup. Since 1993, all patients undergoing hip arthroscopy have been assessed prospectively with a modified Harris hip score preoperatively and then postoperatively at 3, 12, 24, 60, and 120 months. A cohort of 50 patients (52 hips) was identified who had achieved 10-year followup and represent the substance of this study. There was 100% followup. The average age of the patients was 38 years (range, 14–84 years), with 27 males and 23 females. The median improvement was 25 points (preoperative, 56 points; postoperative, 81 points). Fourteen patients were converted to THA and two died. Four patients underwent repeat arthroscopy. There were two complications in one patient. The presence of arthritis at the time of the index procedure was an indicator of poor prognosis. This study substantiates the long-term effectiveness of arthroscopy in the hip as treatment for various disorders, including labral pathology, chondral damage, synovitis, and loose bodies. Arthritis is an indicator of poor long-term outcomes with these reported methods.
Level of Evidence: Level IV, therapeutic study. See Guidelines for Authors for a complete description of levels of evidence.
This is a preview of subscription content, log in to check access.
Access options
Buy single article
Instant access to the full article PDF.
US$ 39.95
Price includes VAT for USA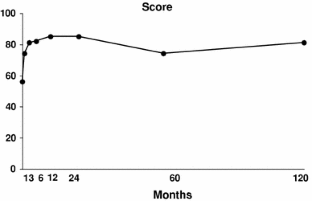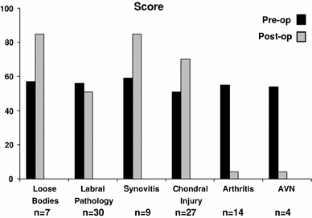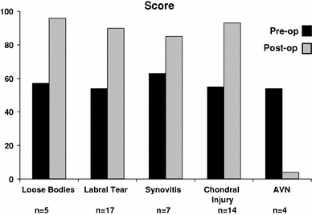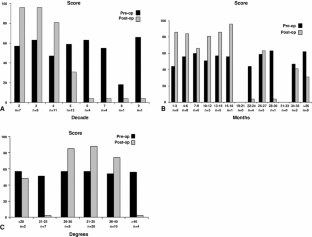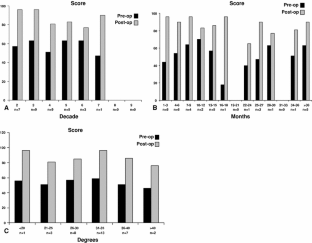 References
1.

Bynum CK, Tasto J. Arthroscopic treatment of synovial disorders in the shoulder, elbow, and ankle. J Knee Surg. 2002;15:57–59.

2.

Byrd JW. Hip arthroscopy utilizing the supine position. Arthroscopy. 1994;10:275–280.

3.

Byrd JW. Hip arthroscopy for post-traumatic loose fragments in the young active adult: three case reports. Clin J Sport Med. 1996;6:129–133; discussion 133–134.

4.

Byrd JW. Hip arthroscopy: patient assessment and indications. Instr Course Lect. 2003;52:701–709.

5.

Byrd JW. Hip arthroscopy. J Am Acad Orthop Surg. 2006;14:433–444.

6.

Byrd JW, Jones KS. Prospective analysis of hip arthroscopy with two year followup. Arthroscopy. 2000;16:578–587.

7.

Byrd JW, Jones KS. Prospective analysis of hip arthroscopy with five year followup. Arthroscopy. 2003;19(6 suppl 1):88.

8.

Byrd JW, Pappas JN, Pedley MJ. Hip arthroscopy: an anatomic study of portal placement and relationship to the extra-articular structures. Arthroscopy. 1995;11:418–423.

9.

Byrd JWT. Hip arthroscopy: the supine position. In: McGinty J, Caspari R, Jackson R, Poehling G, eds. Operative Arthroscopy. 2nd Ed. New York, NY: Raven Press; 1995:1091–1099.

10.

Byrd JWT. The supine position. In: Byrd JWT, ed. Operative Hip Arthroscopy. New York, NY: Thieme; 1998:123–128.

11.

Byrd JWT. Arthroscopy of select hip lesions. In: Byrd JWT, ed. Operative Hip Arthroscopy. New York, NY: Thieme; 1998:153–170.

12.

Byrd JWT. Indications and contraindications. In: Byrd JWT, ed. Operative Hip Arthroscopy. New York, NY: Thieme; 1998:7–24.

13.

Dienst M, Godde S, Seil R, Hammer D, Kohn D. Hip arthroscopy without traction: in vivo anatomy of the peripheral hip joint cavity. Arthroscopy. 2001;17:924–931.

14.

Farjo LA, Glick JM, Sampson TG. Hip arthroscopy for acetabular labrum tears. Arthroscopy. 1999;15:132–137.

15.

Ganz R, Parvizi J, Beck M, Leunig M, Notzli H, Siebenrock KA. Femoroacetabular impingement: a cause for osteoarthritis of the hip. Clin Orthop Relat Res. 2003;417:112–120.

16.

Harris WH. Traumatic arthritis of the hip after dislocation and acetabular fractures: treatment by mold arthroplasty. An end-result study using a new method of result evaluation. J Bone Joint Surg Am. 1969;51:737–755.

17.

Hunter DM, Ruch DS. Hip arthroscopy. J South Orthop Assoc. 1996;5:243–250.

18.

Kelly BT, Weiland DE, Schenker ML, Philippon MJ. Arthroscopic labral repair in the hip: surgical technique and review of the literature. Arthroscopy. 2005;21:1496–1504.

19.

Murphy KP, Ross AE, Javernick MA, Lehman RA Jr. Repair of the adult acetabular labrum. Arthroscopy. 2006;22:567.el 3.

20.

Ogilvie-Harris DJ, Weisleder L. Arthroscopic synovectomy of the knee: is it helpful? Arthroscopy. 1995;11:91–95.

21.

Outerbridge R. Etiology of chondromalacia patella. J Bone Joint Surg Br. 1961;43:752–754.

22.

Wenger DE, Kendell KR, Miner MR, Trousdale RT. Acetabular labral tears rarely occur in the absence of bony abnormalities. Clin Orthop Relat Res. 2004;426:145–150.

23.

Wright JG, Young NL. A comparison of different indices of responsiveness. J Clin Epidemiol. 1997;50:239–246.
Acknowledgments
We thank Sharon Simmons for her diligent assistance in the preparation of this manuscript.
Additional information
One of the authors (JWTB) is a consultant for Smith & Nephew Endoscopy, Andover, MA, and has received funding for this study from Smith & Nephew Endoscopy.
Each author certifies that his or her institution has approved or waived approval of the human protocol for this investigation and that all investigations were conducted in conformity with ethical principles of research.
About this article
Cite this article
Byrd, J.W.T., Jones, K.S. Prospective Analysis of Hip Arthroscopy with 10-year Followup. Clin Orthop Relat Res 468, 741–746 (2010). https://doi.org/10.1007/s11999-009-0841-7
Received:

Accepted:

Published:

Issue Date:
Keywords
Synovitis

Loose Body

Labral Tear

Myositis Ossificans

Ligamentum Teres