Extraction of Flaxseed Oil: A Comparative Study of Three-Phase Partitioning and Supercritical Carbon Dioxide Using Response Surface Methodology
Abstract
Flaxseed has gained significant interest as a source of edible oil that is rich in omega-3 fatty acids, high content of flaxseed proteins and lignans that are known to be therapeutic. Low oxidative stability of flaxseed oil necessitates the use of extraction technologies that are advanced and economically viable than the currently used cold press extraction. This work compares the yield and quality of the flaxseed oil obtained by individually optimized supercritical carbon dioxide extraction (SCE), three-phase partitioning (TPP), solvent extraction and the reported values of cold press extraction. The yields of oil obtained were comparable for SCE (30.03% w/w), TPP (22.46% w/w), ultrasonic pre-treated TPP (27.05% w/w), enzyme-pre-treated TPP (26.24% w/w) and reported value of 25.50% w/w in commercial screw-press expeller but lower than solvent extraction (41.53% w/w). Amongst the techniques evaluated, enzyme-pre-treated TPP using Accellerase® is recommended due to excellent protein recovery of 86.62%, better oil quality (iodine value, peroxide value, acid value and 2,2-diphenyl-1-picrylhydrazyl free radical scavenging activity) and a potential of being industrially scalable.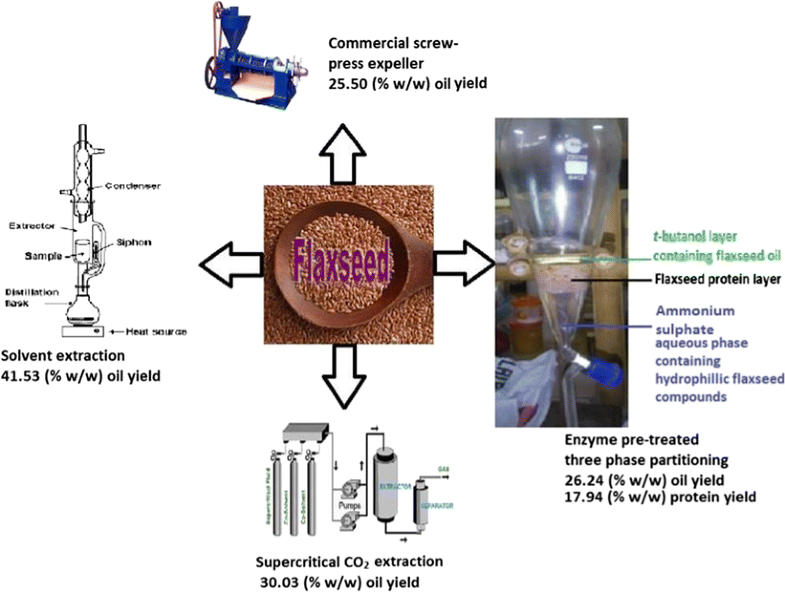 Keywords
Flaxseed 
Solvent extraction 
Supercritical fluid extraction 
Three-phase partitioning 
Pre-treatments 
Oil quality 
Notes
Acknowledgements
First author Nikhil G Kulkarni is grateful to Technical Education Quality Improvement Programme (TEQIP), Government of India, and assisted by World Bank for their financial support in carrying out this work.
Copyright information
© Springer Science+Business Media New York 2017