Opinion statement
Erectile dysfunction (ED) is an important clinical condition that affects a significant proportion of men. Although there are many etiologies for ED, many cases have a vascular basis that is related to inadequate arterial inflow, veno-occlusive dysfunction, or abnormalities in smooth muscle (cavernosal tissue) relaxation. These vascular abnormalities can exist in isolation or combination. Since the advent of phosphodiesterase-5 inhibitor (PDE5i) therapy, the initial management of ED in most cases consists of a brief medical evaluation followed by a trial of PDE5i therapy. However, up to 50% of men have an inadequate response to PDE5i therapy and discontinue therapy. Subsequent therapies for ED are increasingly invasive, including penile injection of vasodilators, vacuum pumps, and penile implants. With increased awareness of ED among clinicians and the growing mechanistic link between ED and atherosclerotic vascular disease, there has been renewed interest in the diagnosis and management of arteriogenic ED. Prior reports in the 1980s described the existence of arterial inflow lesions in patients with ED, and there are a modest number of reports describing the feasibility of revascularization with balloon angioplasty. Despite initial clinical success, enthusiasm for this technique waned, presumably because ED frequently recurred due to restenosis and lack of small vessel endovascular therapies. Recent investigation and the availability of newer tools such as drug-eluting stents have renewed interest in this field. Although conceptually attractive, endovascular therapy for ED presents significant challenges related to unanswered questions such as the prevalence and appropriate diagnostic evaluation of arteriogenic ED, and the safety and feasibility of stent-based therapies in this population. In addition, the evaluation, management, and follow-up of patients with vascular ED require a multi-disciplinary team with specialists in urology, sexual medicine, and vascular medicine. Despite these challenges, the potential for endovascular treatment of these patients remains one of the most exciting areas of investigation in vascular medicine.
This is a preview of subscription content, log in to check access.
Access options
Buy single article
Instant unlimited access to the full article PDF.
US$ 39.95
Price includes VAT for USA
Subscribe to journal
Immediate online access to all issues from 2019. Subscription will auto renew annually.
US$ 99
This is the net price. Taxes to be calculated in checkout.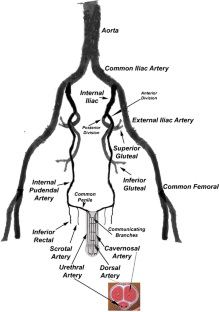 References and Recommended Reading
Papers of particular interest, published recently, have been highlighted as: • Of importance •• Of major importance
1.

NIH Consensus Conference. Impotence. NIH Consensus Development Panel on Impotence. Jama. 1993;270:83–90.

2.

Smith KJ, Roberts MS. The cost-effectiveness of sildenafil. Ann Intern Med. 2000;132:933–7.

3.

Willke RJ, Yen W, Parkerson Jr GR, Linet OI, Erder MH, Glick HA. Quality of life effects of alprostadil therapy for erectile dysfunction: results of a trial in Europe and South Africa. Int J Impot Res. 1998;10:239–46.

4.

Feldman HA, Goldstein I, Hatzichristou DG, Krane RJ, McKinlay JB. Impotence and its medical and psychosocial correlates: results of the Massachusetts Male Aging Study. J Urol. 1994;151:54–61.

5.

McKinlay JB. The worldwide prevalence and epidemiology of erectile dysfunction. Int J Impot Res. 2000;12 Suppl 4:S6–S11.

6.

Ansong KS, Lewis C, Jenkins P, Bell J. Help-seeking decisions among men with impotence. Urology. 1998;52:834–7.

7.

Lue TF. Erectile dysfunction. N Engl J Med. 2000;342:1802–13.

8.

Gazzaruso C, Giordanetti S, De Amici E, Bertone G, Falcone C, Geroldi D, Fratino P, Solerte SB, Garzaniti A. Relationship between erectile dysfunction and silent myocardial ischemia in apparently uncomplicated type 2 diabetic patients. Circulation. 2004;110:22–6.

9.

Rosen MP, Greenfield AJ, Walker TG, Grant P, Dubrow J, Bettmann MA, Fried LE, Goldstein I. Cigarette smoking: an independent risk factor for atherosclerosis in the hypogastric-cavernous arterial bed of men with arteriogenic impotence. J Urol. 1991;145:759–63.

10.

El-Sakka AI, Morsy AM, Fagih BI, Nassar AH. Coronary artery risk factors in patients with erectile dysfunction. J Urol. 2004;172:251–4.

11.•

Dong JY, Zhang YH, Qin LQ. Erectile dysfunction and risk of cardiovascular disease meta-analysis of prospective cohort studies. J Am Coll Cardiol. 2011;58:1378–85.

12.

Montorsi F, Briganti A, Salonia A, Rigatti P, Margonato A, Macchi A, Galli S, Ravagnani PM, Montorsi P. Erectile dysfunction prevalence, time of onset and association with risk factors in 300 consecutive patients with acute chest pain and angiographically documented coronary artery disease. Eur Urol. 2003;44:360–4. discussion 364–5.

13.

Thompson IM, Tangen CM, Goodman PJ, Probstfield JL, Moinpour CM, Coltman CA. Erectile dysfunction and subsequent cardiovascular disease. Jama. 2005;294:2996–3002.

14.

Chiurlia E, D'Amico R, Ratti C, Granata AR, Romagnoli R, Modena MG. Subclinical coronary artery atherosclerosis in patients with erectile dysfunction. J Am Coll Cardiol. 2005;46:1503–6.

15.

Campbell HE. Clinical monograph for drug formulary review: erectile dysfunction agents. J Manag Care Pharm. 2005;11:151–71.

16.

Hatzichristou D, Goldstein I. Penile microvascular arterial bypass: indications and surgical considerations. Surg Annu. 1993;25(Pt 2):207–29.

17.

Bookstein JJ, Valji K, Parsons L, Kessler W. Pharmacoarteriography in the evaluation of impotence. J Urol. 1987;137:333–7.

18.

Mueller SC, von Wallenberg-Pachaly H, Voges GE, Schild HH. Comparison of selective internal iliac pharmaco-angiography, penile brachial index and duplex sonography with pulsed Doppler analysis for the evaluation of vasculogenic (arteriogenic) impotence. J Urol. 1990;143:928–32.

19.

Rosen MP, Greenfield AJ, Walker TG, Grant P, Guben JK, Dubrow J, Bettmann MA, Goldstein I. Arteriogenic impotence: findings in 195 impotent men examined with selective internal pudendal angiography. Young Investigator's Award. Radiology. 1990;174:1043–8.

20.••

Rogers JH, Karimi H, Kao J, Link D, Javidan J, Yamasaki DS, Dolan M, Laird JR, Low RI. Internal pudendal artery stenoses and erectile dysfunction: correlation with angiographic coronary artery disease. Catheter Cardiovasc Interv. 2010;76:882–7.

21.

Leriche R. Des obliterations arterielle hautes (oblideration de la termination de l'aorte) comme cause de insufficances circulatoire des membres inferiurs (Abstr). Bull Mem Soc Chir. 1923;49:1404.

22.

Arteries of the Pelvis. In: Uflacker R, ed. Atlas of Vascular Anatomy: An Angiographic Approach. 2nd ed: Lippincott Williams & Wilkins; 2007:655–698.

23.

Yamaki K, Saga T, Doi Y, Aida K, Yoshizuka M. A statistical study of the branching of the human internal iliac artery. Kurume Med J. 1998;45:333–40.

24.

Jarow JP, DeFranzo AJ. Long-term results of arterial bypass surgery for impotence secondary to segmental vascular disease. J Urol. 1996;156:982–5.

25.

Bradley WE, Timm GW, Gallagher JM, Johnson BK. New method for continuous measurement of nocturnal penile tumescence and rigidity. Urology. 1985;26:4–9.

26.

Barry JM, Blank B, Boileau M. Nocturnal penile tumescence monitoring with stamps. Urology. 1980;15:171–2.

27.

Zorgniotti AW. Practical diagnostic screening for impotence. Urology. 1984;23:98–102.

28.

Aitchison M, Aitchison J, Carter R. Is the penile brachial index a reproducible and useful measurement? Br J Urol. 1990;66:202–4.

29.

Kaufman JM, Borges FD, Fitch 3rd WP, Geller RA, Gruber MB, Hubbard JG, McKay Jr DL, Tuttle Jr JP, Witten FR. Evaluation of erectile dysfunction by dynamic infusion cavernosometry and cavernosography (DICC). Multi-institutional study. Urology. 1993;41:445–51.

30.

Kropman RF, Schipper J, van Oostayen JA, Lycklama a Nijeholt AA, Meinhardt W. The value of increased end diastolic velocity during penile duplex sonography in relation to pathological venous leakage in erectile dysfunction. J Urol. 1992;148:314–7.

31.

Lue TF, Hricak H, Marich KW, Tanagho EA. Evaluation of arteriogenic impotence with intracorporeal injection of papaverine and the duplex ultrasound scanner. Semin Urol. 1985;3:43–8.

32.

Patel U, Amin Z, Friedman E, Vale J, Kirby RW, Lees WR. Colour flow and spectral Doppler imaging after papaverine-induced penile erection in 220 impotent men: study of temporal patterns and the importance of repeated sampling, velocity asymmetry and vascular anomalies. Clin Radiol. 1993;48:18–24.

33.

Valji K, Bookstein JJ. Diagnosis of arteriogenic impotence: efficacy of duplex sonography as a screening tool. AJR Am J Roentgenol. 1993;160:65–9.

34.

Forsberg L, Ekelund L, Hederstrom E, Olsson AM. Pharmacoangiography of the penile arteries. Urol Radiol. 1988;10:132–5.

35.

Gray RR, Keresteci AG, St Louis EL, Grosman H, Jewett MA, Rankin JT, Provan JL. Investigation of impotence by internal pudendal angiography: experience with 73 cases. Radiology. 1982;144:773–80.

36.

Rosen MP, Walker TG, Greenfield AJ. Arteriography and radiology of impotence. Urol Radiol. 1988;10:136–43.

37.

Goldstein I, Lurie AL, Lubisich JP. Bicycle riding, perineal trauma, and erectile dysfunction: data and solutions. Curr Urol Rep. 2007;8:491–7.

38.

Angelini P, Fighali S. Early experience with balloon angioplasty of internal iliac arteries for vasculogenic impotence. Cathet Cardiovasc Diagn. 1987;13:107–10.

39.

Becker GJ, Rowe DM, Holden RW, Dalsing MC, Bendick PJ. Percutaneous transluminal angioplasty for vasculogenic impotence. Indiana Med. 1986;79:256–62.

40.

Castaneda-Zuniga WR, Smith A, Kaye K, Rusnak B, Herrerra M, Miller R, Amplatz K, Weens C, Ketchum D. Transluminal angioplasty for treatment of vasculogenic impotence. AJR Am J Roentgenol. 1982;139:371–3.

41.

Goldwasser B, Carson 3rd CC, Braun SD, McCann RL. Impotence due to the pelvic steal syndrome: treatment by iliac transluminal angioplasty. J Urol. 1985;133:860–1.

42.

Valji K, Bookstein JJ. Transluminal angioplasty in the treatment of arteriogenic impotence. Cardiovasc Intervent Radiol. 1988;11:245–52.

43.

Van Unnik JG, Marsman JW. Impotence due to the external iliac steal syndrome treated by percutaneous transluminal angioplasty. J Urol. 1984;131:544–5.

44.

Rosen RC, Cappelleri JC, Gendrano 3rd N. The International Index of Erectile Function (IIEF): a state-of-the-science review. Int J Impot Res. 2002;14:226–44.

45.

O'Keefe JH, Carter MD, Lavie CJ. Primary and secondary prevention of cardiovascular diseases: a practical evidence-based approach. Mayo Clin Proc. 2009;84:741–57.
Disclosure
No conflicts of interest relevant to this article were reported.
About this article
Cite this article
Rogers, J.H., Rocha-Singh, K.J. Endovascular Therapy for Vasculogenic Erectile Dysfunction. Curr Treat Options Cardio Med 14, 193–202 (2012) doi:10.1007/s11936-012-0171-z
Keywords
Erectile dysfunction

Atherosclerosis

Vascular disease

Phosphodiesterase-5 inhibitors