Abstract
Purpose of Review
This review discusses factors affecting outcomes during ureteroscopy (URS) with laser lithotripsy (LL), explores specific clinical challenges to the efficacy of URS LL, and reviews the available literature comparing the dusting and basketing approaches to URS LL.
Recent Findings
Data show high stone-free rates with URS LL in all locations of the urinary tract and with all stone types and sizes. Recent data comparing LL with dusting versus basketing suggest higher rates of residual fragments with dusting but less utilization of ureteral access sheaths and potentially shorter operative times. Differences in postoperative complications, re-intervention rates, and other outcome parameters are not yet clear. Interpretation of published data is problematic due to variability in laser settings, follow-up intervals, and definitions for what constitutes stone-free status.
Summary
URS has overtaken shock wave lithotripsy in the last decade as the most commonly utilized surgical approach for treating urolithiasis. Two primary strategies have emerged as the most common techniques for performing LL: dusting and basketing. There is a relative paucity of data examining the difference in these techniques as it pertains to peri-operative outcomes and overall success. We attempt to synthesize this data into evidence-based and experience-based recommendations.
This is a preview of subscription content, log in to check access.
Access options
Buy single article
Instant unlimited access to the full article PDF.
US$ 39.95
Price includes VAT for USA
Subscribe to journal
Immediate online access to all issues from 2019. Subscription will auto renew annually.
US$ 99
This is the net price. Taxes to be calculated in checkout.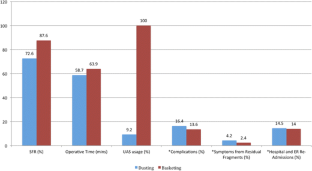 References
Papers of particular interest, published recently, have been highlighted as: • Of importance •• Of major importance
1.

Seeger AR, Rittenberg MH, Bagley DH. Ureteropyeloscopic removal of ureteral calculi. J Urol. 1988;139(6):1180–3.

2.

Harmon W, Sershon P, Blute M, et al. Ureteroscopy: current practice and long-term complications. J Urol. 1997;157(1):28–32.

3.

Zhong P, Preminger G. Mechanisms of differing stone fragility in extracorporeal shock wave lithotripsy. J Endourol. 1994;8(4):263–8.

4.

Brownlee N, Foster M, Griffith DP, Carlton Jr CE. Controlled inversion therapy: an adjunct to the elimination of gravity-dependent fragments following extracorporeal shock wave lithotripsy. J Urol. 1990;143(6):1096–8.

5.

Pace KT, Tariq N, Dyer SJ, Weir MJRJDAH. Mechanical percussion, inversion and diuresis for residual lower pole fragments after shock wave lithotripsy: a prospective, single blind, randomized controlled trial. J Urol. 2001;166(6):2065–71.

6.

Chiong E, Hwee ST, Kay LM, Liang S, Kamaraj R, Esuvaranathan K. Randomized controlled study of mechanical percussion, diuresis, and inversion therapy to assist passage of lower pole renal calculi after shock wave lithotripsy. Urology. 2005;65(6):1070–4.

7.

Matlaga BR, Lansen JP, Meckley LM, Byrne TW, Lingeman JE. A systematic review and meta-analysis of randomized. Contrl Trials J Urol. 2012;188(1):130–7.

8.

Pearle MS, Lingeman JE, Leveillee R, Kuo R, Preminger GM, et al. Prospective, randomized trial comparing shock wave lithotripsy and ureteroscopy for lower pole caliceal calculi 1 cm or less. J Urol. 2005;173(6):2005–9.

9.

Pearle MS, Nadler R, Bercowsky E, Chen C, et al. Prospective randomized trial comparing shock wave lithotripsy and ureteroscopy for management of distal ureteral calculi. J Urol. 2001;166(4):1255–60.

10.

Salem HK. A prospective randomized study comparing shock wave lithotripsy and semirigid ureteroscopy for the management of proximal ureteral calculi. J Urol. 2009;74(6):1216–21.

11.

Nelson CP, Pace KT, Pais VM, Pearle MS, Preminger GM. American Urological Association (AUA) guideline surgical management of stones: American Urological Association Surgical Management 2016; April:1–50.

12.

Humphreys MR, Miller NL, Williams Jr JC, Evan AP, Munch LC, Lingeman JE. A new world revealed: early experience with digital ureteroscopy. J Urol. 2008;179(3):970–5.

13.

Somani BK, Al-Qahtani SM, de Medina SD, Traxer O. Outcomes of flexible ureterorenoscopy and laser fragmentation for renal stones: comparison between digital and conventional ureteroscope. Urology. 2013;82(5):1017–9.

14.

Oberlin DT, Flum AS, Bachrach L, Matulewicz RS, Flury SC. Contemporary surgical trends in the management of upper tract calculi. J Urol. 2015;193(3):880–4.

15.

Türk C, Petřík A, Sarica K, Seitz C, Skolarikos A, Straub M, Knoll T. EUA Guidelines on Interventional Treatment for Urolithiasis. 2016;69(3)475–82.

16.

Ziemba JB, Matlaga BR. Understanding the costs of flexible ureteroscopy. Minerva Urol Nefrol. 2016.

17.

Tosoian JJ, Ludwig W, Sopko N, Mullins JK, Matlaga BR. The effect of repair costs on the profitability of a ureteroscopy program. J Endourol. 2015;29(4):406–9.

18.

Carey RI, Martin CJ, Knego JR. Prospective evaluation of refurbished flexible ureteroscope durability seen in a large public tertiary care center with multiple surgeons. Urology. 2014;84(1):42–5.

19.

Shin RH, Lautz JM, Cabrera FJ, Shami CJ, Goldsmith ZG, Kuntz NJ, et al. Evaluation of novel ball-tip holmium laser fiber: impact on ureteroscope performance and fragmentation efficiency. J Endourol. 2016;30(2):189–94.

20.

Doizi S, Kamphuis G, Giusti G, Andreassen KH, Knoll T, Osther PJ, et al. First clinical evaluation of a new single-use flexible ureteroscope (LithoVue): a European prospective multicentric feasibility study. World J Urol. 2016.

21.

Leveillee RJ, Kelly EF. Impressive performance: new disposable digital ureteroscope allows for extreme lower pole access and use of 365 mum holmium laser fiber. J Endourol Case Rep. 2016;2(1):114–6.

22.

Torricelli FC, Marchini GS, Pedro RN, Monga M. Ureteroscopy for management of stone disease: an up to date on surgical technique and disposable devices. Minerva Urol Nefrol. 2016;68(6):516–26.

23.

Vij DR, Mahesh K. Medical applications of laser. In: Technology & Engineering. Springer: Science & Business Media; 2013.

24.

Brisbane W, Bailey MR, Sorensen MD. An overview of kidney stone imaging techniques. Nat Rev Urol. 2016;13:654–62.

25.

Perez Castro E, Osther PJ, Jinga V, et al. Differences in ureteroscopic stone treatment and outcomes for distal, mid-, proximal, or multiple ureteral locations: the Clinical Research Office of the Endourological Society ureteroscopy global study. Eur Urol. 2014;66:102.

26.

Hyams E, Monga M, Pearle MS, et al. A prospective, multi-institutional study of flexible ureteroscopy for proximal ureteral stones smaller than 2 cm. J Urol. 2015;193:165.

27.

Mi Y, Ren K, Huang Y, et al. Flexible Ureterorenoscopy (F-URS) with Holmium laser versus Extracorporeal Shock Wave Lithotripsy (ESWL) for treatment of renal stone <2 cm: a meta-analysis. Urolothiasis. 2016;44:353–65.

28.

Ito H, Sakamaki K, Matsuzaki J, et al. Development and validation of a nomogram for predicting stone-free status after flexible ureteroscopy for renal stones. BJU Int. 2014;115:446–551.

29.

Bryniarski P, Paradysz A, Zyczkowski M, et al. A randomized controlled study to analyze the safety and efficacy of percutaneous nephrolithotripsy and retrograde intrarenal surgery in the management of renal stones more than 2 cm in diameter. J Endourol. 2012;26:52.

30.

Moses RA, Ghali FM, Vernon MPJ, Hyams E. Unplanned hospital return for infection following ureteroscopy- can we identify modifiable risk factors? J Urol. 2016;195(4):931–6.

31.

Aboumarzouk O, Monga M, Kata S, Traxer O, Somani M. Flexible ureteroscopy and laser lithotripsy for stones >2 cm: a systematic review and meta-analysis. J Endourol. 2012;26:10.

32.

Al-Qahtani SM, Gil-Deiz-de-Medina S, Traxer O. Predictors of clinical outcomes of flexible ureterorenoscopy with holmium laser for renal stone greater than 2 cm. Adv Urol. 2012, 543537

33.

Cohen J, Cohen S, Grasso M. Ureteropyeloscopic treatment of large, complex intrarenal and proximal ureteral calculi. BJU Int. 2013;111:E127–31.

34.

Hyams ES, Munver R, Bird VG, Uberoi J, Shah O. Flexible ureterorenoscopy and holmium laser lithotripsy for the management of renal stone burdens that measure 2 to 3 cm: a multi-institutional experience. J Endourol. 2010;24:1583–8.

35.

Preminger G. Management of lower pole calculi: shock wave lithotripsy versus percutaneous nephrolithotomy versus flexible ureteroscopy. Urol Res. 2006;34:108–11.

36.

Sampaio FJ, Aragao AH. Inferior pole collecting system anatomy: its probable role in extracorporeal shock wave lithotripsy. J Urol. 1992;147(2):322–4.

37.

Resorlu B, Oguz U, Resorlu EB, Oztuna D, Unsal A. The impact of pelvicaliceal anatomy on the success of retrograde intrarenal surgery in patients with lower pole renal stones. J Urol. 2012;79(1):61–6.

38.

Singh BP et al. Retrograde intrarenal surgery vs extracorporeal shock wave lithotripsy for intermediate size inferior pole calculi: a prospective assessment of objective and subjective outcomes. Urology. 2014;83:1016–22.

39.

El-Nahas AR, Ibrahim HM, Youssef RF, Sheir KZ. Flexible ureterorenoscopy versus extracorporeal shock wave lithotripsy for treatment of lower pole stones of 10–20 mm. BJU Int. 2012;110(6):898–902.

40.

Ghani KR, Wolf Jr JS. What is the stone-free rate following flexible ureteroscopy for kidney stones? Nat Rev Urol. 2015;12(7):363.

41.

Borghi L, Meschi T, Amato F, Briganti A, Novarini A, Giannini A. Urinary volume, water and recurrences in idiopathic calcium nephrolithiasis: a 5-year randomized prospective study. J Urol. 1996;155(3):839–43.

42.

Curhan GC, Willett WC, Rimm EB, Stampfer MJ. A prospective study of dietary calcium and other nutrients and the risk of symptomatic kidney stones. NEJM. 1993;328:833–8.

43.

Taylor EN, Fung TT, Curhan GC. DASH-style diet associates with reduced risk for kidney stones. J Am Soc Nephrol. 2009;20(10):2253–9.

44.

Uribarri J, Oh MS, Carrol HJ. The first kidney stone. Ann Intern Med. 1989;111(12):1006.

45.

Molina WR, Marchini GS, Monga M, et al. Determinants of holmium:yttrium-aluminum-garnet laser time and energy during ureteroscopic laser lithotripsy. Endourol Stones. 2014;83(4):738–44.

46.

Ackerman A, Chen T, Young B, Lipkin M, et al. The effect of variable pulse duration on stone communition, fiber tip degradation, and stone retropulsion in a "Dusting" model. J Urol. 2016;195(4S):e472–3.

47.

Schatloff O, Lindner U, Ramon J, Winkler H. Randomized trial of stone fragment active retrieval versus spontaneous passage during holmium laser lithotripsy for ureteral stones. J Urol. 2010;183:1031–5.

48.

Portis A, Laliberte M, Drake S, Rosenberg M, Bretzke C. Intraoperative fragment detection during percutaneous nephrolithotomy: evaluation of high magnification rotational fluoroscopy combined with aggressive nephroscopy. J Urol. 2006;175:162–5.

49.

Rebuck DA, Macejko A, Bhalani V, Ramos P, Nadler RB. The natural history of renal stone fragments following ureteroscopy. Urology. 2011;77:564–8.

50.

Hussain M, Acher P, Penev B, Cynk M. Redefining the limits of flexible ureterorenoscopy. J Endourol. 2011;25:45–9.

51.

Cocuzza M et al. Outcomes of flexible ureteroscopic lithotripsy with holmium laser for upper urinary tract calculi. Int Braz J Urol. 2008;34:143–9.

52.

Auge BK, Pietrow PK, Lallas CD, Raj GV, Santa-Cruz RW, Preminger GM. Ureteral access sheath provides protection against elevated renal pressures during routine flexible ureteroscopic stone manipulation. J Endourol. 2004;18(1):33–6.

53.

Zhong W, Leto G, Wang L, Zeng G. Systemic inflammatory response syndrome after flexible ureteroscopic lithotripsy: a study of risk factors. J Endourol. 2015;29(1):25–8.

54.

Ng YH, Somani BK, Dennison A, Kata SG, Nabi G, Brown S. Irrigant flow and intrarenal pressure during flexible ureteroscopy: the effect of different access sheaths, working channel instruments, and hydrostatic pressure. J Endourol. 2010;24(12):1915–20.

55.

Kourambas J, Byrne RR, Preminger GM. Does a ureteral access sheath facilitate ureteroscopy? J Urol. 2001;165(3):789–93.

56.

Pietrow PK, Auge BK, Delvecchio FC, Silverstein AD, Weizer AZ, Albala DM, et al. Techniques to maximize flexible ureteroscope longevity. Urology. 2002;60(5):784–8.

57.

Berquet G, Prunel P, Verhoest G, Mathieu R, Bensalah K. The use of a ureteral access sheath does not improve stone-free rate after ureteroscopy for upper urinary tract stones. World J Urol. 2014;32:229–32.

58.

L'Esperance JO, Ekeruo WO, Scales Jr CD, et al. Effect of ureteral access sheath on stone-free rates in patients undergoing ureteroscopic management of renal calculi. Urology. 2005;66:252–5.

59.

Lallas CD, Auge BK, Raj GV, et al. Laser Doppler flow- metric determination of ureteral blood flow after ureteral access sheath placement. J Endourol. 2002;16:583–90.

60.

• Traxer O, Thomas A. Prospective evaluation and classifi- cation of ureteral wall injuries resulting from insertion of a ure- teral access sheath during retrograde intrarenal surgery. J Urol. 2013;189:580–4. Large prospective study for renal stones treated by URS LL. With placement of a 12/14 Fr UAS. 46.5% had visible ureter damage on 4 point scale. Of these, 86% of which had mucosal injury and 10% with damage through mucosa to smooth muscle. Absence of pre-operative double-J stent placement was the greatest risk factor for ureteral injury.

61.

Delvecchio FC, Auge BK, Brizuela RM, et al. Assessment of stricture formation with the ureteral access sheath. Urology. 2003;61:518–22.

62.

Traxer O, Wendt-Nordahl G, de la Rosette JJ, et al. Differences in renal stone treatment and outcomes for patients treated either with or without the support of a ureteral access sheath: the clinical research office of the endourological society ureteroscopy global study. World J Urol. 2015;33:2137–44.

63.

Morgan MSC, Antonelli JA, Pearle MS, et al. Use of an electronic medical record to assess patient-report morbidity following ureteroscopy. J Endourol. 2016;30(S1):S45–51.

64.

Schuster TG, Hollenbeck BK, Faerber GJ, Wolf Jr JS. Ureteroscopic treatment of lower pole calculi: comparison of lithotripsy in situ and after displacement. J Urol. 2002;168:43–5.

65.

Chew BH et al. Dusting versus basketing during ureteroscopic lithotripsy—what is more efficacious? Interim analysis from a multi-centre prospective trial from the EDGE Research Consortium [abstract]. J Urol. 2015;193(4S):e261–2.

66.

Gamal W, Mamdouh A. Flexible URS Holmium laser stone dusting vs fragmentaion for <2 cm single renal stone [abstract]. J Urol. 2015;193(4S):e312–3.

67.

Tracey J, Gagin G, Ghani K, et al. Flexible ureteroscopy and laser lithotripsy for renal stones using 'pop-dusting': comparison of outcomes between traditional dusting settings versus ultra-high frequency settings [abstract]. J Urol. 2016;195(4S):e683.

68.

•• Chew BH et al. Dusting versus basketing during ureteroscopic lithotripsy—what is more efficacious? final results from the EDGE Research Consortium [abstract]. J Urol. 2016;195(4S):e407. Prospective comparison of dusting to basketing for renal stones 5–20 mm. Initial data shows lower SFR and higher residual fragments in the dusting arm with similar post-operative complications and re-interventions. However, final data analysis is not yet available.

69.

Candau C, Saussine C, Lang H, Roy C, Faure F, Jacqmin D. Natural history of residual renal stone fragments after ESWL. Eur Urol. 2000;37(1):18–22.

70.

Streem SB, Yost A, Mascha E. Clinical implications of clinically insignificant store fragments after extracorporeal shock wave lith- otripsy. J Urol. 1996;155(4):1186–90.

71.

Osman MM, Alfano Y, Kamp S, et al. 5-Year follow-up of patients with clinically insignificant residual fragments after extracorporeal shock wave lithotripsy. Eur Urol. 2005;47(6):860–4.

72.

El-Nahas AR, El-Assmy AM, Madbouly K, et al. Predictors of clinical significance of residual fragments after extracorporeal shock wave lithotripsy for renal stones. J Endourol. 2006;20(11):870–4.

73.

Khaitan A, Gupta NP, Hemal AK, et al. Post-ESWL, clinically insignificant residual stones: reality or myth? Urology. 2002;59(1):20–4.

74.

Zanetti G, Seveso M, Montanari E, et al. Renal stone fragments following shock wave lithotripsy. J Urol. 1997;158(2):352–5.

75.

• Chew BH, Brotherhood HL, Sur RL, Humphreys MR. Natural history, complications and re-intervention rates of asymptomatic residual stone fragments after ureteroscopy: a report from the EDGE Research Consortium. J Urol. 2016;195(4):982–6. 232 patients with residual fragments >4 or <4 mm after URS LL for renal stones were evaluated for "stone events" and complications. Residual fragments >4 mm were more likely to grow (p<0.001), result in complications (p=0.039), and re-interventions (p=0.01). Subset analysis also suggests step-wise increase in morbidity with increasing residual fragment size >2 mm.

76.

Tracey J, Gagin G, Ghani K, et al. Stone dusting: outcomes of ureteroscopic lithotripsy using a multi-cavity high-power Holmium laser [abstract]. J Urol. 2016;195(4S):e510.
Ethics declarations
Conflict of Interest
Javier E. Santiago, Adam B. Hollander, and Samit D. Soni each declare no potential conflicts of interest.
Richard E. Link reports occasional consulting for Boston Scientific.
Wesley A. Mayer reports reimbursement from Boston Scientific for a trip to the Boston Scientific Plant.
Human and Animal Rights and Informed Consent
This article does not contain any studies with human or animal subjects performed by any of the authors.
Additional information
This article is part of the Topical Collection on Endourology
Electronic supplementary material
Below is the link to the electronic supplementary material.
Dusting vs. Cracking (MP4 200329 kb)
Dusting vs. Cracking (MP4 200329 kb)
About this article
Cite this article
Santiago, J.E., Hollander, A.B., Soni, S.D. et al. To Dust or Not To Dust: a Systematic Review of Ureteroscopic Laser Lithotripsy Techniques. Curr Urol Rep 18, 32 (2017) doi:10.1007/s11934-017-0677-8
Keywords
Urolithiasis

Dusting

Basketing

Ureteroscopy

Residual fragments

Laser lithotripsy