Early Brain Injury After Poor-Grade Subarachnoid Hemorrhage
Part of the following topical collections:
Abstract
Purpose of Review
Over the last years, the focus of clinical and animal research in subarachnoid hemorrhage (SAH) shifted towards the early phase after the bleeding based on the association of the early injury pattern (first 72 h) with secondary complications and poor outcome. This phase is commonly referenced as early brain injury (EBI). In this clinical review, we intended to overview commonly used definitions of EBI, underlying mechanisms, and potential treatment implications.
Recent Findings
We found a large heterogeneity in the definition used for EBI comprising clinical symptoms, neuroimaging parameters, and advanced neuromonitoring techniques. Although specific treatments are currently not available, therapeutic interventions are aimed at ameliorating EBI by improving the energy/supply mismatch in the early phase after SAH.
Summary
Future research integrating brain-derived biomarkers is warranted to improve our pathophysiologic understanding of EBI in order to ameliorate early injury patterns and improve patients' outcomes.
Keywords
Subarachnoid hemorrhage 
Early brain injury 
Neuroimaging 
Neuromonitoring 
Treatment 
Introduction to the Concept of EBI
Aneurysmal subarachnoid hemorrhage (SAH) accounts for 5–7% of all stroke types [1] and primarily affects young patients at their most productive years. Despite improved neurocritical care management with a decrease in case fatality over the last decades, SAH is still a devastating disease with high long-term morbidity [2]. Only two-thirds of survivors regain functional independence at 1 year after the bleeding [3]. Mechanisms of secondary brain injury after SAH are multifactorial. Although the incidence of vasospasm was successfully decreased in clinical trials, the translation into improved functional outcome failed [4]. In the last years, the focus of experimental and clinical research shifted towards pathophysiologic mechanisms in the first 72 h after the bleeding, commonly referred to as "early brain injury" (EBI). EBI was first described in 2004 by Kusaka et al. [5] and is more and more recognized as an important denominator related to delayed cerebral ischemia (DCI) and long-term morbidity and mortality after SAH [6••, 7].
In this review, we aimed (1) to summarize the current understanding of underlying pathophysiologic mechanisms of EBI, (2) to comment on various definitions of EBI commonly used in literature, and (3) to discuss current and potential future treatment implications. We decided to focus on available studies in humans after SAH to make this review suitable for clinicians in the care of SAH patients.
Mechanisms of EBI
There is increasing evidence that pathophysiologic mechanisms of brain injury start immediately after the bleeding. A sudden increase in intracranial pressure (ICP) caused by the extravasation of blood in the subarachnoid space provokes a decrease in cerebral perfusion (cerebral perfusion pressure, CPP), impairment of autoregulation [
8
•], and in severe cases, transient or persistent ischemia [
9
]. Neuronal cell death and endothelial damage result in cytotoxic edema and blood-brain barrier (BBB) breakdown [
10
,
11
,
12
], which aggravates the development of vasogenic edema [
13
,
14
]. Cell death is furthermore believed to be a consequence of microcirculatory failure, microthrombosis, altered ionic homeostasis, excitotoxicity, oxidative stress, and neuronal swelling [
7
,
15
]. Besides ischemia, "nonischemic" mechanisms such as energy dysfunction secondary to cortical spreading depolarizations (SDs) [
16
] or mitochondrial dysfunction [
17
] are also considered to be an important mitigator of EBI [
18
•]. Finally, the blood in the subarachnoid space and intracerebral hemorrhage itself may aggravate brain injury by microglial activation and initiation of a proinflammatory response [
19
] (Fig. 
1
).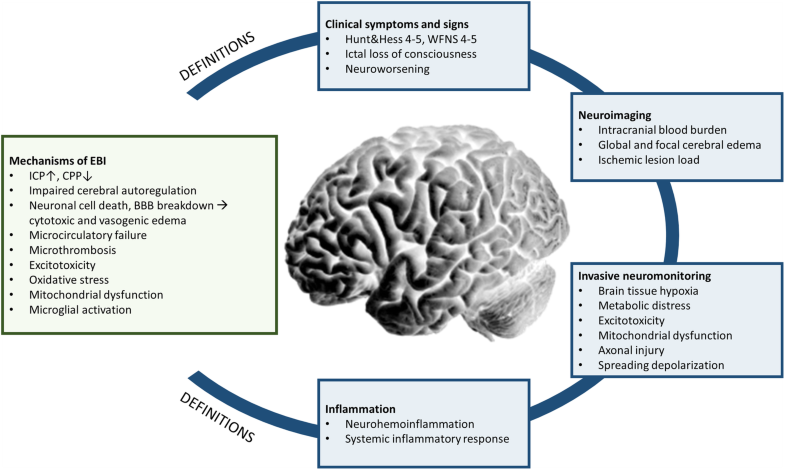 Definitions
So far, no consensus exists on a uniform definition of EBI which has led to an uncritical use of the term "EBI" in clinical practice and research. In the following section, we aimed to describe different approaches used for the definition of EBI based on clinical parameters, neuroimaging, and advanced neuromonitoring techniques (Fig. 1).
Current Implications for Clinical Practice
It is important to separate primary brain damage from mechanisms leading to secondary brain injury, which are potentially amenable to specific treatment strategies. Currently, there is no therapy available specifically targeting EBI. Management strategies to ameliorate EBI in the early phase after SAH primarily aim to provide sufficient energy supply to the brain and normalizing pathological parameters which are known to interfere with aggravation of EBI.
Conclusion
In summary, pathophysiologic mechanisms in the first 72 h after SAH gained clinical and research interest in the past decade. Based on the association of a more severe injury pattern early after the bleeding with secondary complications and poor outcome, future research should focus on EBI by integrating brain-derived biomarkers in order to improve the critical care management after SAH. An agreement on the use of a common definition is strongly needed.
Notes
Funding Information
Open access funding provided by University of Innsbruck and Medical University of Innsbruck.
Compliance with Ethical Standards
Conflict of Interest
Raimund Helbok received speaker's honoraria of BARD Medical and ZOLL Medical and serves in the advisory board of the Intrepid trial (Bard Medical). Verena Rass declares no potential conflicts of interest.
Human and Animal Rights and Informed Consent
This article does not contain any studies with human or animal subjects performed by any of the authors.
References
Papers of particular interest, published recently, have been highlighted as: • Of importance •• Of major importance
Copyright information
© The Author(s) 2019
Open Access This article is distributed under the terms of the Creative Commons Attribution 4.0 International License (http://creativecommons.org/licenses/by/4.0/), which permits unrestricted use, distribution, and reproduction in any medium, provided you give appropriate credit to the original author(s) and the source, provide a link to the Creative Commons license, and indicate if changes were made.