Postural Tachycardia Syndrome: Beyond Orthostatic Intolerance
Autonomic Dysfunction (LH Weimer, Section Editor)
Part of the following topical collections:
Abstract
Postural tachycardia syndrome (POTS) is a form of chronic orthostatic intolerance for which the hallmark physiological trait is an excessive increase in heart rate with assumption of upright posture. The orthostatic tachycardia occurs in the absence of orthostatic hypotension and is associated with a >6-month history of symptoms that are relieved by recumbence. The heart rate abnormality and orthostatic symptoms should not be caused by medications that impair autonomic regulation or by debilitating disorders that can cause tachycardia. POTS is a "final common pathway" for a number of overlapping pathophysiologies, including an autonomic neuropathy in the lower body, hypovolemia, elevated sympathetic tone, mast cell activation, deconditioning, and autoantibodies. Not only may patients be affected by more than one of these pathophysiologies but also the phenotype of POTS has similarities to a number of other disorders, e.g., chronic fatigue syndrome, Ehlers-Danlos syndrome, vasovagal syncope, and inappropriate sinus tachycardia. POTS can be treated with a combination of non-pharmacological approaches, a structured exercise training program, and often some pharmacological support.
Keywords
Tachycardia 
Orthostatic 
Autonomic 
Treatment 
Non-pharmacological 
Medication 
Introduction
Postural tachycardia syndrome (POTS) is a form of chronic orthostatic intolerance in which upright posture is associated with an excessive increase in heart rate (HR) and incapacitating symptoms. An expert consensus statement [1] defines POTS as a HR increment ≥30 beats/min within 10 min of standing or head-up-tilt (HUT) which is sustained in the absence of orthostatic hypotension (a drop >20 mmHg in systolic blood pressure (BP) or >10 mmHg in diastolic BP). Children must meet a higher HR threshold ≥40 beats/min for a diagnosis due to their greater physiologic orthostatic tachycardia. Patients with POTS experience cardiac and non-cardiac presyncopal symptoms chronically (≥6 months). POTS is not considered to be a unique disease but rather the common phenotype of a number of heterogeneous, overlapping pathophysiological processes [2].
POTS is estimated to affect approximately 500,000 [3] to 3,000,000 individuals in the USA, with a female to male ratio of 4–5:1. There is no confirmed explanation for this female predominance in POTS, although lower orthostatic tolerance in healthy females compared with males has been linked to a smaller upright stroke volume [4]. Patients are often young women of childbearing age whose work productivity and quality of life are negatively affected [5]. Functional impairment in patients with POTS has been reported to be similar to that in chronic obstructive pulmonary disease and congestive heart failure [6]; 25 % are unable to work as a result of their disability [7]. The natural history of POTS is not clear, but it does not appear to increase the risk of mortality [8••].
Hemodynamic Physiology of Standing
With assumption of upright posture, blood shifts from the chest to the lower abdomen, buttocks, and legs and from the vasculature into the interstitial space. The decrease in circulating blood volume stimulates compensatory physiological adjustments that are impaired with hypovolemia and POTS. Normally, standing reduces venous return, causing a transient decline in both cardiac filling and arterial pressure and a decrease in stroke volume. As baroreceptors are unloaded, compensatory sympathetic activation increases HR and vascular tone. With time, venous return and cardiac output are restored. Hence, a normal response to standing is a 10–30 beat/min increase in HR, a negligible change in systolic BP, and a ~5 mmHg increase in diastolic BP [2]. In a condition of resting hypovolemia, the body cannot adequately compensate for the orthostatic decrease in blood volume [9], and upright HR is elevated [4]. Patients with POTS may experience an exaggerated orthostatic shift in plasma volume [10]. Venous return remains decreased, so standing cardiac output and stroke volume are not normalized, and HR is elevated in comparison to healthy control subjects [11, 12, 13].
Clinical Presentation of POTS
Diagnostic Criteria
The earliest description of POTS may have come from DaCosta in 1871 [14], who described a syndrome of inappropriate tachycardia and palpitations in Civil War soldiers. This ailment was termed "irritable heart" or "soldier's heart" [11]. Different nomenclature was used through the years until the "idiopathic postural orthostatic tachycardia syndrome" was defined in 1993 by Schondorf and Low as a symptomatic increase in HR of 30 beats/min or more within 10 min of HUT or standing, or a HR while upright exceeding 120 beats/min, without orthostatic hypotension [15]. In our experience, it is uncommon to diagnose POTS based on the 120 beats/min criterion. POTS was recognized in adolescents by Stewart et al. in 1999 [16]. HUT tests and stand tests are standardized methods to assess an individual's response to a change in posture. The patient can be placed securely on a tilt table with continuous or intermittent BP and HR monitoring. Following baseline measurements, the table is inclined to a 70–80° head-up angle for 10 min. A marked rise in HR in POTS is reversed when the tilt table is returned to a flat position. A similar threshold for HR increase is generally used to diagnose POTS with HUT and a standing test, despite the different physiological responses. Active standing engages the "skeletal muscle pump" while the HUT does not. Accordingly, the orthostatic tachycardia is greater with the HUT test in both patients with POTS and control subjects with prolonged tests, but the orthostatic tachycardia is comparable between HUT and active stand for the 10 min used for the POTS criterion [17•].
The orthostatic tachycardia of POTS is exaggerated in the morning compared to the evening. To optimize diagnostic sensitivity, it is recommended that postural testing be performed in the morning [18].
The mere observation of orthostatic tachycardia is not sufficient for a diagnosis of POTS [
2
] (Table 
1
). The HR abnormality must be accompanied by chronic (>6 months) orthostatic symptoms that occur in the absence of prolonged bed rest or deconditioning, use of medications that impair autonomic regulation (vasodilators, diuretics, antidepressants, or anxiolytic agents), or other chronic debilitating disorders that might cause tachycardia (such as dehydration, anemia, or hyperthyroidism) [
19
]. Despite earlier controversy over its existence, the report by Schondorf [
15
] and the more recent consensus statement [
1
] have increased awareness of POTS as a syndrome.
Table 1
Diagnostic criteria for postural tachycardia syndrome
• Increase in heart rate ≥30 bpm within 10 min of upright posture (tilt test or stand) from a supine position
 ◦ Heart rate increase must be >40 bpm in patients <20 years
• Associated with a constellation of symptoms that are worse with upright posture and that improve with recumbence
• Chronic symptoms that have lasted for >6 months
• In the absence of other disorders or medications that are known to predispose to orthostatic tachycardia
Common Clinical Features
Orthostatic Symptoms
Both cardiac symptoms, such as rapid palpitations, lightheadedness, chest discomfort, and dyspnea, and non-cardiac symptoms, such as mental clouding, headache, nausea, tremulousness, generalized weakness, and blurred or tunnel vision, are evident in POTS patients during upright posture [19]. An electrocardiogram (ECG), 24-h Holter monitor, and echocardiogram might be needed to rule out a cardiac etiology for the tachycardia in suspected cases of POTS. The tachycardia of POTS is a sinus tachycardia. An ECG should be done to rule out the presence of an accessory bypass tract or any abnormalities of cardiac conduction [11]. Chest pain in POTS is rarely from coronary artery obstruction, but it may be associated with ECG changes when patients are upright [20]. A Holter monitor can supply information on mean HR and its variability during various prescribed or routine activities that precipitate orthostatic symptoms. It might be used to exclude a re-entrant dysrhythmia, especially when the patient reports paroxysmal tachycardia with a sudden onset and offset [19]. It cannot be used to diagnose POTS, since it does not provide information on body position. An echocardiogram may be needed to exclude structural cardiac abnormalities before making a diagnosis of POTS.
Many patients with POTS are diagnosed with migraine headaches. Orthostatic headaches may be related to decreases in spinal venous pressure and volume of cerebrospinal fluid due to an absolute or orthostatic hypovolemia [21].
A dark red-blue discoloration of the legs might occur with standing, extending from the feet to above the knees in ~50 % of patients with POTS. This acrocyanosis in POTS is not due to increased venous compliance [22, 23] but may be caused by a decrease in blood flow to the skin, possibly related to abnormal cutaneous nitric oxide activity [24].
Non-orthostatic Symptoms
In addition to orthostatic symptoms in POTS, patients experience non-specific signs and symptoms that seem unrelated to postural intolerance or excessive tachycardia [25]. These might or might not be associated with the autonomic nervous system and can also occur in individuals without POTS. Autonomic problems in POTS might include gastrointestinal complaints, such as abdominal pain, nausea and irritable bowel syndrome, as well as bladder symptoms and abnormal sudomotor regulation [19, 26]. More generalized complaints in patients with POTS include hypermobile joints, exercise intolerance, migraine headaches, sleep disturbances, and fatigue [19].
Symptom Triggers
Patients frequently report symptom onset following acute stressors (e.g., pregnancy, a traumatic event, surgery, or a viral illness) [2, 26]. Symptoms can be exacerbated by simple activities of daily life like standing still, exercise, food or alcohol ingestion, or heat exposure [26].
Psychological Profile in POTS
Patients with POTS commonly present with symptoms of depression and anxiety. Yet a structured evaluation using criteria from the Diagnostic and Statistical Manual (fourth edition, text revision) did not identify a higher incidence of major depressive disorder, anxiety disorders, or substance abuse in POTS patients than the general population [27]. Furthermore, the HR increase in patients is not a response to anxiety [28]. The palpitations, hyperventilation, and tremulousness of POTS can be misinterpreted as symptoms of anxiety. Although many patients with POTS complain of "memory problems" and "mental clouding," these might actually represent decreased attention and concentration [27]. A comprehensive neuropsychological evaluation of 28 patients in a seated position found deficits in selective attention and cognitive processing, as well as impaired executive functioning. Memory function did not differ from healthy controls [29••].
Disorders Overlapping with POTS
Cardiovascular autonomic function tests [30] to evaluate sympathetic vasoconstriction and cardiac parasympathetic responses should be performed in presumed POTS patients to rule out more severe forms of autonomic failure. Intact vagal function can be demonstrated by a normal sinus arrhythmia ratio in response to deep breathing. A Valsalva maneuver is useful to assess both vagal and sympathetic components of the baroreflex [25]. Patients with POTS often have a vigorous pressor response, with exaggerated BP recovery and overshoot both before and after release [19]. Conversely, patients with impaired vasoconstriction (e.g., patients with partial autonomic neuropathy) can have an impaired Valsalva pressure recovery.
Pathophysiology of POTS
POTS is a "final common pathway" for a number of overlapping pathophysiologies [
2
]. Although patterns of clinical features have been used to subtype patients, these classifications are mainly descriptive and are not mutually exclusive (see Fig. 
1
).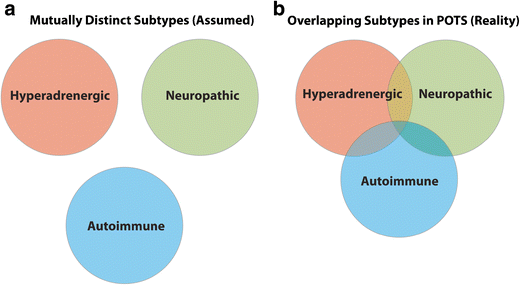 Treatment of POTS
A detailed history and physical exam are a requisite initial step in the evaluation of a patient with POTS. The history should determine whether the POTS can be traced back to a particular illness or trauma, the frequency of symptoms, symptom triggers, the severity of the orthostatic intolerance, associated illnesses, and the impact of POTS on daily functions and quality of life. Family history should also be queried. The answers to these questions help direct the management and treatment of the patient (Table 
2
).
Table 2
Treatments for postural tachycardia syndrome
Treatment

Dose

HRS class

Comments

Non-pharmacological treatments

Oral water

2–3 L/day

IIb

 

High-sodium diet

>200 mEq/day

IIb

Best if done with diet, but NaCl supplements can be used

IV saline—ACUTE

1–2 L

IIa

Can be used at times of clinical decompensation to avoid hospital admission

IV saline—CHRONIC

1–2 L daily-weekly

III

Not recommended due to risks of vascular access complications

Waist-high compression stockings

30–40 mmHg

 

Lower abdomen is major site of blood pooling when upright. If used, stockings should be pantyhose style

Abdominal binders or corset-like garments

 
 

If leg compression is not tolerated, abdomen/pelvis only alternatives might be an option

Exercise training program

Every other day × 30+ minutes

IIa

Focus on aerobic reconditioning starting with seated/supine exercises; benefits can take 4–6 weeks to manifest

Impedance threshold breathing device

7 cm H2O

 

Breathing through this when feeling unwell can acutely increase stroke volume and decrease heart rate

Pharmacological treatments

Propranolol

10–20 mg PO QID

IIb

Useful to decrease the heart rate in POTS and improve symptoms acutely

Alpha methyldopa

125–250 mg PO BID

IIb

Sometimes needed with prominent hyperadrenergic features; can cause profound fatigue, drowsiness or mental clouding if too much is given

Pyridostigmine

30–60 mg PO TID

IIb

May restrain heart rate by increasing parasympathetic tone; diarrhea can be a limiting side effect

Midodrine

2.5–10 mg PO Q4h ×3

IIb

Vasocontrictor and venoconstrictor; may improve venous return and decrease reflex tachycardia

Octreotide

12.5–50 mcg SQ BID

 

Injectable splanchnic vasoconstrictor; may use a long-acting preparation once dose has been stabilized

Ivabradine

5–7.5 mg BID

 

Funny channel blocker that has shown benefit in IST patients, and in case reports in POTS patients

Fludrocortisone

0.05–0.2 mg PO daily

IIb

Mineralocorticoid that enhances renal sodium reabsorption in the short term

DDAVP (desmopressin)

0.2 mg PO per dose

 

Encourages renal free water retention and acute blood volume expansion; hyponatremia can result if given in excess

Sertraline

50 mg daily

 

Sertraline does not have any significant negative hemodynamic effects in POTS; it may be helpful in coping with chronic illness

SNRI/NETi medications

 

III

Drugs that block the norepinephrine transporter can worsen tachycardia and symptoms in POTS patients

Modafinil

50–200 mg PO BID

 

This has anecdotally been reported to help with the fatigue and "brain fog" in POTS; it has only minimal heart rate increase in most patients
Non-pharmacological Treatment of POTS
Patients are encouraged to increase their blood volume by drinking 2–3 L/day of water and ingesting >200 mEq sodium/day (Heart Rhythm Society (HRS) 2015 Statement Class IIb recommendation) [8••]. Intravenous saline (1–2 L) can quickly expand blood volume and lessen tachycardia in POTS patients [58]. IV saline for an acute clinical decompensation in POTS is a HRS Class IIa recommendation, but chronic regular saline infusions are not recommended (HRS Class III) due to concerns about complications related to long-term venous access [8••].
Non-pharmacologic approaches to counteract the inadequate physiological response to upright posture can be beneficial in POTS. Abdominal compression with elastic waist-high support hose and abdominal binders can help decrease splanchnic-mesenteric venous pooling during standing [43]. The increase in venous return and stroke volume can decrease the orthostatic tachycardia [19, 59].
Exercise in POTS
Excessive tachycardia in POTS occurs during exercise as well as during standing [60, 61], and patients experience significant exercise intolerance [9, 19]. As patients find it difficult to exercise, they can become increasingly deconditioned. The three-month Dallas Program, which involves aerobic exercise coupled with resistance training, improves orthostatic and exercise tachycardia, symptoms, and quality of life [13, 62, 63]. Improvement is related to an increase in the size of the heart and increased blood volume [13]. The improved stroke volume decreases tachycardia.
The challenge with an exercise program in POTS is the marked exercise intolerance and debilitating post-exercise fatigue. The Dallas Program focuses on starting with seated or supine exercises (e.g., rowing machine, recumbent cycle, or swimming) three times per week. Patients must be informed that it can take 5–6 weeks before they notice any improvement, and in the interim, the patients may transiently feel worse. A structured and progressive exercise program is a HRS Class IIa recommendation [8••].
Pharmacological Treatment of POTS
The US Food and Drug Administration has not approved any drugs for the treatment of POTS. Although the successful off-label use of different medications might be expected to be influenced by the POTS subtype, Thieben et al. did not find this to be true with a variety of medications [26].
After the initiation of non-pharmacological treatments, our approach is to decrease the influence of sympathetic tone on the heart. The non-selective β-AR antagonist propranolol acutely restrains orthostatic tachycardia and symptoms at doses that appear to be low enough (10–20 mg) to avoid the side effect of significant fatigue [64]. The decrease in standing HR was verified in a four-week trial of long-acting propranolol although quality of life was not improved [62]. Propranolol is a HRS Class IIb recommendation [8••]. Central sympatholytics (e.g., clonidine and methyldopa) can also be used to decrease sympathetic tone in patients with prominent hyperadrenergic features, but might produce drowsiness and worsening of the mental clouding [19] (HRS Class IIb) [8••].
Increasing parasympathetic tone with pyridostigmine can also curtail HR in POTS [65] (HRS Class IIb) [8••]. This agent inhibits acetylcholinesterase, thereby increasing the availability of acetylcholine at both the autonomic ganglia and the peripheral muscarinic receptors. Pyridostigmine ameliorates symptoms in patients with POTS, although nausea, vomiting, and diarrhea from gut activity may lead to discontinuation in 20 % of patients [66].
Midodrine, a pro-drug of an α1-AR agonist, can increase peripheral resistance in POTS by stimulating vasoconstriction. Improvement in symptoms and orthostatic tachycardia can be associated with scalp tingling and goosebumps [58], and midodrine can cause urinary retention [67]. Midodrine is a HRS Class IIb recommendation in POTS [8••].
The somatostatin analog octreotide is a vasoconstrictor that mainly affects the splanchnic circulation. This effect during standing helps to maintain venous return in POTS and inhibits the compensatory increase in HR following acute and chronic administration [68, 69]. However, octreotide is only available in an injectable form, and this likely limits its use and patient acceptability.
Ivabradine is a cardioselective agent that slows HR via inhibition of the funny channel current (If) in the cardiac sinoatrial node but does not affect BP. Ivabradine is approved for the treatment of heart failure (USA and Europe) and angina (Europe). A retrospective case series found decreased tachycardia and symptoms in POTS patients [70].
Another approach that can be combined with vasoactive medication is administration of medications to expand blood volume. Fludrocortisone is a synthetic corticosteroid that preferentially binds to the mineralocorticoid receptor and acutely increases sodium reabsorption in the distal tubules of the kidney. Fludrocortisone also stimulates potassium excretion, making it necessary to watch for hypokalemia, and it can also worsen migraine headaches [19, 71]. Fludrocortisone is a HRS Class IIb recommendation [8••].
Two other agents used to increase blood volume are the vasopressin analog, desmopressin (DDAVP), and erythropoietin. Although DDAVP reduces tachycardia and symptoms [71, 72], it can lead to hyponatremia. We have been cautious about the regular use of DDAVP, but we have successfully used this as an "occasional use" medication. With this approach, we have not seen hyponatremia.
Erythropoietin increases red cell mass and may also stimulate vasoconstriction [7]. Potential adverse effects include vascular complications (myocardial infarction and stroke). This, combined with its high cost and the need for injection, makes it a less attractive option [11].
Norepinephrine transporter (NET) inhibitors, or serotonin-norepinephrine reuptake inhibitors (SNRIs), can exacerbate tachycardia in POTS [73••]. The HRS cautions against their use in POTS (HRS Class III) [8••]. Selective serotonin reuptake inhibitors (SSRIs), on the other hand, do not aggravate orthostatic tachycardia or symptoms in POTS patients [74••]. Whether they have any clinical benefit in POTS has yet to be studied.
The Vanderbilt Approach to the Treatment of POTS
We will typically start with non-pharmacological approaches. These routinely include increased dietary salt and water intake and the use of compression stockings if tolerated. We routinely encourage our patients to engage in a structured exercise program.
Many of our patients will also require adjunct medications. We find that low-dose propranolol is effective and well tolerated in most patients. As needed, we will then add midodrine and/or fludrocortisone. Other medications are used less commonly and based on individual patient characteristics.
Conclusions
POTS is a disabling disorder, related to multiple, overlapping pathophysiological mechanisms. The hallmark physiological trait is an excessive increase in HR upon assumption of the upright posture, in the absence of orthostatic hypotension. POTS is not a single disease. A number of non-specific symptoms that are both associated with and independent of upright posture create a clinical phenotype that overlaps with other disorders like CFS. POTS can be treated with a combination of non-pharmacological approaches, a structured exercise training program, and often some pharmacological support.
Notes
Acknowledgment
Supported in part by NIH grants R01 HL102387, R01 HL071784, P01 HL56693, U54 NS065736, 1 UL1 TR000445 (Clinical and Translational Science Award), and the Paden Dysautonomia Center.
Compliance with Ethics Guidelines
ᅟ
Conflict of Interest
Emily M. Garland and Jorge E. Celedonio report grants from National Institutes of Health, during the conduct of the study.Satish R. Raj reports grants from National Institutes of Health, during the conduct of the study; grants from Medtronic; personal fees from Lundbeck Pharmaceuticals; personal fees from GE Healthcare; and personal fees from Medicolegal Consulting, outside the submitted work.
Human and Animal Rights and Informed Consent
This article does not contain any studies with human or animal subjects performed by any of the authors.
References
Papers of particular interest, published recently, have been highlighted as: • Of importance •• Of major importance
Copyright information
© Springer Science+Business Media New York 2015