Abstract
The prevalence of headache decreases in elderly age groups; however, headache remains a significant issue with unique diagnostic and therapeutic considerations in this population. While primary headache disorders such as migraine and tension-type headache still occur in the majority of cases, secondary headaches are more common with advancing age. Additionally, several rare primary headache disorders, such as hypnic headache and primary cough headache, occur more frequently in an elderly population and have distinct treatments. In this review, we provide an updated overview of the common, concerning, and unique headache disorders affecting the elderly.
This is a preview of subscription content, log in to check access.
Access options
Buy single article
Instant unlimited access to the full article PDF.
US$ 39.95
Price includes VAT for USA
Subscribe to journal
Immediate online access to all issues from 2019. Subscription will auto renew annually.
US$ 99
This is the net price. Taxes to be calculated in checkout.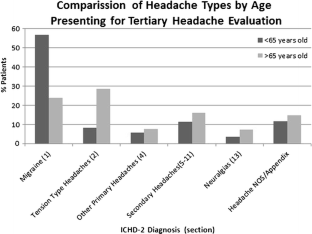 References
Papers of particular interest, published recently, have been highlighted as: • Of importance •• Of major importance
1.

Stovner LJ, Hagen K, Jensen R, et al. The global burden of headache: a documentation of headache prevalence and disability worldwide. Cephalalgia. 2007;27:193–210.

2.

Cook N, Evans DA, Funkenstein H, et al. Correlates of headache in a population-based cohort of elderly. Archives of Neurology. 1989;46:1338–44.

3.

Prencipe M, Casini AR, Ferretti C, Santini M, Pezzella F, Scaldaferri N, et al. Prevalence of headache in an elderly population: attack frequency, disability, and use of medication. J Neurol Neurosurg Psychiatry. 2001;70:377–81.

4.•

Ruiz M, Pedraza MI, de la Cruz C, et al. Headache in the elderly: a series of 262 patients. Neurologia. 2014;29:321–6. A large retrospective review of elderly patients presenting for tertiary headache evaluation. Ruiz et al. provide epidemiologic data for prevalence of different headache disorders at advanced ages; an area not well studied in the current literature.

5.

Fuh JL, Wang SL, Lu SR, et al. A 13 year long-term outcome study of elderly chronic daily headache. Cephalagia. 2008;28:1017–22.

6.

Solomon G, Kunkel R, Frame J. Demographics of headache in elderly patients. Headache. 1990;30:273–6.

7.

Pasqual J, Berciano J. Experience in the diagnosis of headaches that start in elderly people. Journal of Neurology, Neurosurgery and Psychiatry. 1994;57:1255–7.

8.

"Definition of an older or elderly person." World Health Organization. Web. 15 Feb. 2015. <http://www.who.int/healthinfo/survey/ageingdefnolder/en>.

9.

Rasmussen BK, Lipton RB. Prognosis of migraines. In: Olesen J, Goadsby PJ, Ramadan NM, Tfelt-Hansen P, Welch KMA, editors. The headaches. 3rd ed. Philadelphia: Lippincott Williams & Wilkins; 2006. p. 429–31.

10.

Victor TW, Hu X, Campbell JC, et al. Migraine prevalence by age and sex in the United States: a life-span study. Cephalalgia. 2010;30:1065–72.

11.

Haan J, Hollander J, Ferrari MD. Migraine in the elderly: a review. Cephalalgia. 2007;27:91–106.

12.

Rasmussen BK, Olesen J. Migraine with aura and migraine without aura: an epidemiological study. Cephalalgia. 1992;12:221–8.

13.

Martins KM, Bordini CA, Bigal ME, et al. Migraine in the elderly: a comparison with migraine in young adults. Headache. 2006;46:312–6.

14.

Kelman L. Migraine changes with age: IMPACT on migraine classification. Headache. 2006;46:1161–71.

15.

Landy SH, Lobo BL. Migraine treatment throughout the lifecycle. Expert Rev Neurotherapeutics. 2005;5:343–53.

16.

Dodick D, Lipton RB, Martin V, et al. Consensus statement: cardiovascular safety profile of triptans (5-HT1B/1D agonists) in the acute treatment of migraine. Headache. 2004;44:414–25.

17.•

Roberto G, Raschi E, Piccinni C, et al. Adverse cardiovascular events associated with triptans and ergotamines for treatment of migraine: systematic review of observational studies. Cephalgia. 2015;35:118–31. A thorough systematic review of the literature regarding the cardiovascular safety of vasoactive substances for treatment of headache that provides strong, although not definitive, evidence that triptans are safe in patients without preexisting cardiovascular disease.

18.••

Headache Classification Committee of the International Headache Society. The International Classification of Headache Disorders, 3rd edition (beta version). Cephalalgia. 2013;33:629–808. This is the current standard for the classification of headache disorder, currently in a beta version.

19.

Fisher CM. Late-life migraine accompaniments as a cause of unexplained transient ischemic attacks. Can J Neurol Sci. 1980;7:9–17.

20.

Fisher CM. Late-life migraine accompaniments—further experience. Stroke. 1986;17:1033–42.

21.

Bamford CC, Mays M, Stewart SJ. Unusual headaches in the elderly. Curr Pain Headache. 2011;15:295–301.

22.

Donnet A, Daniel C, Milandre L, et al. Migraine with aura in patients over 50 years of age: the Marseille's registry. J Neurol. 2012;259:1868–73.

23.

Kleinig TJ, Kiley M, Thompson PD. Acute convexity subarachnoid haemorrhage: a cause of aura-like symptoms in the elderly. Cephalalgia. 2008;28:658–63.

24.

Izenberg A, Aviv RI, Demaerschalk BM, et al. Crescendo transient aura attacks: a transient ischemic attack mimic caused by focal subarachnoid hemorrhage. Stroke. 2009;40:3725–9.

25.•

Vongvaivanich K, Lertakyamanee P, Silberstein SD, et al. Late-life migraine accompaniments: a narrative review. Cephalalgia. 2014; [Epub ahead of print]. A current comprehensive literature review of late-life migraine accompaniments and potential secondary causes.

26.•

Holle D, Naegel S, Obermann M. Hypnic headache. Cephalalgia. 2013;33:1349–57. A comprehensive review of hypnic headache that includes a review of prior studies on clinical characteristics that contributed to a change to the diagnostic criteria.

27.

Liang JF, Wang SJ. Hypnic headache: a review of clinical features, therapeutic options and outcomes. Cephalalgia. 2014;34:795–805.

28.

Boes CJ, Matharu MS, Goadsby PJ. Benign cough headache. Cephalalgia. 2002;22:772–9.

29.

Chen PK, Fuh JL, Wang SJ. Cough headache: a study of 83 consecutive patients. Cephalalgia. 2009;29:1079–85.

30.

Cordenier A, De Hertogh W, De Keyser J, et al. Headache associated with cough: a review. J Headache Pain. 2013;14:42.

31.

Duran J, Esnaola S, Rubio R, et al. Obstructive sleep apnea–hypopnea and related clinical features in a population-based sample of subjects aged 30 to 70 yr. Am J Respir Crit Care Med. 2001;163:685–9.

32.•

Kristiansen HA, Kværner KJ, Akre H, et al. Sleep apnoea headache in the general population. Cephalalgia. 2012;32:451–8. A large population study on sleep apnea headache that provides evidence that there may not be a direct relationship between hypoxia and occurrence of headache.

33.

Russell MB, Kristiansen HA, Kværner KJ. Headache in sleep apnea syndrome: epidemiology and pathophysiology. Cephalalgia. 2014;43:752–5.

34.

Goksan B, Gunduz A, Karadeniz D, et al. Morning headache in sleep apnoea: clinical and polysomnographic evaluation and response to nasal continuous positive airway pressure. Cephalalgia. 2009;29:635–41.

35.

Caselli RJ, Hunder GG, Whisnant JP. Neurologic disease in biopsy-proven giant cell (temporal) arteritis. Neurology. 1988;38:352–9.

36.

Smith JH, Swanson JW. Giant cell arteritis. Headache. 2014;54:1273–89.

37.

Huston KA, Hunder GG, Lie JT. Temporal arteritis: a 25-year epidemiologic, clinical, and pathologic study. Annals of Internal Medicine. 1978;88:162–7.

38.

Myklebust G, Gran JT. A prospective study of 287 patients with polymyalgia rheumatica and temporal arteritis: clinical and laboratory manifestations at onset of disease and at the time of diagnosis. Br J Rheumatol. 1996;35:1161–8.

39.

Hunder GG, Bloch DA, Michel BA, et al. The American College of Rheumatology 1990 criteria for the classification of giant cell arteritis. Arthritis Rheum. 1990;33:1122–8.

40.

Grayson PC, Tomasson G, Cuthbertson D, et al. Association of vascular physical examination findings and arteriographic lesions in large vessel vasculitis. J Rheumatol. 2012;39:303–9.

41.

Arida A, Kyprianou M, Kanakis M, Sfikakis PP. The diagnostic value of ultrasonography-derived edema of the temporal artery wall in giant cell arteritis: a second meta-analysis. BMC Musculoskelet Disord. 2010;11:44.

42.

Klink T, Geiger J, Both M, et al. Giant cell arteritis: diagnostic accuracy of MR imaging of superficial cranial arteries in initial diagnosis-results from a multicenter trial. Radiology. 2014;273:844–52.

43.

Mukhtyar C, Guillevin L, Cid MC, et al. EULAR recommendations for the management of large vessel vasculitis. Ann Rheum Dis. 2009;68:318–23.

44.

Bini A, Evangelista A, Castellini P, et al. Cardiac cephalgia. J Headache Pain. 2009;10:3–9.

45.

Wei JH, Wang HF. Cardiac cephalalgia: case reports and review. Cephalalgia. 2008;28:892–6.

46.

Grace A, Horgan J, Breathnach K, et al. Anginal headache and its basis. Cephalalgia. 1997;17:195–6.

47.

Ohringer G, Burke T, Shaikh A. Unilateral headache and loss of vision. BMJ. 2014;348:1188.

48.

Ritch R, Lowe RF. Angle-closure glaucoma: clinical types. In: Ritch R, Shields MB, Krupin T, editors. The glaucomas. St. Louis: Mosby-Year Book; 1996. p. 821–40.

49.

Nesher R, Epstein E, Stern Y, et al. Headaches as the main presenting symptom of subacute angle closure glaucoma. Headache. 2005;45:166–76.

50.

Shindler KS, Sankar PS, Vlpe NJ, et al. Intermittent headaches as the presenting sign of subacute angle closure glaucoma. Neurology. 2005;65:757–8.

51.•

Westergaard ML, Hansen EH, Glumer C, et al. Definitions of medication-overuse headache in population-based studies and their implications on prevalence estimates: a systematic review. Cephalalgia. 2014;34:409–25. An extensive review of the varied prior definitions of medication overuse headache and the overall prevalence among different groups.

52.

Prencipe M, Casini AR, Feretti C, et al. Prevalence of headache in an elderly population: attack frequency, disability, and use of medication. J Neurol Neurosurg Psychiatry. 2001;70:377–81.

53.

Wang SJ, Fuh JL, Lu SR, et al. Chronic daily headache in Chinese elderly prevalence, risk factors, and biannual follow-up. Neurology. 2000;54:314–9.

54.

Zeeberg P, Olesen J, Jensen R. Probable medication-overuse headache: the effect of a 2-month drug-free period. Neurology. 2006;66:1894–8.

55.

Dodick DW. Pearls: headache. Seminars in Neurology. 2010;30:74–81.

56.•

Lynch KM, Brett F. Headaches that kill: a retrospective study of incidence, etiology and clinical features in cases of sudden death. Cephalalgia. 2012;32:972–8. A retrospective study of fatal cases presenting with headache that demonstrate concerning 'red flags' for serious secondary causes.

57.

Sjaastad O, Bakketeig LS. Prevalence of cervicogenic headache: Vågå study of headache epidemiology. Acta Neurol Scand. 2008;117:173–80.

58.

Rozen TD, Capobianco DJ, Dalessio DJ. Cranial neuralgias and atypical facial pain. In: Silberstein SD, Lipton RB, Dalessio DJ, editors. Wolff's headache and other head pain. 7th ed. New York: Oxford University Press; 2001. p. 509–24.

59.•

Maarbjerg S, Gozalov A, Olesen J, et al. Trigeminal neuralgia—a prospective systematic study of clinical characteristics in 158 patients. Headache. 2014;54:1574–82. A large prospective study of the clinical characteristics of TN which had the notable findings of a high percentage of persistent facial pain, cranial autonomic symptoms and bedside sensory abnormalities.

60.

Maarbjerg S, Wolfram F, Gozalov A, et al. Significance of neurovascular contact in classical trigeminal neuralgia. Brain. 2015;138:311–9.

61.

Gronseth G, Cruccu G, Alksne J, et al. Practice parameter: the diagnostic evaluation and treatment of trigeminal neuralgia (an evidence-based review). Neurology. 2008;71:1183–90.

62.

Wu CJ, Lian YJ, Zheng YK, et al. Botulinum toxin type A for the treatment of trigeminal neuralgia: results from a randomized, double-blind, placebo-controlled trial. Cephalalgia. 2012;32:443–60.

63.

Harpaz R, Ortega-Sanchez IR, Seward JF, Advisory Committee on Immunization Practices (ACIP) Centers for Disease Control and Prevention (CDC). Prevention of herpes zoster: recommendations of the Advisory Committee on Immunization Practices (ACIP). MMWR Recomm Rep. 2008;57(RR-5):1.

64.

Carbone V, Leonardi A, Pavese M, et al. Herpes zoster of the trigeminal nerve: a case report and review of the literature. Minerva Stomatol. 2004;53(1–2):49–59.

65.

Moller L. Aspects of the natural history of herpes zoster. Acta Derm Venereol. 1969;49:569–83.

66.

Oxman MN, Levin MJ, Johnson GR, et al. A vaccine to prevent herpes zoster and postherpetic neuralgia in older adults. N Engl J Med. 2005;352(22):2271.

67.

Wood MJ, Kay R, Dworkin RH, et al. Oral acyclovir therapy accelerates pain resolution in patients with herpes zoster: a meta-analysis of placebo-controlled trials. Clin Infect Dis. 1996;22:341–7.

68.

Johnson RW, Rice ASC. Postherpetic neuralgia. N Engl J Med. 2014;371:1526–33.
Compliance with Ethics Guidelines
Conflict of Interest
Thomas P. Bravo declares that he has no conflict of interest.
Human and Animal Rights and Informed Consent
This article does not contain any studies with human or animal subjects performed by any of the authors.
Additional information
This article is part of the Topical Collection on Headache
About this article
Cite this article
Bravo, T.P. Headaches of the Elderly. Curr Neurol Neurosci Rep 15, 30 (2015). https://doi.org/10.1007/s11910-015-0552-2
Keywords
Headache

Elderly

Geriatric

Migraine

Aura without headache

Hypnic headache

Primary cough headache

Sleep apnea headache

Giant cell arteritis

Cardiac cephalalgia

Subacute glaucoma

Medication overuse headache

Trigeminal neuralgia

Post-herpetic trigeminal neuropathy