The Effect of Left Ventricular Assist Device Therapy on Cardiac Biomarkers: Implications for the Identification of Myocardial Recovery
Biomarkers of Heart Failure (W Tang and J Grodin, Section Editors)
Part of the following topical collections:
Abstract
Purpose of Review
Left ventricular assist device (LVAD) therapy serves as mainstay therapy for bridge to transplantation and destination therapy. Evidence is now mounting on the role of LVAD therapy as bridge to recovery. In the current review, we will summarize the data on biomarkers of myocardial recovery following LVAD implantation.
Recent Findings
Myocardial recovery can occur spontaneously, following pharmacological intervention and in the setting of mechanical circulatory support such as LVAD. Several biomarkers such as B-type natriuretic peptide (BNP), N-terminal pro B-type natriuretic peptide (NT-proBNP), ST2, etc. have been identified and are being used to guide medical therapy in heart failure (HF) patients. However, recent data raised concern that those biomarkers may not be helpful in managing heart failure patients in general, and as such questioned their use in the advanced heart failure population. At this point, the use of biomarker to identify patients with myocardial recovery during LVAD support has not been established, and LVAD explantation remains a decision driven by echocardiographic and hemodynamics improvement.
Summary
HF biomarkers in monitoring myocardial and neurohormonal activation response to mechanical unloading and medical therapy could be valuable. However, at this time, there is inadequate evidence to select a single or a set of HF biomarkers to reliably identify patients bridged to recovery for LVAD explantation.
Keywords
Heart failure 
Biomarkers 
Left ventricular assist device (LVAD) 
Myocardial recovery 
Introduction
Cardiac remodeling characterized by increase in chamber size, changes in shape, and reduction in function is largely driven by persistent volume and pressure overload and is the hallmark of cardiomyopathy and heart failure [1]. Medical therapy with neurohormonal blockade and electrical synchronization (CRT) has been shown to induce reverse remodeling and regression of those anatomical changes [2, 3, 4, 5, 6]. Lately, left ventricular assist device (LVAD) therapy demonstrated robust reverse remodeling probably through significant unloading of the left ventricle and was associated with myocardial recovery and the ability to explant the pump. Research has been focused on comparing paired myocardial tissue at the time of LVAD implantation and later at the time of transplantation [7, 8, 9, 10, 11] analyzing the molecular changes accompanying the reverse remodeling process. However, the clinical dilemma still remains, which patients recover their myocardium to a level that will safely sustain LVAD explantation. Several investigators assessed the role of heart failure biomarkers to monitor and potentially identify patients with myocardial recovery. This review will summarize current knowledge on the role of biomarkers in diagnosing HF, monitoring and predicting outcome, and how or if to apply these findings on the advanced heart failure population supported with LVAD.
LVAD as Bridge to Recovery
To date, LVAD bridge to recovery (BTR) studies have revealed very large differences in the rate of defined recovery ranging from 4.5 to 73% depending on patient population with respect to etiology and duration of heart failure as well as patient age and gender [12].
In the overall LVAD population, myocardial recovery is a rare phenomenon. Topkara et al. reported that in Interagency Registry for Mechanically Assisted Circulatory Support (INTERMACS), the overall rate of myocardial recovery was only 1.4% [13]. Similar to this finding, Wever-Pinzon reported that among 15,138 INTERMACS patients, cardiac recovery occurred in 192 (1.3%). However, the incidence of myocardial recovery was significantly higher among patients with a priori BTR strategy (11.2%) [14]. Furthermore, those authors were able to identify parameters that were associated with higher recovery rate: age < 50 years, non-ischemic cardiomyopathy (NICM), time from cardiac diagnosis < 2 years, absence of ICD, creatinine < 1.2 mg/dl, and LVEDD < 6.5 cm (c-index 0.85; p < 0.0001) [14].
Other investigators reported higher rates of myocardial recovery in specific patient populations when designated myocardial recovery protocols were used. Birks et al. reported 73.3% recovery by using a protocol of aggressive neurohormonal blockade with the beta agonist clenbuterol in patients supported with pulsatile pump (HeartMate XVE). However, patients in this study were young and had a short HF duration prior to LVAD making these results less generalizable. Several years later, the same group reported a 63% explantation rate among patients supported with continuous-flow LVAD (HeartMate II) using a similar medical protocol [15, 16]. Though, when the same study was conducted in the USA as a multicenter study, the investigators were not able to replicate those results [17].
Multiple investigators continue to report varying success rates of myocardial recovery utilizing different medical protocols [18] and as such a systematic multicenter non-randomized longitudinal study to assess myocardial recovery was designed. The RESTAGE-HF (Remission From Stage D Heart Failure) (NCT01774656) has now completed recruitment and interim analysis had shown findings supportive of high rate of clinical myocardial recovery 36% with LVAD explantation in highly selected patients [19]. The results of the study will be reported in the next few months.
Myocardial Changes After Mechanical Unloading
On the molecular level, mechanical unloading following LVAD therapy has been shown to promote changes in myocardial structural and gene expression. While the changes in the molecular and cellular substrate are beyond the scope of this review and have been extensively discussed in prior reviews [20], a consistent theme has been the persistent abnormalities in the molecular and cellular function in the setting of reverse remodeling. To this end, the concept of "myocardial remission" was introduced to distinguish improvement in ventricular function from the complete restoration of the pathogenic molecular changes of heart failure, including freedom from the clinical cardiovascular events seen in heart failure. This is highlighted by studies of patients with "recovery" of LV function and persistent abnormalities in biomarkers and increased risk for recurrent clinical cardiovascular events [21, 22, 23].
The clinical question remains how patients with LVAD and potential remission of heart failure could be better identified and thus selected for explantation. Biomarkers of heart failure would be attractive non-invasive tools since they might enable insight into molecular pathophysiology of HF with serial assessment to document improvement of molecular pathways following unloading with LVAD therapy [24]. However, most available HF biomarkers have not been tested in patients with end-stage HF, and the direction and magnitude of expected changes in biomarker levels after LVAD reflecting hemodynamic improvement, mechanical unloading reflecting reduction in the degree of dysfunction in molecular pathways, is uncertain at this time [24].
Heart Failure Biomarkers
Peripheral blood heart failure biomarkers have been shown to predict HF and future events, assess severity, and guide therapy in acute and chronic stable HF [25].
A recent study enrolling 2516 patients with worsening heart failure from the BIOSTAT-CHF (Biology Study to Tailored Treatment in Chronic Heart Failure) showed a reduction in hospitalization and death when using a biomarker-guided strategy of up-titrating HF medications compared to a hypothetical scenario in which all patients were successfully up-titrated [26•].
Heart failure biomarkers can be categorized following the pathway they represent. A summary is shown in Fig.
1
[
27
,
28
]:
Myocardial overload/stretch and injury

Neurohormonal activation

Adverse remodeling/fibrosis

Markers of co-morbidities such as creatinine and anemia markers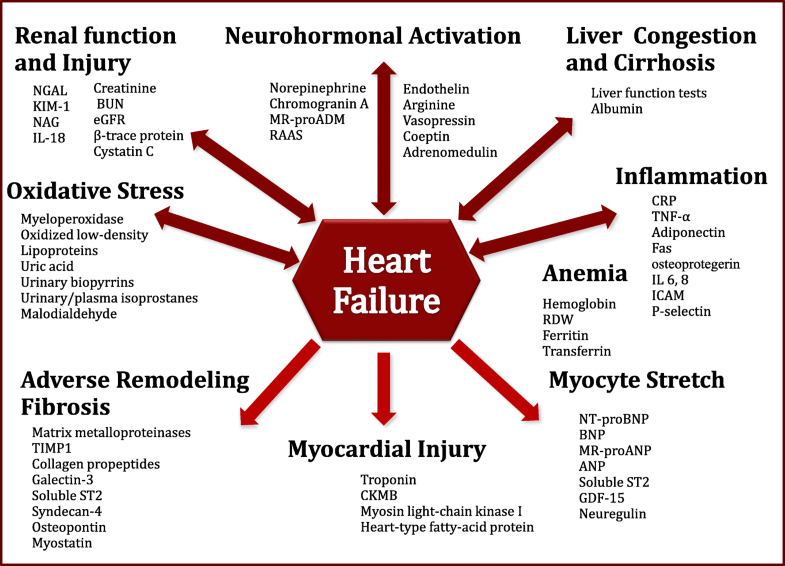 A full review on biomarkers in heart failure is beyond the scope of this review and has been discussed elsewhere [25].
Markers of Congestion Overload and Myocardial Stretch
Brain Natriuretic Peptides
B-type natriuretic peptide (BNP) gene transcription is induced following end-diastolic volume or pressure overload. BNP and its cleavage equivalent N-terminal pro B-type natriuretic peptide (NT-proBNP) are directly released into the circulation leading to diuresis and inhibition of the renin-angiotensin-aldosterone system (RAAS) [29, 30]. Both NT-proBNP and BNP reflect heart failure severity, and response to therapy, and are well-established predictors of de novo heart failure diagnosis and outcome [31, 32, 33]. Admission levels of BNP and NT-proBNP in acute decompensated heart failure as well as serial measurements in chronic heart failure have been shown to be associated with short- and long-term mortality [34, 35, 36]. Both markers decrease with heart failure therapy and rising levels have a poor prognosis [36]. However, the recently published GUIDE-IT trial examining the role of a BNP and NT-proBNP-guided strategy to manage high-risk HFrEF (n 446) patients did not show a benefit over standard of care (n 448) to improve outcome including time to first hospitalization and cardiovascular mortality [37]. These disappointing results differ from previous studies; among other considerations, this might have been related to the high-risk patient population with more severe heart failure, complicated by hypotension and azotemia limiting the ability to aggressively up-titrate medical therapy in response to NT-proBNP levels [37].
In patients with LVADs, serum levels of natriuretic peptides have been shown to decrease following myocardial unloading [24, 38, 39].
In a small study of 24 patients, serial measurements of both ANP and BNP demonstrated that the magnitude of BNP/ANP downregulation was dependent on LVAD type but was seen in all types of assist devices reaching normal levels in a small number of patients [38].
Circulating BNP levels (n = 17) as well as mRNA expression were measured in cardiac biopsy specimens of 27 patients before and after LVAD implantation. BNP plasma levels significantly decreased 3 months after LVAD implantation. This decrease in plasma levels was accompanied by a significant decrease of myocardial mRNA expression. Interestingly, BNP was found to be expressed not only by cardiomyocytes but also by endothelial cells, T cells, and macrophages [39]. Among patients with proven myocardial recovery, lower BNP levels were measured; however, BNP has not been evaluated as a predictor of outcome in this study [14].
Recently, Ahmad et al. described changes in a broad panel of biomarkers following LVAD in 37 patients including NT-proBNP [24]. Levels were measured prior to and a median of 136 days post-LVAD implantation. All biomarkers but neutrophil gelatinase-associated lipocalin (NGAL) decreased significantly post-LVAD but all levels remained significantly abnormal. Changes of HF biomarkers were also assessed based on prespecified changes in serial NT-proBNP levels, and, interestingly, when stratified for NT-proBNP levels, only the change of galectin-3 levels was significant post-LVAD [24].
The authors point out that despite the advanced stage of HF with high NT-proBNP levels in the study cohort, these patients had normal or barely altered concentrations of more common laboratory measurements (such as sodium, creatinine, BUN, and RDW) which are known to have prognostic significance in heart failure [
40
]. This finding underlines the need for broader use of more sensitive biomarkers over standard clinical parameters when assessing advanced heart failure patients and as a potential monitoring tool for advanced heart failure therapies [
24
,
41
] (Table
1
).
Table 1
Novel protein biomarkers in LVAD studies
Biomarker/study

Study design

Major finding

Potential implication

ST2

Serial ST2 serum measurements at pre- and 1, 3 and 6 months post-LVAD (n = 38) [42•]

Serum levels pre and a median of 136 days (IQR 94 to 180) post-LVAD (n = 37) [24]

ST2 levels were significantly elevated in end-stage HF prior LVAD implantation and decreased post-LVAD to normal levels within 3 months [42]

ST2 levels decreased significantly post-LVAD [24]

ST2 may be useful as a biomarker to monitor therapy in end-stage heart failure patients

Galectin-3

Galectin-3 levels pre and 1 month post-LVAD (n = 40) or TAH (n = 15) [43]

Galectin-3 level stratified for prespecified pro-BNP reduction (n = 37) pre and a median of 136 days (IQR 94 to 180) post-LVAD [24]

No significant change in expression pre- and post-LVAD. Patients who did not survive VAD due to MOF had significantly higher plasma concentrations of galectin-3 at the time of LVAD implant [43]

Greater significant reduction in galectin-3 was seen when stratified for pro-BNP with prespecified reduction post-LVAD [24]

No significant change with unloading as a single marker but potential additive information when assessed with other biomarkers

GDF-15

[44]

Serum and myocardial expression in NICM pre, 1, 3, and 6 months post-LVAD and at HT or VAD explant

(n = 30)

At 1 month post-LVAD, serum levels of GDF-15 were significantly decreased.

No difference in serum levels per LVAD strategies for BTT (n = 25) and BTR (n = 5) but observation limited by small sample size

Potential tool for monitoring post-LVAD but so far has not shown ability to discriminate between BTR and BTT

NGAL

Serum levels in stable HF (n = 40), LVAD implantation (n = 40), HT (n = 40), and 24 controls [45]

Serum levels pre and a median of 136 days (IQR 94 to 180) post-LVAD (n = 37) [24]

NGAL levels increase with the severity of HF and decrease following LVAD. Higher in RV failure post-LVAD and higher in irreversible renal dysfunction [45]

NGAL did not decrease post-LVAD despite normalization of serum creatinine levels [24]

NGAL might be of value in prediction of RV failure post-LVAD and as a novel biomarker of renal dysfunction in patients with HF pending further clinical studies
RNA/Micro-RNA
MicroRNAs are short, non-coding RNAs that have been shown to be epigenetic regulators of stress responses in the heart via microRNA degradation or inhibition of protein translation. Despite being single-stranded RNA, microRNAs have demonstrated stability in both tissues and serum thus prompting investigation into the role of microRNAs as biomarkers.
Wang et al. assessed changes in plasma microRNA levels following LVAD implantation according to prespecified changes in the serially measured biomarkers galectin-3, NT-proBNP, and ST2. In one third of the cases, biomarkers improved, which was associated with an upregulation of a majority of microRNAs [75]. In a study to investigate microRNA signatures in the setting of LVAD support, Akat et al. analyzed the cardiac-specific microRNA expression patterns in both myocardial tissue and serum in healthy individuals, in patients with stable heart failure, and in LVAD recipients (total n = 47). Healthy controls and stable heart failure patients demonstrated a low level of circulating levels of cardiac-specific miRNAs (< 0.1%) among all circulating mRNAs in serum. For the patients undergoing LVAD implant, serum levels of the cardiac-specific miR-208a, miR-208b, and miR-499 and the muscle-specific miR-1-1 and mir-133b increased by 140-fold (> 1%). Interestingly, serum levels of these cardiac-specific miRNAs declined to nearly normal during the period of LVAD support [76]. Whether this signature is a reflection of mechanical unloading or more simply a marker of myocardial injury remains unanswered as these changes correlated with other cardiac biomarker of injury such as troponin I, yet did not correlate with BNP. Further studies of circulating miRNA expression patterns with rigorous assessments of reverse remodeling are warranted. LVAD therapy provides an opportunity to study changes in myocardial tissue and therefore a chance to understand the pathways that may promote recovery. These changes as reflected in serum may then provide powerful insight into the response to mechanical unloading and the potential to recover native ventricular function.
Can HF Biomarkers Reflect Myocardial Remission/Recovery? Potential Use of HF Biomarkers in LVAD
Several studies have shown that HF biomarkers change in response to neurohormonal blockade in chronic HF; however, it remains to be established if these findings are applicable to an end-stage heart failure population supported with LVAD [31, 32, 33, 49, 50, 51].
The field shows several promising developments, the most intriguing development possibly seen with the establishment of ST2 as a new biomarker. Nonetheless, not all studies assessing the response of HF biomarkers post-LVAD and/or initiation of neurohormonal blockade reported a measurable effect. At this time, no peripherally assessed biomarker reliably reflects myocardial recovery or remission. However, heart failure biomarkers might be helpful to assess response to medical management or adjustment in LVAD settings (such as LVAD speed) in these patients. Especially since centers with reported high rates of myocardial recovery post-LVAD report aggressive up-titration of neurohormonal blockade [77], the INTERMACS registry study revealed significantly higher likelihood of recovery with medical management [14]. Thus, the ability of HF biomarkers to assess response to neurohormonal blockade could be a great asset.
A few HF biomarkers when studied in the LVAD population were associated with outcomes. Galectin-3 levels at the time of LVAD implantation were significantly higher in patients developing MOF compared to those successfully bridged to transplant [43].
NGAL levels were higher in patients with irreversible kidney failure and right ventricular failure post-LVAD [45]. When compared between patients with LVAD for BTR or BTT, no difference in serum levels of GDF-15 was found; in this study, the authors concluded that it is unlikely that GDF-15 can identify those patients that will demonstrate substantial recovery [44]. Novel biomarkers are summarized in the table.
Conclusion
The development and enhanced understanding of HF biomarkers in monitoring myocardial and neurohormonal activation response to mechanical unloading are promising and deserve further investigation in prospective studies with clearly defined endpoints, especially with the question of response to medical management and changes in LVAD settings. However, at this time, there is insufficient evidence to select a single or a set of heart failure biomarkers to reliably identify patients bridged to recovery for LVAD explantation.
Notes
Compliance with Ethical Standards
Conflict of Interest
The authors declare that they have no conflict of interest.
Human and Animal Rights and Informed Consent
This article does not contain any studies with human or animal subjects performed by any of the authors.
References
Papers of particular interest, published recently, have been highlighted as: • Of importance
Copyright information
© Springer Science+Business Media, LLC, part of Springer Nature 2018