New Insights in (Inter)Cellular Mechanisms by Heart Failure with Preserved Ejection Fraction
Open Access
Epidemiology of Heart Failure (CSP Lam, Section Editor)
Abstract
Recently, a new paradigm for the development of heart failure with preserved ejection fraction (HFpEF) has been proposed, which identifies a systemic pro-inflammatory state induced by comorbidities as the origin of microvascular endothelial cell inflammation and subsequent concentric cardiac remodeling and dysfunction. This review further discusses the pivotal role of the inflamed endothelium in the pathogenesis of HFpEF-specific cardiac remodeling. The potential importance of reciprocal interactions of the endothelium with cardiac fibroblasts and cardiomyocytes and with the cardiac neurohumoral response in this cardiac remodeling process is outlined.
Keywords
Endothelial dysfunction 
Comorbidities 
HFpEF 
Cardiac endothelium 
Nitric oxide 
TGF-ß 
Endothelial-to-mesenchymal transition 
NOX 
Inflammation 
Cardiac fibrosis 
Myofibroblast 
Cardiomyocyte hypertrophy 
Cardiomyocyte stiffness 
Titin 
Protein kinase A 
Protein kinase G 
cGMP 
Sildenafil 
Neurohumoral activation 
Natriuretic peptides 
BNP paradox 
Neprilysin inhibitor 
Mesenchymal stromal cells 
Immunomodulation 
Bidirectional cell interactions 
Abbreviations
Ang II

Angiotensin II

ANP

Atrial natriuretic peptide

BNP

B-type natriuretic peptide

cAMP

Cyclic adenosine monophosphate

cGMP

Cyclic guanosine monophosphate

EndMT

Endothelial-to-mesenchymal transition

HFpEF

Heart failure with preserved ejection fraction

LV

Left ventricular

MMP

Matrix metalloproteinase

MSC

Mesenchymal stromal cell

NADPH

Nicotinamide adenine dinucleotide phosphate

NOX

NADPH oxidase

PDE 2

Phosphodiesterase 2

TNF

Tumor necrosis factor

TGF

Transforming growth factor

VCAM

Vascular cell adhesion molecule
Introduction
Epidemiological studies demonstrate that 50 % of all heart failure patients suffer from heart failure with preserved ejection fraction (HFpEF), which—in contrast to heart failure with reduced ejection fraction (HFREF)—cannot be adequately treated with current available therapeutical strategies [1]. Diabetes mellitus, obesity, hypertension, and COPD are the main comorbidities associated with HFpEF. [2] The high prevalence of HFpEF on the one hand and the rising prevalence of diabetes mellitus [3] and obesity [4] on the other hand, indicate the need for HFpEF-specific therapies. Further understanding of the underlying pathogenesis of HFpEF is required in view of finding novel treatment options. Diastolic stiffness underlying HFpEF is attributed to excessive myocardial collagen deposition and cardiomyocyte stiffness [5], of which the latter newly has been shown to be sufficient to induce HFpEF without any involvement of the extracellular matrix [6•]. Recently, a novel paradigm was postulated which identifies a systemic pro-inflammatory state induced by comorbidities as the origin of microvascular endothelial cell inflammation, which triggers HFpEF-specific, i.e., concentric, cardiac remodeling, and dysfunction [7••].
This review gives a brief overview on how systemic inflammation induced by comorbidities influences endothelial cell behavior and signaling and how this affects the interaction of the endothelium with cardiomyocytes and cardiac fibroblasts, and the cardiac neurohumoral response, and subsequent cardiac remodeling. On the other hand, this review points out that those cells in turn influence the inflammation or directly the endothelium, aggravating the initial inflammatory process (Fig.
1
). The impact of changes in substrate and subsequent energy metabolism on the pathogenesis of HFpEF is beyond the scope of this review.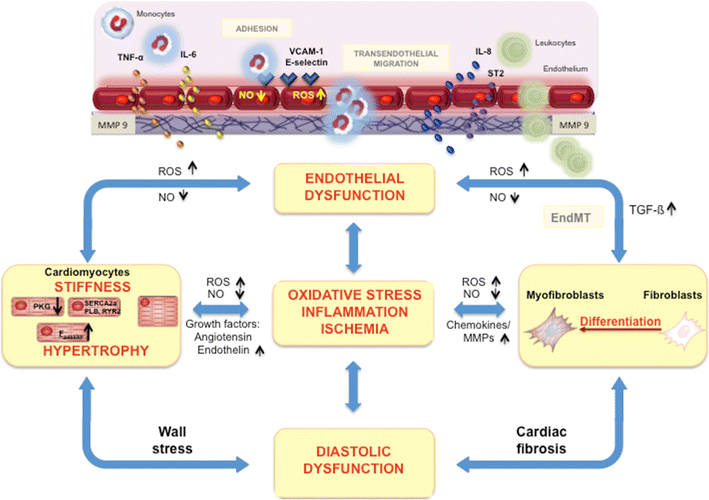 Conclusions and Perspectives
HFpEF is a complex disorder caused by multifactorial stresses secondary to comorbidities. This review highlights the importance of endothelial dysfunction or deterioration at the early onset of the pathogenesis of HFpEF and stresses the subsequent complexity of cardiac remodeling due to bidirectional interactions between endothelial cells, cardiomyocytes, fibroblasts, and cardiac neurohumoral activation. It further strengthens the need for an early diagnosis of endothelial dysfunction [92••] enabling treatment before the development of HFpEF-specific cardiac remodeling. So far, only the prevention of HFpEF through treatment of risk factors has been shown to be effective [93]. It will be the challenge of finding new multidirectional strategies to abrogate endothelial dysfunction and subsequent cardiac remodeling. Given the importance of inflammation in the induction of endothelial dysfunction and cardiac remodeling via the cardiosplenic axis [33, 34], intravenous application of mesenchymal stromal cells, and the recently identified cardiac-derived adherent proliferating cells (CardAPs) [94] having immunomodulatory [34, 95, 96, 97], endothelium-protective [98], and anti-fibrotic [34, 99, 100] features might be attractive tools to counteract the inflammatory and cardiac remodeling process.
Notes
Acknowledgments
This study is supported by the DZHK to SVL and CT and by the European 7th Framework Consortia MEDIA and REDDSTAR to CT. We would like to thank Dr. Kapka Miteva for her contribution to the paragraph focused on cardiac neurohumoral activation and for the artwork.
Compliance with Ethics Guidelines
ᅟ
Conflict of Interest
Carsten Tschöpe and Sophie Van Linthout declare that they have no conflict of interest.
Human and Animal Rights and Informed Consent
This review includes original data from a study, performed by the authors, that was conducted with animals. The study was approved by the local ethics committee (Landesamt für Gesundheit und Soziales, Tierschutz, Berlin).
References
Papers of particular interest, published recently, have been highlighted as: • Of importance •• Of major importance
Copyright information
© The Author(s) 2014
Open Access This article is distributed under the terms of the Creative Commons Attribution License which permits any use, distribution, and reproduction in any medium, provided the original author(s) and the source are credited.