Psychotropics, Antidepressants, and Visceral Analgesics in Functional Gastrointestinal Disorders
Open Access
Neurogastroenterology and Motility Disorders of the Gastrointestinal Tract (S Rao, Section Editor)
Part of the following topical collections:
Abstract
Purpose of Review
The functional gastrointestinal disorders, or disorders of gut-brain interaction as defined by the Rome IV criteria, are the most common diagnostic entities in gastroenterology. Treatments that address the dysregulation of gut-brain interaction with these disorders are increasingly gaining interest as a better option than for example traditional analgesics, particularly opioids. Antidepressants, antianxiety and antipsychotic medications, and visceral analgesics, now termed neuromodulators, are included in this update addressing the evidence of treatment benefit in disorders of brain-gut interaction.
Recent Findings
By a careful selection based on a multidimensional clinical profile, a decreased symptom burden, particularly regarding abdominal pain, nausea, and vomiting, as well as improved social function and quality of life, can be obtained by use of neuromodulators. There is good evidence for the peripheral neuromodulators from studies in bowel disorders, and the central neuromodulators both from indirect evidence in chronic pain disorders as well as selected disorders of brain-gut interaction.
Summary
Basic knowledge about the pharmacologic properties and clinical use of neuromodulators in disorders of brain-gut interaction improves the treatment outcome and avoids use of traditional analgesics.
Keywords
Functional gastrointestinal disorders 
Disorders of brain-gut interaction 
Multidimensional clinical profile 
Treatment 
Antidepressants 
Abdominal pain 
Introduction
The functional gastrointestinal disorders (FGIDs) are currently defined by the Rome IV criteria [1] and include 33 different diagnostic entities in adults where neurogastroenterological interactions are increasingly highlighted as a central pathophysiologic mechanism. In fact, the terminology has changed due to this into naming FGIDs as disorders of gut-brain interactions (DGBIs). There is now good evidence that treatment modalities addressing this association should be an integral part of the approach to the patient who experiences troublesome DGBI symptoms. In particular, this includes abdominal pain and closely related symptoms such as nausea and vomiting. In order to avoid the stigma connected with some of the pharmacologic treatment modalities, such as antidepressants, antipsychotics, or other psychotropic terminologies, a recent Rome Foundation working team report [2••] introduced the term neuromodulators with the intention to put more focus on the neurologic interaction relating to treatment, rather than the historical term targeted at psychiatric disorders. There is also good reason to distinguish from a pharmacologic point of view those treatments that have predominant peripheral effects, i.e., effects on the enteric nerve system, those treatments with predominant central effects on the central nervous system, and those treatments where there are combined effects. With the use of the term neuromodulators, we extend the actions of these compounds that are outside of the range defined by medications used within psychiatry.
The scope of this article is to update recent knowledge gained about the use of neuromodulators in DGBIs and to put it into perspective for clinical practice, to optimize the patient-doctor interaction and to avoid misuse of some treatment options for abdominal pain, mainly opioids that might cause drug dependence and narcotic bowel syndrome [3].
Multidimensional Clinical Profile
A good starting point when treatment involves one or more neuromodulator is to thoroughly characterize the patient's illness by understanding the full extent of the illness experience and in doing so predict which dimension of ill health might improve from specific treatment options. This concept is supported by expert consensus where an in-depth description including clinical examples can be found in an updated version as part of the Rome IV process [
4
•]. Briefly, the concept includes five dimensions and the complexity of the illness and its specific treatment is determined by the interaction of these influencing dimensions: Rome IV-based diagnosis, additional sub-classifications that might differentially affect treatment such as bowel habits in IBS, patient-defined impact of the illness on daily life, psychosocial modifiers of relevance, and finally physiologic modifiers of function such as a transit test or biomarkers. This type of assessment ultimately can improve patient outcome in situations where multiple factors contribute to the illness. A key factor is also to help the patient understand why neuromodulators that have effects on different aspects of the gut-brain axis can be useful in their care. This concept is important as it helps explain factors involved in a biopsychosocial interaction with multiple contributors to the illness. A simplified neuroanatomical picture, such as Fig. 
1
a, b, helps patients understand where and how a particular neuromodulator will have effects. An in-depth implementation guide for this is included in the recent Rome Foundation working team report outlining recommendation for neuromodulators in FGIDs [
2
••].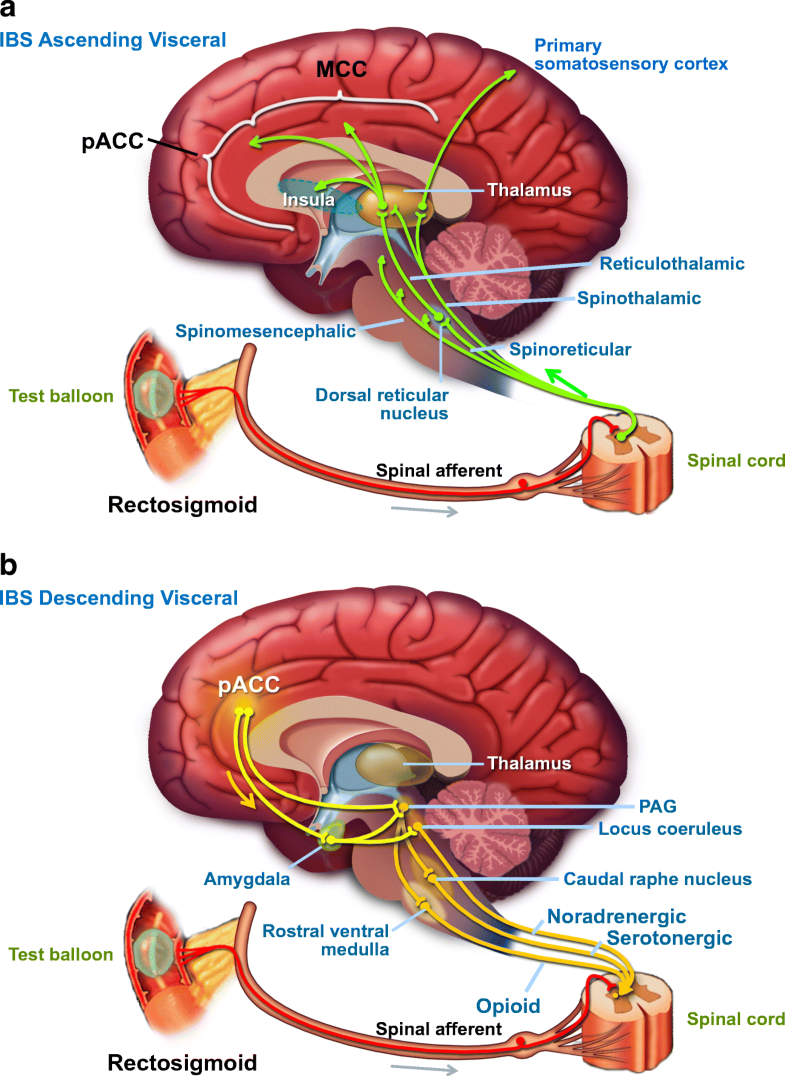 Peripheral Neuromodulators
The treatment options that follow in this section may not traditionally be considered neuromodulators. However, they are included for their heuristic value in keeping with the concept of having peripheral (i.e., visceral) action on gut neuromuscular or sensory function via the enteric nervous system.
Central Neuromodulators
The central neuromodulators have effects on gut-brain interactions that are more widespread compared to the peripheral mechanisms discussed above. Visceral sensory input is conveyed by a chain of three orders of neurons that synapse at the dorsal root ganglion of the spinal cord and the thalamus, before reaching conscious perception in the primary somatosensory cortex (discrimination and localization), the reticular formation of the brainstem (emotional processing), the medial thalamus, the cingulate cortex, and the insula (behavioral response). Meta-analysis of brain-imaging studies shows the anterior cingulate cortex and insular regions as central for all painful modalities [
30
], but the network activation of larger brain regions, where the magnitude of response determines symptom experience has expanding data supporting it [
31
]. A central pain control mechanism also has the ability to modulate sensory perception via descending fibers from the brain stem that affects the transmitting properties at the level of the dorsal horn neuron (the first and second afferent neuron conduction site). There is also good evidence that neural plasticity involving neurodegenerative components is involved in particularly chronic pain [
32
,
33
,
34
] and that neuromodulators actually can have positive neuroplastic, regenerative effects [
35
•] when used for treatment. Taken together with basic knowledge about the main transmitters of information in the gut-brain axis, serotonin (5-HT), noradrenalin (NA), dopamine, and their receptor sites, the central modulators can be tailored for use in DGBIs. A summary of the different drug classes, their suggested clinical indications, and dosage can be found in Table
1
.
Table 1
Summary of the central neuromodulators, their modes of action, suggested clinical indications, main side effects, and dosage in the treatment of disorders of gut-brain interactions (DGBIs)
| Drug class | Mode of action | Clinical indications/evidence for effectiveness | Side effects | Drugs/dose |
| --- | --- | --- | --- | --- |
| Tricyclic antidepressants | Pre-synaptic SRI and NRI. Antagonism/inhibition of multiple post-synaptic (5-HT2, 5-HT3, H1, M1, α1) and pre-synaptic (α2) receptors | Chronic abdominal pain in all DGBIs where abdominal pain is a prominent feature. Best documented for IBS, but also FD (EPS) | Drowsiness, dry mouth, constipation, sexual dysfunction, arrhythmias, weight gain | Amitriptyline, imipramine, desipramine, nortriptyline. 25–100 (– 150) mg qd for all |
| Selective serotonin reuptake inhibitors | Pre-synaptic SRI | Treatment of anxiety, phobic features, and OCD in all DBGIs. Not helpful for pain but evidence of improvement of global measures in IBS and upper chest pain | Agitation, diarrhea, insomnia, night sweats, headache, weight loss, sexual dysfunction | Citalopram (10–40 mg qd), escitalopram (5–20 mg qd), fluoxetine (10–40 mg qd), paroxetine (10–40 mg qd), sertraline (50–150 mg qd) |
| Serotonin and noradrenalin reuptake inhibitors | Pre-synaptic SRI and NRI | Useful for abdominal pain in DGBIs based on data for fibromyalgia, back pain, headache, and other chronic pain. Formal studies for DGBIs needed | Nausea, agitation, dizziness, sleep disturbance, fatigue, liver dysfunction (rare) | Duloxetine (30–90 mg qd), milnacipran (50–100 mg bid), venlafaxine (for pain 150–225 mg qd). NRI effective for all doses with duloxetine. NRI effective only in higher doses (> 150 mg) for venlafaxine. Milnacipram stronger NRI than SRI effects |
| Tetracyclic antidepressants | Indirect effects resulting in increased noradrenergic and serotonergic activity through α2 antagonism on noradrenergic and 5-HT neurons. Also 5-HT2, 5-HT3, H1, M1 antagonism | Treatment of early satiation, weight loss, and chronic nausea/vomiting. Side effect profile can be useful to improve sleep. Documentation mainly for FD (PDS) | Sedation, headache, dry mouth, weight gain | Mirtazapine (15–45 mg qhs), mianserin (30–90 mg qhs), trazodone (75–150 mg qhs) |
| Azapirones | Partial pre- and post-synaptic 5-HT1 agonists | Treatment of associated anxiety and FD (PDS). Potential use for treatment in other DGBIs | Sedation, headache, dizziness, vertigo | Buspirone (15–45 mg bid), tandospirone (10 mg tid) |
| Atypical antipsychotics | D2 receptor antagonism as main mechanism. Various profiles of 5-HT2A antagonism (olanzapine, quetiapine), 5-HT1A agonism (quetiapine), H1, α1, α2, M1 receptor antagonism | Potential use in augmentation for abdominal pain reduction and improved sleep (quetiapine and olanzapine). Further studies needed for DGBIs | Sedation, dizziness, and weight gain. Hyperlipidemia and diabetes | Apriprazole (2.5–7.5 mg qd), olanzapine (2.5–10 mg qd), quetiapine (25–200 mg qd) |
Augmentation Treatment
Finally, the concept of augmentation treatment, i.e., combining treatments in a clinical situation where individual therapeutic effects from the most common drugs presented above are either insufficient or complicated by side effects that restrict dosage to a suboptimal level, should be considered. Instead of totally abandoning one suboptimal neuromodulator, adding other neuromodulators, sometimes in a lower dosage to minimize the risk for side effects, can be useful. Knowledge about receptor affinities and peripheral versus central mode of actions together with dominant symptoms as combined selection grounds can result in additive effects. The formal evidence for augmentation treatment in DGBIs is lacking, but suggested from empirical grounds [53] and with experience from treatment of depression as the model [54••]. Examples of augmentation include adding an atypical antipsychotic or an azapirone to a TCA or SNRI, combining neuromodulator treatment with a behavioral intervention (e.g., hypnosis, CBT), adding a delta ligand agent to a TCA or SNRI particularly if there is a somatic component of pain or in some cases combining low-dose TCA with an SSRI.
A conceptual summary of indications and clinical recommendation when use of gut-brain modulators with peripheral and central actions is considered is given in Fig. 
2
, combinations suitable for augmentation included.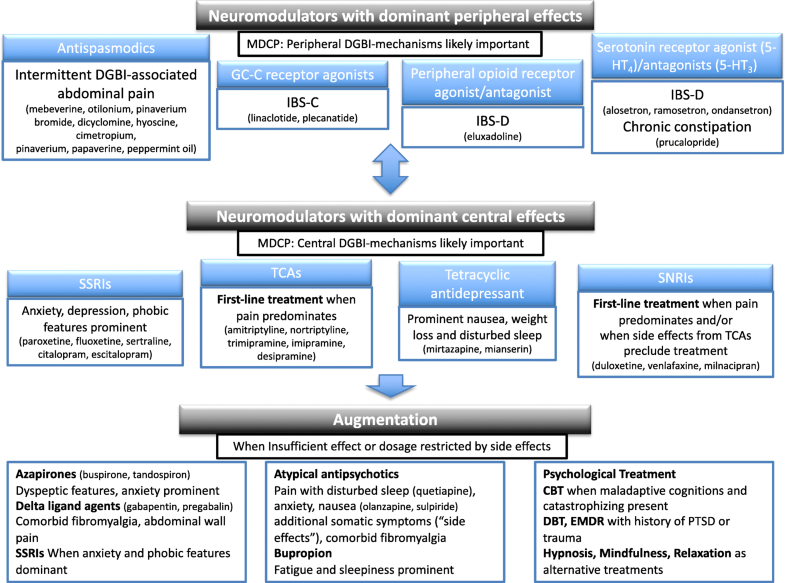 Relapse Prevention
When it comes to termination of treatment with central modulators in patients that have had intense and long-standing symptomatology, there is not any good evidence for recommendation in DGBIs. For now, it is probably best advice to follow guidelines from major depressive disorders, i.e., continue treatment for at least 6–12 months after reaching a point of good response as rated by the patient, well aware of an increased risk of symptom relapse in the period that follows treatment termination [2••, 55, 56].
Conclusions
The FGIDs, now called DGBIs, are often considered as difficult to treat and with use of pharmacologic treatment options of limited efficacy. However, newer research is showing the value of these treatments though the existing evidence is still scanty. Nevertheless, empiric evidence shows the value of neuromodulators in ameliorating symptom severity and improving quality of life. Included herein are a number of treatments that have reasonable value for accomplishing these management effects and also addressing sometimes multiple problems involved in the complex illness experience seen with DGBIs. The central role of gut-brain interactions is increasingly highlighted as most important to conceptually understand, also when trying to personalize treatments in these patients. The growing knowledge of neurogastroenterology and the use of neuromodulators are more than adequate to reduce the tendency for clinicians to say to patients, "I can not do any more, you just need to learn to live with it." When intermittent symptoms of mild intensity are present, and with gut-related association (e.g., worse with eating, relieved by bowel movements) neuromodulators with peripheral actions most often are sufficient. But as the chronicity and intensity of symptoms become severe and dominant, particularly involving abdominal pain, nausea, or vomiting, along with extra-intestinal symptoms, one should consider starting or adding central neuromodulators to the existing treatments.
Notes
Compliance with Ethical Standards
Conflict of Interest
Hans Törnblom reports personal fees from Allergan, Shire, and Tillotts, outside the submitted work.
Douglas A. Drossman declares no conflict of interest.
Human and Animal Rights and Informed Consent
This article does not contain any studies with human or animal subjects performed by any of the authors.
References
Papers of particular interest, published recently, have been highlighted as: • Of importance •• Of major importance
Copyright information
© The Author(s) 2018
Open Access This article is distributed under the terms of the Creative Commons Attribution 4.0 International License (http://creativecommons.org/licenses/by/4.0/), which permits unrestricted use, distribution, and reproduction in any medium, provided you give appropriate credit to the original author(s) and the source, provide a link to the Creative Commons license, and indicate if changes were made.