Diabetes and Hypertension: Is There a Common Metabolic Pathway?
Open Access
Coronary Heart Disease (J Farmer, Section Editor)
Abstract
Diabetes and hypertension frequently occur together. There is substantial overlap between diabetes and hypertension in etiology and disease mechanisms. Obesity, inflammation, oxidative stress, and insulin resistance are thought to be the common pathways. Recent advances in the understanding of these pathways have provided new insights and perspectives. Physical activity plays an important protective role in the two diseases. Knowing the common causes and disease mechanisms allows a more effective and proactive approach in their prevention and treatment.
Keywords
Diabetes 
Hypertension 
Obesity 
Metabolic syndrome 
Metabolic pathway 
Insulin resistance 
Introduction
Hypertension and diabetes are two of the leading risk factors for atherosclerosis and its complications, including heart attacks and strokes. There is substantial overlap between diabetes and hypertension, reflecting substantial overlap in their etiology and disease mechanisms. In the Hong Kong Cardiovascular Risk Factor Prevalence Study, only 42% of people with diabetes had normal blood pressure and only 56% of people with hypertension had normal glucose tolerance [1•]. In the US population, hypertension occurs in approximately 30% of patients with type 1 diabetes and in 50% to 80% of patients with type 2 diabetes [2]. A prospective cohort study in the United States reported that type 2 diabetes mellitus was almost 2.5 times as likely to develop in subjects with hypertension as in subjects with normal blood pressure [3]. In reality, diabetes and hypertension are found in the same individual more often than would occur by chance, whereas the overlap between dysglycemia and raised blood pressure is even more substantial than that between diabetes and hypertension [4]. This suggests either shared genetic or environmental factors in the etiology [1•].
Conclusions
Diabetes and hypertension share common pathways such as SNS, RAAS, oxidative stress, adipokines, insulin resistance, and PPARs (Fig. 
1
). These pathways interact and influence each other and may even cause a vicious cycle. Hypertension and diabetes are both end results of the metabolic syndrome. They may, therefore, develop one after the other in the same individual. Central obesity is the cause of the metabolic syndrome. Only orlistat is currently available for the long-term treatment of obesity [
114
]. Therefore, optimization of lifestyle remains the cornerstone in the prevention and treatment of diabetes and hypertension.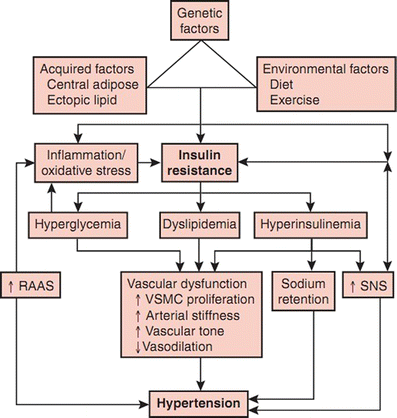 Notes
Acknowledgements
BMY Cheung received support from the Faculty Research Fund, Li Ka Shing Faculty of Medicine, University of Hong Kong.
Disclosure
No conflicts of interest relevant to this article were reported.
Open Access
This article is distributed under the terms of the Creative Commons Attribution Noncommercial License which permits any noncommercial use, distribution, and reproduction in any medium, provided the original author(s) and source are credited.
References
Papers of particular interest, published recently, have been highlighted as: • Of importance