Abstract
Background
Ireland has changed over the past sixty years, and the dynamic practice of obstetrics and gynaecology has changed with it.
Study design and methods
To describe these changes, a review was performed of clinical reports of a tertiary referral teaching hospital over six decades.
Results
Since the 1960s, the hospital's total births per annum has risen (3050 to 8362 births). Teenage pregnancy is less common (4.7 to 2.0%, p < 0.001), with more women over age 40 at booking (2.6 to 6.4%, p < 0.001). There are more multiple pregnancies now (1.8 to 4.1%, p < 0.001) and less grand-multiparous woman (10.1 to 1.3%, p < 0.001). Eclampsia is less common (0.18 to 0.02%, p = 0.003), with a slight decrease in rate of preeclampsia (3.8 to 3.0%, p = 0.03). Induction of labour increased considerably (8.8 to 32.1%, p < 0.001). While the instrumental delivery rate remained stable, the instrument of choice has changed from forceps (11.3 to 5.4%, p = 0.001) to ventouse delivery (0.6 to 9.1%, p = 0.001). The caesarean section rate rose (5.9 to 29.7%, p < 0.001). Vaginal birth after caesarean section rate dropped (90.4 to 28.2%, p < 0.001) without significant change in rate of uterine rupture (0.4 to 0.7%, p = 0.1). The perinatal mortality rate improved (48.5 to 5.4 per 1000 births, p < 0.001). Preterm birth rate rose (4.9 to 6.6%, p = 0.001). Foetal macrosomia decreased in this time (2.5 to 1.7%, p = 0.007), despite a rise in the incidence of gestational diabetes mellitus.
Conclusion
This study provides an intriguing glimpse into the changes in the practice of obstetrics and demonstrates how it adapts to the population it serves.
This is a preview of subscription content, log in to check access.
Access options
Buy single article
Instant access to the full article PDF.
US$ 39.95
Price includes VAT for USA
Subscribe to journal
Immediate online access to all issues from 2019. Subscription will auto renew annually.
US$ 99
This is the net price. Taxes to be calculated in checkout.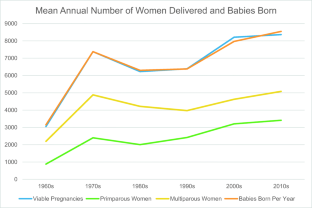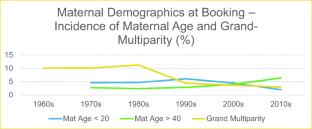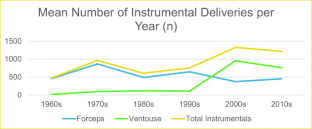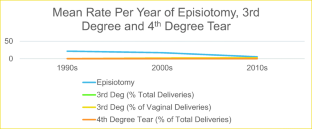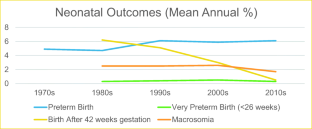 References
1.

Gavin W (1964-1970) Reports of the Coombe lying-in hospital

2.

Clinch J (1971-1977) Coombe lying-in hospital Dublin - clinical report

3.

Duignan N (1984-1986) Coombe lying-in hospital Dublin - clinical report

4.

Turner MJ (1994-1996) Coombe Women's Hospital - annual clinical report

5.

Daly S (2004-2006) Coombe Women's Hospital - annual clinical report

6.

Sheehan S (2014-2016) Coombe Women and Infants University Hospital - annual clinical report

7.

Central Statistics Office (2018) Population and Migration Estimates April 2018. https://www.cso.ie/en/releasesandpublications/er/pme/populationandmigrationestimatesapril2018/. Accessed 03 Sept 2019

8.

Central Statistics Office (2017) Census 2016 summary results - part 1. Apr 2017: CSO https://wwwcsoie/en/media/csoie/newsevents/documents/census2016summaryresultspart1/Census2016SummaryPart1pdf Accessed 03 Sept 2019

9.

Central Statistics Office (2019) Vital Statistics First Quarter 2019. https://www.cso.ie/en/releasesandpublications/ep/p-vs/vitalstatisticsfirstquarter2019/. Accessed 03 September 2019

10.

Hug L, Alexander M, You D, Alkema L (2019) National, regional, and global levels and trends in neonatal mortality between 1990 and 2017, with scenario-based projections to 2030: a systematic analysis. Lancet Glob Health 7(6):e710–e720

11.

O'Farrell IB, Manning E, Corcoran P, McKernan J, Meaney S, et al(2016) National perinatal epidemiology centre - perinatal mortality in Ireland - annual clinical report

12.

World Health Organization. World health statistics 2016: monitoring health for the SDGs sustainable development goals. World Health Organization; 2016 Jun 8. https://www.who.int/gho/publications/world_health_statistics/2016/en/. Accessed 03 September 2019

13.

Krollmann B, Brock DA, Eichel M, Nader PM, Neiheisel PW (2002) Advances in neonatal care: focusing on the last 20 years. Neonatal Netw 21(5):43–49

14.

Templeton A, Anderson R, Belfield T, Derbyshire S, Ellis K, et al (1985) RCOG, Report on Fetal Viability and Clinical Practice. 1985: Royal College of obstetricians and Gynaecolologists

15.

Infant Life (Preservation) Act, (UK) 1929 (cited 2019 Sept 3rd). Available from; http://wwwlegislationgovuk/ukpga/Geo5/19-20/34/section/1 Accessed 01 September 2019

16.

Campbell S (2014) Fetal macrosomia: a problem in need of a policy. Ultrasound Obstet Gynecol 43(1):3–10

17.

European Health Information Gateway, World Health Organisation (2018) Number of all live births, mothers over age 35+ years. 2018. https://gateway.euro.who.int/en/indicators/hfa_595-7051-number-of-all-live-births-mothers-aged-35plus-years/ Accessed 03 Septmeber 2019. Accessed 01 September 2019

18.

Drife JO (2016) Fifty years of obstetrics and gynaecology. Br J Hosp Med (Lond) 77(10):572–574

19.

Central Statistics Office (2016) Women and men in Ireland 2016. 2016: CSO. https://www.cso.ie/en/releasesandpublications/ep/p-wamii/womenandmeninireland2016/. Accessed 03 September 2019

20.

Collins J (2007) Global epidemiology of multiple birth. Reprod BioMed Online 15(Suppl 3):45–52

21.

Blondel B, Kaminski M (2002) Trends in the occurrence, determinants, and consequences of multiple births. Semin Perinatol 26(4):239–249

22.

El-Toukhy T, Bhattacharya S, Akande VA (2018) Multiple pregnancies following assisted conception: scientific impact paper no. 22. BJOG 125(5):e12–e18

23.

Swift EM, Tomasson G, Gottfreðsdóttir H, Einarsdottir L, Zoega H (2018) Obstetric interventions, trends, and drivers of change: a 20-year population-based study from Iceland. Birth 45(4):368–376

24.

Ekéus C, Lindgren H (2016) Induced labor in Sweden, 1999-2012: a population-based cohort study. Birth 43(2):125–133

25.

O'Connor HD, Hehir MP, Kent EM, Foley ME, Fitzpatrick C et al (2013) Eclampsia: trends in incidence and outcomes over 30 years. Am J Perinatol 30(8):661–664

26.

Hehir MP, Reidy FR, Wilkinson MN, Mahony R (2013) Increasing rates of operative vaginal delivery across two decades: accompanying outcomes and instrument preferences. Eur J Obstet Gynecol Reprod Biol 171(1):40–43

27.

Daly N, Bonham S, O'Dwyer V, O'Connor C, Kent E et al (2014) National variations in operative vaginal deliveries in Ireland. Int J Gynaecol Obstet 125(3):210–213

28.

Muraca GM, Sabr Y, Brant R, Cundiff GW, Joseph KS (2016) Temporal and regional variations in operative vaginal delivery in Canada by Pelvic Station, 2004-2012. J Obstet Gynaecol Can 38(7):627–635

29.

Mesleh RA, Al-Sawadi HM, Kurdi AM (2002) Comparison of maternal and infant outcomes between vacuum extraction and forceps deliveries. Saudi Med J 23(7):811–813

30.

O'Mahony F, Hofmeyr GJ, Menon V (2010) Choice of instruments for assisted vaginal delivery. Cochrane Database Syst Rev (11):CD005455

31.

Fernando RJ, Sultan AH, Freeman RM, Williams AA, Adams EJ (2015) The management of third and fourth degree perineal tears. 2015: RCOG green-top guidelines

32.

Mullally A, Vallejo N, Banks R, Fergus A, O'Shea E et al (2018) Reducing obstetric anal sphincter injuries (OASIs) in childbirth: a quality improvement project. BJOG, BJOG Poster Presentations 2018. BJOG Int J Obstet Gynaecol

33.

Gurol-Urganci I, Cromwell DA, Edozien LC, Mahmood TA, Adams EJ et al (2013) Third- and fourth-degree perineal tears among primiparous women in England between 2000 and 2012: time trends and risk factors. BJOG 120(12):1516–1525

34.

Baghestan E, Irgens LM, Bordahi PE, Rasmussen S (2010) Trends in risk factors for obstetric anal sphincter injuries in Norway. Obstet Gynecol 116(1):25–34

35.

Röckner G, Fianu-Jonasson A (1999) Changed pattern in the use of episiotomy in Sweden. Br J Obstet Gynaecol 106(2):95–101

36.

Clesse C, Lighezzolo-Alnot J, De Lavergne S, Hamlin S, Scheffler M (2019) Statistical trends of episiotomy around the world: Comparative systematic review of changing practices. Health Care Women Int, 2018. 39(6): 644–662

37.

Walsh O (2014) Symphisiotomy in Ireland 1944-1984.

38.

Joseph KS, Young DC, Dodds L, O'Connell CM, Allen VM et al (2003) Changes in maternal characteristics and obstetric practice and recent increases in primary caesarean delivery. Obstet Gynaecol

39.

Brick A, Layte R (2011) Exploring trends in the rate of caesarean section in Ireland 1999-2007. Econ Soc Rev:383–406

40.

Tadesse W, Farah N, Hogan J, Kennelly M, Turner MJ et al (2011) Peripartum hysterectomy in the first decade of the 21st century. J Obstet Gynaecol 31(4):320–321

41.

Sinnott SJ, Brick A, Layte R, Cunningham N, Turner MJ (2016) National variation in caesarean section rates: a cross sectional study in Ireland. PLoS One 11(6):e0156172

42.

Weaver J, Magill-Cuerden J (2013) "Too posh to push": the rise and rise of a catchphrase. Birth 40(4):264–271

43.

Pawelec M, Pietras K, Karmowski A, Palczynski B, Karmowski M et al (2012) Fear-driven cesarean section on request. Pol Merkur Lekarski 33(194):86–89

44.

Brick A, Layte R, McKeating A, Sheehan SR, Turner MJ (2019) Does maternal obesity explain trends in caesarean section rates? Evidence from a large Irish maternal hospital. Ir J Med Sci

45.

Brick A, Layte R, Farren M, Mahony R, Turner MJ (2016) Recent trends in vaginal birth after caesarean section. Ir Med J 109(10):482

46.

Ryan GA, Nicholson SM, Morrison JJ (2018) Vaginal birth after caesarean section: current status and where to from here? Eur J Obstet Gynecol Reprod Biol 224:52–57

47.

Healthcare Pricing Office (2016) Perinatal Statistics Report, H.S.E. HSE, Editor. 2016. http://www.hpo.ie/latest_hipe_nprs_reports/NPRS_2016/Perinatal_Statistics_Report_2016.pdf Accessed 01 September 2019

48.

Hod M, Jovanovic LG, Di Renzo GC, De Leiva A, Langer O (2016) Textbook of diabetes and pregnancy. Third edition. ed. Series in maternal-fetal medicine. 2016, Boca Raton: CRC Press, Taylor & Francis Group xxi, 547 pages

49.

Reynolds CME, Egan B, McMahon K, O'Malley EG, Sheehan SR et al (2019) Maternal obesity trends in a large Irish university hospital. Eur J Obstet Gynecol Reprod Biol 238:95–99

50.

Farrar D, Simmonds M, Griffin D (2016) Prevalence of gestational diabetes in the UK and Republic of Ireland: a systematic review, in the identification and treatment of women with hyperglycaemia in pregnancy: an analysis of individual participant data, systematic reviews, meta-analyses and an economic evaluation - Chapter 2. Nov 2016: Southampton (UK)
Ethics declarations
Conflict of interest
The authors declare that they have no conflict of interest.
Ethical approval
This article does not contain any studies with human participants or animals performed by any of the authors.
Additional information
Publisher's note
Springer Nature remains neutral with regard to jurisdictional claims in published maps and institutional affiliations.
About this article
Cite this article
Corbett, G.A., Fitzpatrick, C., Daly, S. et al. Childbirth in Ireland's capital city over sixty years. Ir J Med Sci (2020). https://doi.org/10.1007/s11845-020-02192-9
Received:

Accepted:

Published:
Keywords
Caesarean section

Instrumental delivery

Maternal age

Obstetrics

Trends