Abstract
Background
Burnout is an occupational syndrome frequently encountered within the healthcare profession. It is characterised by emotional exhaustion (EE), depersonalisation (DP) and a low sense of personal accomplishment (PA). Its negative impact extends to the physician, patient and overall service provision.
Aims
The aim of this study was to evaluate work patterns, the prevalence of burnout and its associations in medical oncology consultants and specialist registrars (SpRs) in Ireland.
Methods
Participants were invited to partake in an anonymised online survey. Burnout domains were measured using the validated Maslach Burnout Inventory. Associations between variables were evaluated using the Mann-Whitney U and Kruskal-Wallis tests (continuous), and chi-square and Fisher's exact testing (categorical).
Results
Seventy-four physicians were contacted to participate, 44 (59%) completed the survey. The majority (71%) work ≥ 50 h a week, with 57% having additional on-call commitments of ≥ 5 days/month. Burnout is defined by a high score in EE combined with a high DP and/or low PA was identified in 45% of consultants and 20% of SpRs. Longer working hours (≥ 60 h/ week) were found to be associated with both high EE (p = 0.049) and DP (p = 0.019). Higher EE scores were demonstrated in those ≥ 40 years (p = 0.04). The majority (86%) reported they would become an oncologist again.
Conclusion
One or more of the symptoms of burnout is highly prevalent in medical oncologists in Ireland. With increasing pressure on resources, burnout is expected to increase. Attention to strategies for prevention needs to be prioritised within our healthcare system.
This is a preview of subscription content, log in to check access.
Access options
Buy single article
Instant access to the full article PDF.
US$ 39.95
Price includes VAT for USA
Subscribe to journal
Immediate online access to all issues from 2019. Subscription will auto renew annually.
US$ 99
This is the net price. Taxes to be calculated in checkout.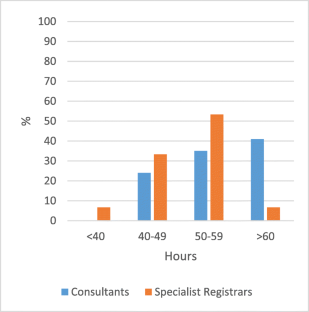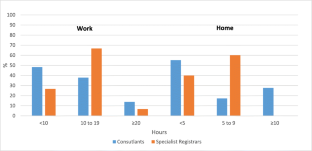 References
1.

Maslach C, Jackson S, Leiter M et al (2016). Maslach burnout inventory, fourth edn. Mind Garden, Inc., California.

2.

Bianchi R, Schonfeld IS, Laurent E (2019) The trouble with burnout: an update on burnout-depression overlap. Am J Psychiatry 176(1):79. https://doi.org/10.1176/appi.ajp.2018.18091026

3.

Schonfeld IS, Verkuilen J, Bianchi R (2019) Inquiry into the correlation between burnout and depression. J Occup Health Psychol. https://doi.org/10.1037/ocp0000151

4.

Ramirez AJ, Graham J, Richards MA, Gregory WM, Cull A (1996) Mental health of hospital consultants: the effects of stress and satisfaction at work. Lancet 347(9003):724–728

5.

Shanafelt TD, Boone S, Tan L, Dyrbye LN, Sotile W, Satele D, West CP, Sloan J, Oreskovich MR (2012) Burnout and satisfaction with work-life balance among US physicians relative to the general US population. Arch Intern Med 172(18):1377–1385. https://doi.org/10.1001/archinternmed.2012.3199

6.

Shanafelt T, Dyrbye L (2012) Oncologist burnout: causes, consequences, and responses. J Clin Oncol 30(11):1235–1241. https://doi.org/10.1200/JCO.2011.39.7380

7.

Shanafelt TD, Balch CM, Bechamps G, Russell T, Dyrbye L, Satele D, Collicott P, Novotny PJ, Sloan J, Freischlag J (2010) Burnout and medical errors among American surgeons. Ann Surg 251(6):995–1000. https://doi.org/10.1097/SLA.0b013e3181bfdab3

8.

Shanafelt TD, Bradley KA, Wipf JE, Back AL (2002) Burnout and self-reported patient care in an internal medicine residency program. Ann Intern Med 136(5):358–367

9.

Brenninkmeijer V, VanYperen N (2003) How to conduct research on burnout: advantages and disadvantages of a unidimensional approach in burnout research. Occup Environ Med 60(Suppl 1):i16–i20. https://doi.org/10.1136/oem.60.suppl_1.i16

10.

Shanafelt TD, Gradishar WJ, Kosty M, Satele D, Chew H, Horn L, Clark B, Hanley AE, Chu Q, Pippen J, Sloan J, Raymond M (2014) Burnout and career satisfaction among US oncologists. J Clin Oncol 32(7):678–686. https://doi.org/10.1200/JCO.2013.51.8480

11.

Banerjee S, Califano R, Corral J, de Azambuja E, de Mattos-Arruda L, Guarneri V, Hutka M, Jordan K, Martinelli E, Mountzios G, Ozturk MA, Petrova M, Postel-Vinay S, Preusser M, Qvortrup C, Volkov MNM, Tabernero J, Olmos D, Strijbos MH (2017) Professional burnout in European young oncologists: results of the European Society for Medical Oncology (ESMO) Young Oncologists Committee Burnout Survey. Ann Oncol 28(7):1590–1596. https://doi.org/10.1093/annonc/mdx196

12.

Hayes B, Prihodova L, Walsh G, Doyle F, Doherty S (2019) Doctors don't do-little: a national cross-sectional study of workplace well-being of hospital doctors in Ireland. BMJ Open 9(3):e025433. https://doi.org/10.1136/bmjopen-2018-025433

13.

Dyrbye LN, West CP, Satele D, Boone S, Tan L, Sloan J, Shanafelt TD (2014) Burnout among U.S. medical students, residents, and early career physicians relative to the general U.S. population. Acad Med 89(3):443–451. https://doi.org/10.1097/ACM.0000000000000134

14.

Amoafo E, Hanbali N, Patel A, Singh P (2015) What are the significant factors associated with burnout in doctors? Occup Med 65(2):117–121. https://doi.org/10.1093/occmed/kqu144

15.

Hannan E, Breslin N, Doherty E, McGreal M, Moneley D, Offiah G (2018) Burnout and stress amongst interns in Irish hospitals: contributing factors and potential solutions. Ir J Med Sci 187(2):301–307. https://doi.org/10.1007/s11845-017-1688-7

16.

Demerouti E, Bakker AB, Nachreiner F et al (2001) The job demands-resources model of burnout. J Appl Psychol 86(3):499–512

17.

Alarcon GM (2011) A meta-analysis of burnout with job demands, resources, and attitudes. J Vocat Behav 79(2):549–562

18.

Department of Health (2017). National Cancer Strategy 2017- 2026. https://health.gov.ie/wp-content/uploads/2017/07/National-Cancer-Strategy-2017-2026.pdf. Accessed 22 October 2018.

19.

Honkonen T, Ahola K, Pertovaara M, Isometsä E, Kalimo R, Nykyri E, Aromaa A, Lönnqvist J (2006) The association between burnout and physical illness in the general population--results from the Finnish Health 2000 Study. J Psychosom Res 61(1):59–66. https://doi.org/10.1016/j.jpsychores.2005.10.002

20.

Dyrbye LN, Thomas MR, Massie FS, Power DV, Eacker A, Harper W, Durning S, Moutier C, Szydlo DW, Novotny PJ, Sloan JA, Shanafelt TD (2008) Burnout and suicidal ideation among U.S. medical students. Ann Intern Med 149(5):334–341

21.

Oreskovich MR, Kaups KL, Balch CM et al (2012) Prevalence of alcohol use disorders among American surgeons. Arch Surg 147(2):168–174. https://doi.org/10.1001/archsurg.2011.1481

22.

Bellini LM, Shea JA (2005) Mood change and empathy decline persist during three years of internal medicine training. Acad Med 80(2):164–167

23.

Hall LH, Johnson J, Watt I, Tsipa A, O'Connor DB (2016) Healthcare staff wellbeing, burnout, and patient safety: a systematic review. PLoS One 11(7):e0159015. https://doi.org/10.1371/journal.pone.0159015

24.

Maslach CJ, S. E. (1984) Patterns of burnout among a national sample of public contact workers. J Health Hum Resour Adm 7:189–212

25.

Jourdain G, Chenevert D (2010) Job demands-resources, burnout and intention to leave the nursing profession: a questionnaire survey. Int J Nurs Stud 47(6):709–722. https://doi.org/10.1016/j.ijnurstu.2009.11.007

26.

Campbell J, Prochazka AV, Yamashita T, Gopal R (2010) Predictors of persistent burnout in internal medicine residents: a prospective cohort study. Acad Med 85(10):1630–1634. https://doi.org/10.1097/ACM.0b013e3181f0c4e7

27.

Krasner MS, Epstein RM, Beckman H et al (2009) Association of an educational program in mindful communication with burnout, empathy, and attitudes among primary care physicians. Jama 302(12):1284–1293. https://doi.org/10.1001/jama.2009.1384

28.

Shanafelt TD, Oreskovich MR, Dyrbye LN, Satele DV, Hanks JB, Sloan JA, Balch CM (2012) Avoiding burnout: the personal health habits and wellness practices of US surgeons. Ann Surg 255(4):625–633. https://doi.org/10.1097/SLA.0b013e31824b2fa0

29.

Shanafelt TD, Novotny P, Johnson ME, Zhao X, Steensma DP, Lacy MQ, Rubin J, Sloan J (2005) The well-being and personal wellness promotion strategies of medical oncologists in the North Central Cancer Treatment Group. Oncology 68(1):23–32. https://doi.org/10.1159/000084519

30.

Hlubocky FJ, Rose M, Epstein RM (2017) Mastering resilience in oncology: learn to thrive in the face of burnout. Am Soc Clin Oncol Educ Book 37:771–781. https://doi.org/10.14694/EDBK_173874

31.

Dunn PM, Arnetz BB, Christensen JF, Homer L (2007) Meeting the imperative to improve physician well-being: assessment of an innovative program. J Gen Intern Med 22(11):1544–1552. https://doi.org/10.1007/s11606-007-0363-5

32.

Linzer M, Poplau S, Grossman E, Varkey A, Yale S, Williams E, Hicks L, Brown RL, Wallock J, Kohnhorst D, Barbouche M (2015) A cluster randomized trial of interventions to improve work conditions and clinician burnout in primary care: results from the healthy work place (HWP) study. J Gen Intern Med 30(8):1105–1111. https://doi.org/10.1007/s11606-015-3235-4

33.

West CP, Dyrbye LN, Erwin PJ, Shanafelt TD (2016) Interventions to prevent and reduce physician burnout: a systematic review and meta-analysis. Lancet 388(10057):2272–2281. https://doi.org/10.1016/S0140-6736(16)31279-X
Additional information
Publisher's note
Springer Nature remains neutral with regard to jurisdictional claims in published maps and institutional affiliations.
About this article
Cite this article
Corrigan, L., O'Leary, C., Kroes, J. et al. Professional burnout, work patterns and career satisfaction in medical oncologists in Ireland. Ir J Med Sci (2019). https://doi.org/10.1007/s11845-019-02088-3
Received:

Accepted:

Published:
Keywords
Burnout

Job satisfaction

Medical oncology

Workload