Abstract
Background
Male factor infertility has increased to more than 40% during the last decade. About 30% of these couples are diagnosed with unexplained infertility. In fact, reactive oxygen species (ROS), especially superoxide anion (O2 −·) and hydrogen peroxide (H2O2), play a crucial role in regulation of physiological and pathological processes in spermatozoa. Moreover, since the diagnosis of unexplained infertility just through semen analysis is a matter of much controversy; we aimed to evaluate the levels of ROS and sperm DNA fragmentation in the semen samples of unexplained infertile and fertile control couples.
Methods
The semen samples of 28 unexplained infertile couples and 30 fertile control couples were analyzed according to WHO criteria. The intracellular levels of H2O2 and O2 −· were detected by flow cytometry with 2′,7′-Dichlorodihydrofluorescin diacetate and Dihydroethidium, respectively, and DNA fragmentation was evaluated by sperm chromatin dispersion test.
Results
In unexplained infertile group, sperm motility and normal morphology were significantly lower than the control. The levels of sperm H2O2, O2 −·, and DNA fragmentation were significantly higher in unexplained infertile men compared to fertile. Moreover, a positive correlation was found between the level of H2O2 and sperm DNA fragmentation in the unexplained infertile group. Besides, reduced sperm motility in the unexplained infertile group was significantly correlated with elevated levels of ROS.
Conclusions
The higher levels of intracellular ROS and DNA fragmentation in the semen samples of unexplained infertile couples and their causes might be considered as an important factor related to diagnosis and treatment of the unexplained infertile couples.
This is a preview of subscription content, log in to check access.
Access options
Buy single article
Instant unlimited access to the full article PDF.
US$ 39.95
Price includes VAT for USA
Subscribe to journal
Immediate online access to all issues from 2019. Subscription will auto renew annually.
US$ 99
This is the net price. Taxes to be calculated in checkout.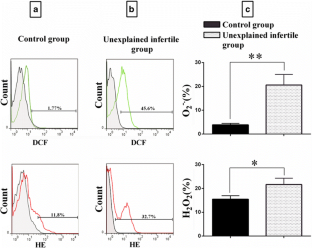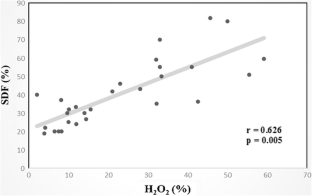 References
1.

Benjamin D, Sharma RK, Moazzam A, Agarwal A (2012) Methods for the detection of ROS in human sperm samples. In: Studies on men's health and fertility. 1rd edn. Humana Press, p 257–273

2.

Lewis SEM, Aitken RJ, Conner SJ, De Iuliis G, Evenson DP, Henkel R et al (2013) The impact of sperm DNA damage in assisted conception and beyond: recent advances in diagnosis and treatment. Reprod BioMed Online 27(4):325–337

3.

Ray A, Shah A, Gudi A, Homburg R (2012) Unexplained infertility: an update and review of practice. Reprod BioMed Online 24(6):591–602

4.

Zandieh Z, Ashrafi M, Jameie B, Amanpour S, Mosaffa N, Salman Yazdi R et al (2015) Evaluation of immunological interaction between spermatozoa and fallopian tube epithelial cells. Andrologia 47(10):1120–1130

5.

Pasqualotto FF, Sharma RK, Nelson DR, Thomas AJ, Agarwal A (2000) Relationship between oxidative stress, semen characteristics, and clinical diagnosis in men undergoing infertility investigation. Fertil Steril 73(3):459–464

6.

Vatannejad A, Tavilani H, Sadeghi MR, Amanpour S, Shapourizadeh S, Doosti M (2017) Evaluation of ROS-TAC score and DNA damage in fertile normozoospermic and infertile asthenozoospermic males. Urol J 14(1):2973–2978

7.

Agarwal A, Sharma RK, Sharma R, Assidi M, Abuzenadah AM, Alshahrani S et al (2014) Characterizing semen parameters and their association with reactive oxygen species in infertile men. Reprod Biol Endocrinol: RB&E 12:33

8.

Shabani Nashtaei M, Amidi F, Gilani S, Aleyasin A, Bakhshalizadeh S, Naji M et al (2017) Protective features of resveratrol on human spermatozoa cryopreservation may be mediated through 5'AMP-activated protein kinase activation. Andrology 5(2):313–326

9.

Aitken RJ, De Iuliis GN, Finnie JM, Hedges A, McLachlan RI (2010) Analysis of the relationships between oxidative stress, DNA damage and sperm vitality in a patient population: development of diagnostic criteria. Hum Reprod 25(10):2415–2426

10.

Agarwal A, Varghese AC, Sharma RK (2009) Markers of oxidative stress and sperm chromatin integrity. In: Molecular endocrinology, Springer, p 377–402

11.

Ghorbani M, Vatannejad A, Khodadadi I, Amiri I, Tavilani H (2016) Protective effects of glutathione supplementation against oxidative stress during cryopreservation of human spermatozoa. CryoLetters 37(1):34–40

12.

Mahfouz R, Sharma R, Lackner J, Aziz N, Agarwal A (2009) Evaluation of chemiluminescence and flow cytometry as tools in assessing production of hydrogen peroxide and superoxide anion in human spermatozoa. Fertil Steril 92(2):819–827

13.

Hamada A, Esteves SC, Nizza M, Agarwal A (2012) Unexplained male infertility: diagnosis and management. Int Braz J Urol 38(5):576–594

14.

Esteves SC, Miyaoka R, Agarwal A (2011) An update on the clinical assessment of the infertile male. [corrected]. Clinics (Sao Paulo) 66(4):691–700

15.

Hamada A, Esteves SC, Agarwal A (2011) Unexplained male infertility: potential causes and management. Human Androl 1(1):2–16

16.

Doshi SB, Sharma RK, Agarwal A (2015) Oxidative stress in unexplained male infertility. Unexplained infertility, Springer, p 81–9

17.

Verit FF, Verit A, Kocyigit A, Ciftci H, Celik H, Koksal M (2006) No increase in sperm DNA damage and seminal oxidative stress in patients with idiopathic infertility. Arch Gynecol Obstet 274(6):339–344

18.

Aktan G, Doğru-Abbasoğlu S, Küçükgergin C, Kadıoğlu A, Ozdemirler-Erata G, Koçak-Toker N (2013) Mystery of idiopathic male infertility: is oxidative stress an actual risk? Fertil Steril 99(5):1211–1215

19.

Venkatesh S, Shamsi MB, Deka D, Saxena V, Kumar R, Dada R (2011) Clinical implications of oxidative stress & sperm DNA damage in normozoospermic infertile men. Indian J Med Res 134(3):396

20.

Benedetti S, Tagliamonte MC, Catalani S, Primiterra M, Canestrari F, De Stefani S et al (2012) Differences in blood and semen oxidative status in fertile and infertile men, and their relationship with sperm quality. Reprod BioMed Online 25(3):300–306

21.

Mahfouz RZ, du Plessis SS, Aziz N, Sharma R, Sabanegh E, Agarwal A (2010) Sperm viability, apoptosis, and intracellular reactive oxygen species levels in human spermatozoa before and after induction of oxidative stress. Fertil Steril 93(3):814–821

22.

Agarwal A, Saleh RA, Bedaiwy MA (2003) Role of reactive oxygen species in the pathophysiology of human reproduction. Fertil Steril 79(4):829–843

23.

Hosseinzadeh Colagar A, Karimi F, Jorsaraei SG (2013) Correlation of sperm parameters with semen lipid peroxidation and total antioxidants levels in astheno- and oligoasheno- teratospermic men. Iran Red Crescent Med J 15(9):780–785

24.

Desai N, Sharma R, Makker K, Sabanegh E, Agarwal A (2009) Physiologic and pathologic levels of reactive oxygen species in neat semen of infertile men. Fertil Steril 92(5):1626–1631

25.

Sharma A (2016) Investigation on the effects of exogenous H2O2 on sperm motility, LPO, catalase and SOD levels in seminal plasma. Health Sci J 10(1):1–5

26.

Zandieh Z, Ashrafi M, Mosaffa N, Sabbaghian M, Gilani MA, Pacey A, et al editors (2015) Sperm DNA damage should be considered in infertile couples due to production of high inflammatory cytokines via toll-like receptors. Human Reproduction. OXFORD UNIV PRESS GREAT CLARENDON ST, OXFORD OX2 6DP, ENGLAND

27.

Henkel RR (2011) Leukocytes and oxidative stress: dilemma for sperm function and male fertility. Asian J Androl 13(1):43–52
Acknowledgments
We wish to thank Miss Elaheh Aboutorabi for her skilful technical assistance.
Funding information
This study was financed by Reproductive Health Research Centre (grant no. 910439-19441).
Ethics declarations
Conflict of interest
Zandieh, Vatannejad, Doosti, Zabihzadeh, Haddadi, Bajelan, Rashidi have no conflict of interest. Amanpour has received research grants from Reproductive Health Research Centre.
Ethical approval
All procedures performed in studies involving human participants were in accordance with the ethical standards of the institutional and/or national research committee and with the 1964 Helsinki declaration and its later amendments or comparable ethical standards. Informed consent was obtained from all individual participants included in the study.
Additional information
Zahra Zandieh and Akram Vatannejad are equal first author.
About this article
Cite this article
Zandieh, Z., Vatannejad, A., Doosti, M. et al. Comparing reactive oxygen species and DNA fragmentation in semen samples of unexplained infertile and healthy fertile men. Ir J Med Sci 187, 657–662 (2018). https://doi.org/10.1007/s11845-017-1708-7
Received:

Accepted:

Published:

Issue Date:
Keywords
DNA damage

Human spermatozoa

Reactive oxygen species

Unexplained infertility