Abstract
Background
A number of clinical specialist physiotherapist (CSP)-led musculoskeletal triage clinics have been established in the Republic of Ireland as a means of managing patients referred for an outpatient orthopaedic consultation.
Aims
The purpose of this study was to evaluate the outcomes of a recently established 'Musculoskeletal Assessment Clinic' (MAC) in St Vincent's University Hospital (SVUH) Dublin. We identified the (a) number of patients independently managed by the CSPs and (b) conversion rate to orthopaedic intervention as a useful measure of this.
Methods
University College Dublin Research Ethics Committee granted ethical exemption and the Clinical Audit Department of SVUH approved the study. A retrospective service evaluation was carried out on all orthopaedic patients who attended the MAC between January and July 2012. Data were analysed using SPSS v20 using descriptive statistics.
Results
Seven-hundred and fourteen patients attended the MAC, 54 % of whom were female; mean age 50 years (range 12–89). The majority of patients were diagnosed with low back pain (35 %) and knee osteoarthritis (16 %). The majority of patients who attended the MAC (76 %) were independently managed by the CSPs without need for orthopaedic consultation; from a valid sample (n = 110), 80 patients required orthopaedic intervention, a conversion rate of 73 %. The most common interventions were arthroplasty (22 %) and arthroscopy (16 %).
Conclusions
The findings of this service evaluation indicate that a significant number of patients referred for an orthopaedic consultation may be managed independently by a CSP and that onward referrals for orthopaedic consultation were highly appropriate.
This is a preview of subscription content, log in to check access.
Access options
Buy single article
Instant access to the full article PDF.
US$ 39.95
Price includes VAT for USA
Subscribe to journal
Immediate online access to all issues from 2019. Subscription will auto renew annually.
US$ 99
This is the net price. Taxes to be calculated in checkout.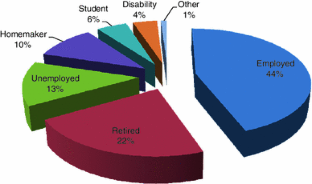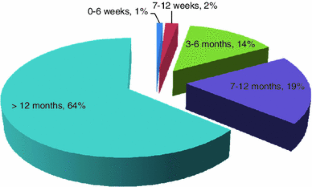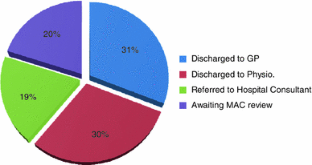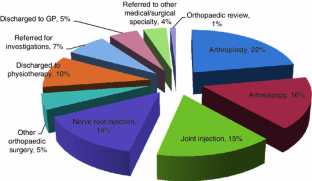 References
1.

Vos T, Falzman AD, Naghavi M et al (2012) Years lived with disability (YLDs) for 1160 sequelae of 289 diseases and injuries 1999–2010. A systematic analysis for the Global Burden of Diseases Study 2010. Lancet 380:2163–2196

2.

Woolf AD (2012) The bone and joint decade: working together to make musculoskeletal conditions a health priority. Reports on the rheumatic diseases, Series 6, Summer 2012, topical reviews no 12. Arthr Res UK

3.

Oldmeadow LB, Bedi SH, Burch HT et al (2007) Experienced physiotherapists as gatekeepers to hospital orthopaedic outpatient care. M J Aust 187:624–628

4.

Elwyn G, Stott N (1994) Avoidable referrals? Analysis of 170 consecutive referrals to secondary care. BMJ 309:567–568

5.

Roland M, Porter R, Matthews J et al (1991) Improving care: a study of orthopaedic outpatient referrals. BMJ 302:1124–1128

6.

Desmeules F, Toliopoulos P, Roy J et al (2013) Validation of an advance practice physiotherapy model of care in an orthopaedic outpatient clinic. BMC Musculoskelet Disord 14:164

7.

Hattam P (2004) The effectiveness of orthopaedic triage by extended scope physiotherapists. Clin Gov: Int J 9:244–252

8.

MacKay C, Davis AM, Mahomed N et al (2009) Expanding roles in orthopaedic care: a comparison of physiotherapist and orthopaedic surgeon recommendations for triage. J Eval Clin Pract 15:178–183

9.

Speed CA, Crisp AJ (2005) Referrals to hospital-based rheumatology and orthopaedic services: seeking direction. Rheumatology 44:469–471

10.

Weale AE, Bannister GC (1995) Who should see orthopaedic outpatients-physiotherapists or surgeons? Ann R Coll Surg Engl 77:71–73

11.

Kersten P, McPherson K, Lattimer V et al (2007) Physiotherapy extended scope of practice—who is doing what and why? Physiother 93:235–242

12.

Daker-White G, Carr AJ, Harvey I et al (1999) A randomized controlled trial. Shifting boundaries of doctors and physiotherapists in orthopaedic outpatient departments. J Epidemiol Community Health 53:643–650

13.

Desmeules F, Roy J, MacDermid JC et al (2012) Advance practice physiotherapy in patients with musculoskeletal disorders: a systematic review. BMC Musculoskelet Disord 13:107

14.

Health Service Executive. http://www.hse.ie/eng/about/Who/clinical/natclinprog/orthopaedicsprogramme/orthprog.html. Accessed 22 April 2013

15.

Health Service Executive. National Service Plan 2011. Downloaded from http://www.hse.ie/eng/services/Publications/corporate/nsp2011.pdf. Accessed 22 April 2013

16.

Byles SE, Ling RSM (1989) Orthopaedic out-patients—A fresh approach. Physiother 75:435–437

17.

Hockin J, Bannister G (1994) The extended role of a physiotherapist in an out-patient orthopaedic clinic. Physiother 80:281–284

18.

Hourigan PG, Weatherley CR (1994) Initial assessment and follow-up by a physiotherapist of patients with back pain referred to a spinal clinic. J R Soc Med 87:213–214

19.

Hourigan PG, Weatherley CR (1995) The physiotherapist as an orthopaedic assistant in a back pain clinic. Physiother 81:546–548

20.

Weatherley CR, Hourigan PG (1998) Triage of back pain by physiotherapists in orthopaedic clinics. J R Soc Med 91:377–379

21.

Hattam P, Smeatham A (1999) Evaluation of an orthopaedic screening service in primary care. Br J Clin Gov 4:45–49

22.

Curley AE, Cassells M, Cooke G et al (2004) Physiotherapy-led low back pain triage. The Irish experience. Physiother Ir 25:3–9

23.

Pearse EO, Maclean A, Ricketts DM (2006) The extended scope physiotherapist in orthopaedic outpatients—an audit. Ann R Coll Surg Engl 88:653–655

24.

Blackburn MS, Cowan SM, Cary B et al (2009) Physiotherapy-led triage clinic for low back pain. Aust Health Rev 33:663–670

25.

Rabey M, Morgans S, Barrett C (2009) Orthopaedic physiotherapy practitioners: surgical and radiological referral rates. Clin Gov Int J 14:15–19

26.

Mccormack A, Fleming D, Charlton J (1995) Morbidity statistics from general practice. 4th National study 1991–1992. Series MB5 no.3. HMSO, London

27.

Vioreanu MH, O'Daly BJ, Shelly MJ et al (2013) Design, implementation and prospective evaluation of a new interactive musculoskeletal module for medical students in Ireland. Ir J Med Sci 182:191–199

28.

Atkins E (2003) Physiotherapists experience of implementing their injection therapy skills. Physiother 89:145–157

29.

Breivik H, Collett B, Ventafridda V et al (2006) Survey of chronic pain in Europe: prevalence, impact on daily life, and treatment. Eur J Pain 10:287–333

30.

Raftery MN, Sarma K, Murphy AW et al (2011) Chronic pain in the Republic of Ireland–Community prevalence, psychosocial profile and predictors of pain-related disability: results from the prevalence, impact and cost of chronic pain (PRIME) study, part 1. Pain 152:1096–1103

31.

Geertzen JHB, Van Wilgen CP, Schrier E et al (2006) Chronic pain in rehabilitation medicine. Disabil and Rehabil 28:363–367

32.

Fullen B, Hurley DA, Power C et al (2006) The need for a national strategy for chronic pain management in Ireland. Ir J Med Sci 175:68–73

33.

Raftery MN, Ryan P, Normand C et al (2012) The economic cost of chronic noncancer pain in Ireland: results from the PRIME study, part 2. J Pain 13:139–145

34.

McPherson K, Kersten P, George S et al (2006) A systematic review of evidence about extended roles for allied health professionals. J Health Serv Res Policy 11:240–247
Acknowledgments
The authors would like to thank Ms. Orla Bannon (Medical Records Department) and the following consultant orthopaedic surgeons (St. Vincent's University Hospital) for their assistance with this project; Mr. Sean Dudeney, Mr. Gary O'Toole, Mr. Conor Hurson, Mr. Kieran O'Rourke, Mr. Eamonn Kelly and Mr. Robert Flavin.
About this article
Cite this article
O'Farrell, S., Smart, K.M., Caffrey, A. et al. Orthopaedic triage at a physiotherapist-led 'Musculoskeletal Assessment Clinic': a seven-month service evaluation of outcomes. Ir J Med Sci 183, 565–571 (2014). https://doi.org/10.1007/s11845-013-1052-5
Received:

Accepted:

Published:

Issue Date:
Keywords
Orthopaedic triage

Physiotherapy

Service evaluation

Outcomes