The effects of rainfall on plant–pollinator interactions
Abstract
As global surface temperatures rise, global precipitation rates are predicted to increase. These localised increases in rainfall patterns may significantly affect plant–pollinator interactions in multiple ways. Detrimental effects to plant–pollinator interactions could have significant ecological and economic consequences, and so it is important to understand the effects that rain has on these mutualisms. Increased rainfall has the potential for population-level effects but there also wide scope for individual-level effects, which have received surprisingly little attention. Changes in rainfall patterns could alter the timings of phenological phases while also increasing the likelihood of pollen degradation and nectar dilution, each having detrimental effects to the fitness of the plant, the pollinator or both parties. Pollinators could also be affected through mechanical and energetic constraints, along with disruption of foraging patterns and disruption to sensory signals. In this review, we demonstrate that there are clear gaps in our knowledge of these events, the exploration of which should open new areas of debate surrounding the effects of climate change on biological systems.
Keywords
Rainfall 
Climate change 
Plant–pollinator interaction 
Nectar dilution 
Introduction
Environmental conditions have a critical impact on the relationship between plants and pollinators. Seasonality plays a crucial role, acting as a large-scale driver of environmental conditions (Memmott et al. 2007); however, local environmental conditions that occur within seasons also affect plants and their pollinators. Rainfall is one such environmental effect that has the potential to affect plant–pollinator interactions, as rain could have direct physical effects on both flowers and their pollinators, as well as interfering with the timing of pollinator visitations. A report by the Intergovernmental Panel on Climate Change states that it is a 'virtual certainty' that as mean global surface temperatures rise, global precipitation will also increase (Collins et al. 2013), with an ongoing trend for precipitation to fall as rain rather than snow in certain regions (Knowles et al. 2006). More recent climate projections also suggest an increase in heavy precipitation in many high-elevation and high-latitude regions if temperatures continue to rise (IPCC 2018). In light of these localised increases in rainfall, it is important that we understand the effects this will have, both detrimental and beneficial, on plant–pollinator interactions, which hold major ecological and economic significance (Crepet 1984; Dodd et al. 1999; Klein et al. 2007; Gallai et al. 2009; Vamosi and Vamosi 2010).
The increasing availability of rainfall data has allowed for the development of computational models which estimate changes in global precipitation, which includes rain, snow, sleet and hail (Gehne et al. 2016). However, these estimates differ greatly due differences in calculation methods, precipitation measurement products and the goals for producing the estimates (Gehne et al. 2016). It is expected that there will be substantial spatial variation in these changes, with some regions experiencing increases in rainfall and others decreases, but high-latitude land masses are likely to experience greater amounts of precipitation along with tropical regions (Collins et al. 2013). For instance, winter rainfall is projected to increase across north central and western Europe (Scaife et al. 2012).
The prospect of increases in localised rainfall is made more troubling when coupled with the fact that pollinator diversity and abundance is in decline at a global scale (Biesmeijer 2006; Potts et al. 2010; Lebuhn et al. 2013) due to anthropogenic pressures such as land-use intensification, climate change, introduction of invasive species and disease (Rathcke and Jules 1993; Brown et al. 2002; Ghazoul 2004; Brown and Paxton 2009). With these projected climatic changes in mind, alongside the increasing risks pollinators face, it is crucial to gain a deeper understanding of how rainfall affects plant–pollinator interactions. Although rain often occurs along with a suite of other environmental conditions, such as increases in wind speed and decreases in temperature and light intensity, we will focus in this review on the different ways in which the process of pollination can be affected by rainfall specifically, as summarised in Fig. 1. The review will focus on pollen degradation, floral architecture, corolla closure, nectar dilution, flight mechanics, pollinator morphology, rain avoidance and energetics of flight during rain. This review also focusses on the presence and effects of rain at an individual level rather than the effects of increased or decreased water availability, and for this reason, species distributions and the temporal disruption of phenological phases will not be discussed. We call attention to gaps in our knowledge and highlighting avenues for future research, with the hope that this review will motivate new research in the area.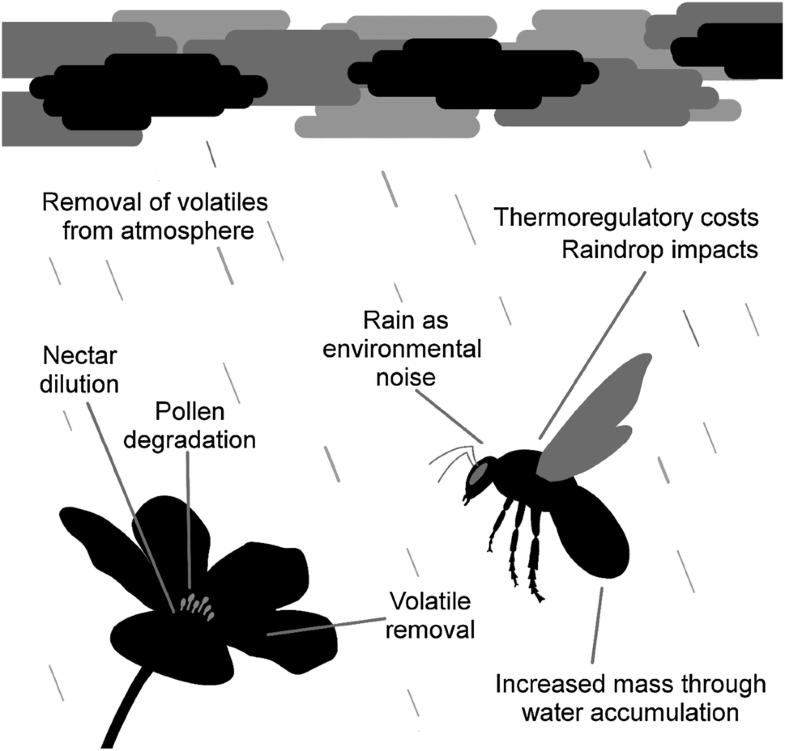 Effects on plants
Threats to flower—pollen degradation, floral architecture and corolla closure
Biotic pollination relies on the successful transfer of pollen from one flower to another, enabling sexual reproduction in plants. Rain can disrupt this pollen transfer and therefore hinder the reproductive efforts of flowering plants through several mechanisms. For many plants, contact with free water renders pollen grains inviable through osmotic disruption, interfering with this pollen transfer and causing a significant reproductive disadvantage to the plant (Corbet and Plumridge 1985; Jacquemart 1996; Burke 2002; Huang et al. 2002; Sun et al. 2008), with rain being a potential cause of this water contact (Akamine and Girolami 1959). However, this pollen degradation through water contact does not occur in all plant species (Eisikowitch and Woodell 1974; Huang et al. 2001). Some plant species utilise rain for self-pollination (Hagerup 1950; Fan et al. 2012), and it has been suggested that certain species could disperse pollen to other flowers though the action of rainfall (Hagerup 1950; Brodie 1954) as is seen for seed dispersal (Amador et al. 2012). It has also been suggested that rainfall which occurs before pollination can compromise the adhesion of pollen to the stigma surface of flowers (Akamine and Girolami 1959; Ortega et al. 2007), meaning rain has the potential to impair both male and female reproduction in flowering plants.
Plants mitigate these detrimental effects in a number of ways. A study of 86 selected angiosperm species found that 29 species presented pollen in the rain (Percival 1955). Of these 29 species, 12 had partial protection from rainfall from flower positioning or foliage and three species had complete protection due to the corolla form (Percival 1955). Further studies which examined flower structures and rain-susceptibility of pollen in 80 flowering species also found that the pollen of most species was susceptible to damage by water, implying that rain may directly reduce the fertility of unprotected pollen (Mao and Huang 2009). In the same study, it was found that in species where the pollen was completely protected by flower structure there was a low resistance to water, whereas in species with structures that did not protect pollen from rain there was a higher frequency of water-resistant pollen. These findings support the hypothesis that floral structures protect susceptible pollen during rain and that rain acts as a selective force shaping floral form which mirrors previous studies where flower structures were suggested to protect pollen in species that were susceptible to damage by rain (Dafni 1996; Aronne et al. 2006). Mao and Huang (2009) also note that understanding plant reproductive strategies for protecting pollen from rain may provide a clue to the diversity of plant–pollinator interactions.
These partial or complete protective structures can be an ever-present feature of the floral architecture (Sun et al. 2008; Mao and Huang 2009), or can be temporally induced through bending of flower stalks during anthesis which changes the orientation of the flower (Huang et al. 2002) and through closure of the corolla (Bynum and Smith 2001). In environments where there is a risk of rain damage, the protection afforded by these structures allows for prolonged anthesis, which benefits the reproductive success of the plant, particularly benefitting those species that have long floral life spans with relatively low visitation rates (Ashman and Schoen 1994; Sun et al. 2008).
In addition to these structures, hydrophobic floral surfaces and gradual presentation of pollen may mitigate this pollen damage (Percival 1955; Tadey and Aizen 2001; Whitney et al. 2011). Genera with down-facing flowers increase along a precipitation gradient in the Southern South American Andes (Aizen 2003), suggesting rainfall is a strong selective agent for down-facing flower orientation. However, the rain protection benefits of downward-facing flower orientation could not be confirmed in certain species which were more closely investigated (Tadey and Aizen 2001). This highlights the need to explore the function of these adaptations in more species and how they relate to other aspects of floral architecture such as the epidermal structure (Rands et al. 2011). Considering this potential for pollen damage, and the varying sensitivities of different plant species, more experimental research investigating which plants are more susceptible to pollen damage through rainfall would be beneficial to recognise which populations may be at greater risk in the future.
As storm tracks are also predicted to shift, with an overall increase in storm events and their intensity over time as temperatures rise (Collins et al. 2013), many flowering plants will experience an increase in storm exposure. This increased exposure to intense rainfall during storms may leave many plants vulnerable to physical damage (Jackson 1978; Pacini 1984) and increase the number of diseased flowers in some species (Beatley 1974). However, little is known about these effects. In light of this knowledge gap, it would be beneficial to further understand the risks posed to flowers during these events.
Nectar dilution
Flowers which are exposed to rain also risk dilution of their nectar reserves. Nectar is the primary floral reward for the majority of pollinators and consists of sucrose, glucose and fructose dissolved in water, amongst other trace materials (Baker and Baker 1983). Nectar varies in concentration from around 7–70% sugar, with this concentration varying to some degree day-to-day and hour-to-hour due to changes in humidity (Butler 1945). In insect pollinators, this ingestion of nectar generally occurs through the use of a proboscis which facilitates lapping or suction (Krenn et al. 2005) but can also utilise capillary action (Monaenkova et al. 2011). Differences in concentration, composition, viscosity and abundance are associated with different plant phylogenies and different pollinators (Nicolson 1998), with evidence that concentration is the primary discrimination factor in terms of pollinator choice, even when total energy profits of the choices are approximately equal (Butler 1945; Cnaani et al. 2006).
Bee-pollinated flowers usually have high sugar concentrations, whereas flowers pollinated by butterflies, moths and hummingbirds have more dilute nectars (Pyke and Waser 1981; Baker and Baker 1983). These associations are thought to relate to the requirements of pollinators, such as the speeds at which pollinators can ingest nectar at certain concentrations and specialised digestive constraints (Heyneman 1983; Martinez del Rio et al. 1992). However, there appear to be no clear-cut associations for nectar concentrations, compositions and pollinators in the temperate forest of southern South America, and even differences between populations of the same species (Chalcoff et al. 2006), suggesting there is more to be explored in this area.
Rainfall has the potential to dilute nectar (Butler 1945; Eisikowitch and Woodell 1975) and diluted nectars have been shown to discourage pollinators from visiting flowers (Cnaani et al. 2006). Similarly to pollen degradation, nectar dilution can be mitigated through physiological adaptations such as downward-facing flowers (Tadey and Aizen 2001; Aizen 2003). The lower viscosity of diluted nectar is likely to increase the rate at which nectar can be ingested (Harder 1986) but pollinators may risk lowered net energetic gains from visiting flowers with diluted nectar. However, changes in the nectar concentrations of local flower populations may make some flower species more viable to certain pollinators, especially those pollinators associated with more dilute nectars (Pyke and Waser 1981; Baker and Baker 1983). The majority of pollinators do not forage during rainfall (Totland 1994; Poulsen 1996) but investigating changes in pollinator flower choices after rainfall, and whether flower preferences shift, may be a fruitful avenue of research. Additionally, it would be worth identifying which plant species are most susceptible to this nectar dilution from rainfall, what effects nectar dilution has on pollinator behaviour, and which plants and pollinators may be most affected in the future. It has been suggested that dilute nectar can be reproductively advantageous to plants, as it may force pollinators to visit many flowers in order to meet energetic requirements and promote outcrossing in the process (Bolten and Feinsinger 1978). While this need to visit more flowers has been suggested when nectar volumes are reduced (Waddington 1983; Fisogni et al. 2011), flower visits and increased nectar dilutions remain unexplored. However, changes in flower choice due to nectar preferences are not the only way that pollinator behaviour can be affected.
Summary
The effect of rain on pollination involves multiple complex interactions at various scales both microscopic and macroscopic. These effects permeate many facets of the plant–pollinator relationship, including phenology, physiology, animal behaviour and energetics. This review presents gaps in our current knowledge of the relationship between rain and pollination while highlighting areas which would benefit from future research. Many of these knowledge gaps relate to the susceptibility of certain species to outcomes of rainfall contact and how this will affect pollinator choices and behaviour, such as damage to flowers, nectar dilutions and the different ways floral signals can be compromised. Although some may be broad in scope, and difficult to implement, there are examples which could be investigated with simple experimental techniques. On a wider scale, it would be valuable to understand how the structure of plant–pollinator community's networks is affected by increases in rainfall patterns and to measure the robustness of networks faced with these effects.
By taking a deeper look into the relationship between abiotic factors like rain and the interactions between flowering plants and their visitors, we will gain a better understanding of pollination ecology as a whole. Insights into how these relationships might be affected as the environment undergoes anthropogenic change may help us understand and mitigate the economic and ecological consequences we may face in the future. This is an extensive and complex subject area, but it is our hope that despite the intricacy of the subject, this review motivates and inspires new research exploring this rich plant–pollinator interplay. There is still much to be understood and there are many other areas within the subject of pollination ecology that remain underexplored (Mayer et al. 2011) but considering the dynamic and interdisciplinary nature of this research area, and the talented researchers that work within it, the possibilities for future discovery are exciting.
Copyright information
© The Author(s) 2019
Open AccessThis article is distributed under the terms of the Creative Commons Attribution 4.0 International License (http://creativecommons.org/licenses/by/4.0/), which permits unrestricted use, distribution, and reproduction in any medium, provided you give appropriate credit to the original author(s) and the source, provide a link to the Creative Commons license, and indicate if changes were made.