Charles D. Michener (1918–2015): a life among the bees
Keywords
American Museum 
Chigger Mite 
Nest Biology 
North American Fauna 
Megachile Rotundata 
These keywords were added by machine and not by the authors. This process is experimental and the keywords may be updated as the learning algorithm improves.
There is perhaps no biological association more familiar than that of bees and flowers. The intimate tie between flowering plants and their bee pollinators is also among the most critical of such affiliations, forming the foundation for healthy ecosystems worldwide (Free 1993; Roubik 1995; Matheson et al. 1996; Kearns et al. 1998; Michener 2007a). Within the first week of November 2015, the world said farewell to two titans of biological research, each with substantial and lengthy careers dedicated to reciprocal sides of the bee–flower story—floral ecologist Stefan Vogel (1925–2015) and melittologist Charles D. Michener (1918–2015). Claßen-Bockhoff (2017) provides a review of Vogel's influential career, while that of Michener is briefly discussed here. Recently, several panegyrics of Michener's life and work have appeared (Engel 2015, 2016a, b; Breed 2016), and an autobiographical piece appeared in the Annual Review of Entomology (Michener 2007b: see also published interview by; Gould 2015), and readers are directed to those sources for a fuller account of his life and career.
Charles Duncan Michener ('Mich') was born 22 September 1918 in Pasadena, California, the second son of a family already infused with a passion for natural history (Fig. 1). Both of Mich's parents, Harold Michener (1882–1949) and Effie Josephine Rigden (1881–1971), were avid ornithologists who published on territorial behavior, seasonal molts, and actively banded birds, the latter often with the aid of their sons. Harold was an engineer with the Southern California Edison Company, while Josephine had pursued graduate studies in the systematics of dinoflagellates before ending her doctoral work to raise a family. In the wooded area around their Pasadena home and surrounded by such a nurturing family environment, Mich developed his interests early and even before the age of 10 was regularly on collecting excursions and museum visits with his mother, and she would help him identify the many treasures they discovered. Initially, Mich eagerly collected and illustrated the diversity of wild flowers in the area, meticulously coloring the images and developing keys for identification (Fig. 2). In time, he moved on to the variety of animals and particularly the rich fauna of insects, and began corresponding with experts whenever he met with challenges in identification that could not be overcome through books available to him. In this way, he was early in life honored with species eponyms, including two early honors based on material of new species of mayflies he had collected at a favorite locality in the San Gabriel Mountains (Ephemerella micheneri Traver and Callibaetis carolus Traver: Traver 1934; Needham et al. 1935: the latter eponym, which is formed from a Latinization of Mich's first name, was unknown at the time of the tabulation provided by Engel 2015 and only recognized upon careful reading of the etymology provided by Traver). By the end of his life, Mich would be honored with at least 93 specific epithets, and many more are sure to come (e.g., a recent work on bacteria in wild bees revealed a novel species, appropriately dubbed Lactobacillus micheneri McFrederick et al. 2017).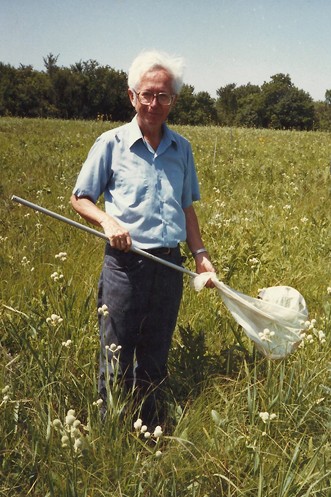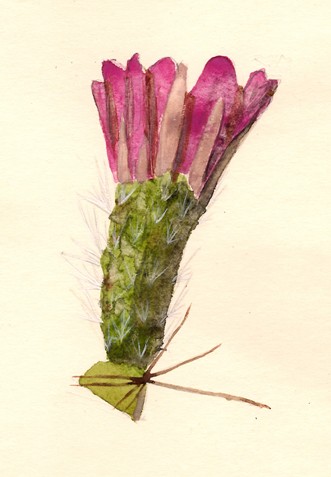 Eventually, Mich developed a focus on the bees, particularly inspired by individuals of a species he would later know as Perdita rhois Cockerell, a species that posed quite a challenge for the young boy. In late 1932 (aged 14), Mich wrote to Prof. Theodore D.A. Cockerell (1866–1948) at the University of Colorado, Boulder, and who was himself the reigning champion in bee systematics at the time. Cockerell encouraged the young Mich and even invited him to spend a summer at his home in Colorado where he could be tutored in bee systematics, and in this manner, it came to pass that these two melittological titans would spend three months working together during the summer of 1935. Cockerell, along with Philip H. Timberlake (1883–1981), another prominent bee systematist but more geographically accessible to Mich in southern California, fostered the developing biologist's talents and helped him publish his first paper—a work on the nest and subspecific characteristics of Dianthidium singulare perluteum Cockerell and Cockerell (Michener 1935). This study would be the first in a string of 517 publications spanning 80 years, and collectively representing the most important body of work on the evolution, classification, and biology of bees produced by a single individual (Engel 2015, 2016b).
Mich enrolled at the University of California, Berkeley, and graduated with a B.Sc. in 1939 and 2 years later a Ph.D. in December 1941. Mich's dissertation built upon his then decade-long fascination with developing a robust classification for the bees, a means for the identification of the North American fauna, and an understanding of their evolutionary history. In this, he succeeded thoroughly, and the resulting publication (Michener 1944) revolutionized the systematic study of bees. This monograph standardized the terminology for morphology of bees, provided a comprehensive comparative account across the full diversity of the lineage, and built the first truly stable system from which to explore their diversity and evolution on a global scale. It was a synthesis unlike any other in melittology and developed the field into a robust science, and refining the system he developed would entertain Mich for the remainder of his life. It is difficult to imagine today, but at the time bees other than honey bees were not viewed as of any critical importance, so much so that Mich engaged in small, side projects on parasitoid wasps in order to demonstrate some proficiency and skills in subjects that were more likely to result in stable employment. Today, we fully appreciate the overwhelming importance of bee diversity and our reliance on these insects for sustaining agricultural and natural habitats worldwide (e.g., Free 1993; O'Toole 1993; Roubik 1995; Matheson et al. 1996; Heard 1999; Kremen et al. 2002; Ricketts et al. 2004). In large measure, we have Mich to thank for this as it was his work that would foster and eventually lead to this change in perspective.
Passing over more traditional academic appointments, Mich moved to New York where he became curator of Lepidoptera (butterflies and moths) at the American Museum of Natural History. Mich served as Assistant Curator (1942–1946), and later Associate Curator (1946–1948), in that esteemed institution. As his responsibilities were for the butterflies and moths, a group on which he had not previously worked, Mich demonstrated his prodigious talents by quickly becoming a leading figure in the study of Lepidoptera. In time, he would produce many works on a variety of lepidopterological groups, including a comprehensive monograph of New World Saturniidae that, like his bee monograph, would transform the study of this important and conspicuous group (Michener 1952). To this day, Mich's saturniid monograph remains an important classic critical for modern research. Early in his tenure with the American Museum, Mich was called to service, serving 2 years in the Army Sanitary Corps, and assigned to research disease vectors among mosquitos and chigger mites. Largely based in Panama, Mich once again exceled in his efforts and produced foundation papers on the biology of chiggers, while at the same time taking the opportunity to study and collect tropical bees for the first time. He returned to New York in 1946 and although his duties were specific to the Lepidoptera, Mich continued to publish on bees and was also active in the living debates on-going within the American Museum regarding the nature of species. Working alongside American Museum curators such as Ernst W. Mayr (1904–2005), George Gaylord Simpson (1902–1984), Thomas C. Schneirla (1902–1968), as well as colleagues at nearby Columbia University like Theodosius G. Dobzhanksy (1900–1975), Mich was exposed to early discussions on the 'species problem' and the very nature of and philosophical underpinnings of systematic biology. These individuals were immensely influential on Mich's thinking, and would help inspire his own later advances in the theory and practice of systematics.
Wishing to devote more of his time to bees and to mentor students, in September 1948, Mich moved to Lawrence, Kansas, and the University of Kansas, where he began as Associate Professor of Entomology (1948–1950), and shortly thereafter became department chairman (serving from 1949 to 1961, and again from 1972 to 1975). Mich would spend the remainder of his career in Kansas, building the world's leading program in bee biology and systematics, and through strategic hires developing the department into one of the premier institutions for entomology. He was promoted to the rank of Professor in 1950 (1950–1989), and was later appointed as the Elizabeth M. Watkins Distinguished Professor (1958–1989), the second endowed professorship awarded by the University of Kansas. In 1974, Mich assumed the role of Director for the Snow Entomological Museum (1974–1983), as well as Senior Curator (1974–1989), and with the establishment of the Department of Systematics & Ecology in the late 1960s, he was jointly appointed with that academic unit (1968–1989).
In Kansas, Mich was able to dedicate himself more fully to his bees. He maintained a vigorous field program, undertaking regular collecting excursions throughout the world. Through his efforts as well as those of his students and collaborators, and through exchanges, Mich ultimately developed the finest research collection of global bee diversity, numbering nearly one-half million specimens. Of particular note were extended stays in Brazil (1955) and a 3000-mile, 14-month exploration across Africa (1966–1967), funded by separate Guggenheim Fellowships, and a year (1958) in Australia and the South Pacific supported by a Fulbright Award. These and other expeditions resulted in numerous publications, including a massive monograph of the Australian bee fauna (Michener 1965), and many reports on the nesting biology and behavior of diverse lineages.
Early in his tenure with the University of Kansas, Mich began developing numerical methods for determining degrees of similarity among organisms. This work, initially done in collaboration with Robert R. Sokal (1926–2012), resulted in the foundation of numerical taxonomy (phenetics) as a novel means for understanding biological diversity producing scientific classifications. The original case examples for the application of phenetic methods were osmiine bees, a group Mich was actively revising at the time (e.g., Michener and Sokal 1957). Simultaneously, Mich's descriptions of the nesting biology and floral relationships of various native bees served as the source data for his developing hypotheses regarding the evolution of social organization among bees, and ultimately across insects, as well as their pollination biology. From these, he developed novel hypotheses regarding the stages of social evolution, culminating in a classic textbook on the subject (Michener 1974), and this body of work was instrumental in the development of sociobiology as a field of scientific inquiry. As if this were not enough, his biological studies built a foundation for the study of native pollinators, as well as their application in managed systems, with today's use of species such as the alfalfa leafcutting bee, Megachile rotundata (Fabricius), representing a direct outgrowth from his research. It is difficult to imagine all these paradigm-changing lines of work deriving from the efforts of a single individual, and yet he did this all while continuing his childhood passion for bee classification. Not surprisingly, Mich received numerous honors and awards for his work, most notably his 1965 election to the U.S. National Academy of Sciences (a complete list of his accolades may be found in Engel 2015, 2016b).
Mich retired in 1989 but his work on bees continued, and he would steadily publish through Spring of 2015—representing a staggering 80 years of scientific publishing (Engel 2015). Most remarkably, one of Mich's most important works was done entirely while in retirement. In 2000, he published his monumental, The Bees of the World (Michener 2000), appearing again in an expanded second edition just before his 89th birthday in 2007 (Michener 2007a). This nearly 1000-page volume could only have been produced by Mich and his unique lifetime experience with bees throughout the world. It is a simple truth that never again shall one individual possess such an all-encompassing understanding of the world's bee fauna. The book, like his 1944 dissertation, provided a detailed classification for the global fauna, as well as summarizing what was known of their biology. Many would tease Mich that with its publication, he was finally completing his doctoral dissertation. Not including those groups other than bees upon which he worked, through his systematic studies Mich established 579 species-, 231 genus-, and 25 family-group taxa.
In the early morning hours of 1 November 2015, Mich passed peacefully at his home in Lawrence, having lived a life of considerable generosity and positive influence for 97 years. Mich was predeceased by his beloved wife of nearly 69 years, Mary Hastings (1919–2010), and the two of them were survived by their four children—David, Daniel, Barbara, and Walter—and several grandchildren. Mich was an affable and soft spoken man, who had an inviting and calm manner and was always good humored. He and his wife treasured individuals and would do whatever they could to encourage and help, and were active in numerous progressive social activities in the community. Throughout his life, Mich was approachable and kept his door open to anyone who wished to discuss anything, whether it be personal or professional. Although his accomplishments were great, he was unwaveringly modest, and it was this personality that drew people to him and inevitably to entomology or melittology. His was an exemplary life, and it is comforting to know that he was able to attain such a great age, and to have been able to continue his life's work until near the end. The legacy he developed for engaged, open, and collaborative work on the systematics, biology, and behavior of bees now falls to a new generation, and the sturdy foundations Mich laid will lift all those who emulate him to discover much and keep melittology as vital as he left it.
Publications by Charles D. Michener
A compilation of Michener's publications was released in connection with his 97th birthday (Engel 2015), and it has been updated in Engel (2016b). A further, obscure citation has recently been traced, bringing Michener's total publications to 517:
Fischer RL, Knight KL, Michener CD, Moss WW, Oman P, Powell JA, Hurd PD Jr (1974) Report of the advisory committee for systematics resources in entomology. Bulletin of the Entomological Society of America 20 (3), 237–242. [to be placed after citation #288 in Engel (2015)]
Notes
Acknowledgements
I am grateful to Isabel Alves dos Santos for the invitation to provide this brief retrospective of Mich's life and work, and to an anonymous reviewer for their helpful comments. Most importantly, I am grateful to Mich and his exemplary life – may we all be so bold and similarly so humble.
Copyright information
© Springer Science+Business Media Dordrecht 2017