Abstract
Dehydroascorbate reductase (DHAR) plays a critical role in the regeneration of ascorbic acid (AsA), and widely involved in plant tolerance to biotic and abiotic stresses. In this study, the IbDHAR3 gene was cloned from sweetpotato cultivar Xushu 18 by RT-PCR. The full-length of this gene was 813 bp which encodes 270 amino acids. The IbDHAR3 protein contained two conserved domains of glutathione S-transferase (GST) and GST-C-DHAR, and one chloroplast transit peptide with 52 amino acids length. Transient expression in tobacco leaf epidermal cells indicated that IbDHAR3 protein is subcellular localized to chloroplast. The qRT-PCR results revealed that the relative expression level of IbDHAR3 in leaves is much higher than that in other tissues, and could be up-regulated by ABA, drought, salinity, and high-temperature stresses. The seed germination rate and root elongation were increased in contrast to wild type under mannitol and NaCl stresses in T3 transgenic Arabidopsis overexpressing IbDHAR3 gene. The soil drought experiments showed that the overexpression of IbDHAR3 gene in Arabidopsis reduced the malondialdehyde (MDA) and the H2O2 content, enhanced the level of AtGR gene expression, superoxide dismutase (SOD), ascorbate peroxidase (APX), DHAR activity, and the AsA content. Therefore, overexpression of IbDHAR3 gene could enhance the ability of scavenging reactive oxygen species such as H2O2 by promoting AsA-glutathione cycle and related antioxidant enzymes system, thereby contributing to increased stress tolerance in Arabidopsis.
This is a preview of subscription content, log in to check access.
Access options
Buy single article
Instant access to the full article PDF.
US$ 39.95
Price includes VAT for USA
Subscribe to journal
Immediate online access to all issues from 2019. Subscription will auto renew annually.
US$ 99
This is the net price. Taxes to be calculated in checkout.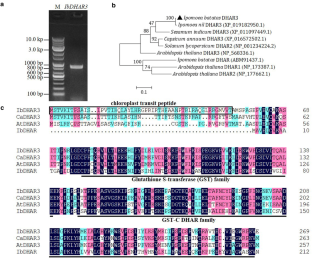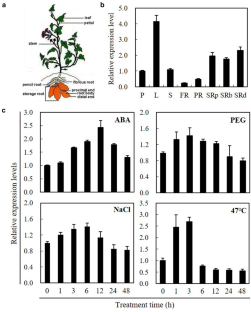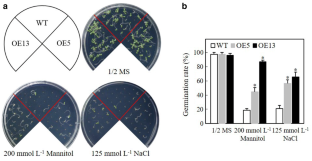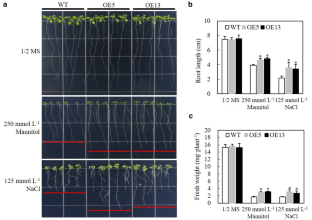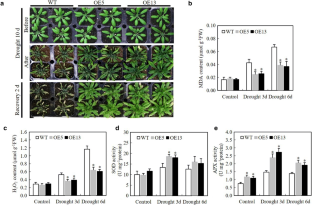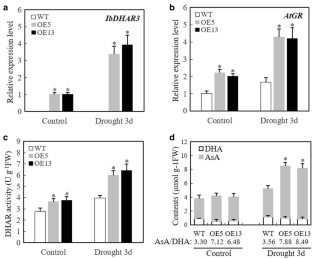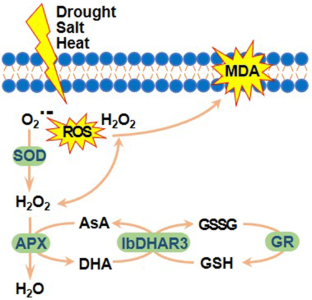 Abbreviations
AsA:

Ascorbic acid

DHAR:

Dehydroascorbate reductase

ROS:

Reactive oxygen species

MDHA:

Monodehydroascorbic acid

DHA:

Dehydroascorbic acid

GSH:

Glutathione

MDAR:

Monodehydroascorbate reductase

MDA:

Malondialdehyde

qRT-PCR:

Quantitative real-time PCR

H2O2 :

Hydrogen peroxide

SOD:

Superoxide dismutase

APX:

Ascorbate peroxidase
References
Bartels D, Sunkar R (2005) Drought and salt tolerance in plants. Crit Rev Plant Sci 24:23–58

Bindschedler LV, Minibayeva F, Gardner SL, Gerrish C, Davies DR, Bolwell GP (2010) Early signalling events in the apoplastic oxidative burst in suspension cultured French bean cells involve cAMP and Ca2+. New Phytol 151:185–194

Bradford MM (1976) A rapid method for the quantitation of microgram quantities of protein utilizing the principle of protein-dye binding. Anal Biochem 72:248–254

Bulley SM, Rassam M, Hoser D, Otto W, Schünemann N, Wright M, Macrae E, Gleave A, Laing W (2009) Gene expression studies in kiwifruit and gene over-expression in Arabidopsis indicates that GDP-L-galactose guanyltransferase is a major control point of vitamin C biosynthesis. J Exp Bot 60:765–778

Chen Z, Gallie DR (2005) Increasing tolerance to ozone by elevating foliar ascorbic acid confers greater protection against ozone than increasing avoidance. Plant Physiol 138:1673–1689

Chen Z, Todd EY, Ling J, Chang S-C, Gallie DR (2003) Increasing vitamin C content of plants through enhanced ascorbate recycling. Proc Natl Acad Sci USA 100:3525–3530

Clough SJ, Bent AF (1998) Floral dip: a simplified method for Agrobacterium-mediated transformation of Arabidopsis thaliana. Plant J 16:735–743

Cruz-Rus E, Amaya I, Sánchezsevilla JF, Botella MA, Valpuesta V (2011) Regulation of l-ascorbic acid content in strawberry fruits. J Exp Bot 62:4191–4201

Curtis MD, Grossniklaus U (2003) A gateway cloning vector set for high-throughput functional analysis of genes in planta. Plant Physiol 133:462–469

Dixon DP, Davis BG, Edwards R (2002) Functional divergence in the glutathione transferase superfamily in plants. J Biol Chem 277:30859–30869

Duvernay WH, Chinn MS, Yencho GC (2013) Hydrolysis and fermentation of sweetpotatoes for production of fermentable sugars and ethanol. Ind Crop Prod 42:527–537

Eltayeb AE, Kawano N, Badawi GH, Kaminaka H, Sanekata T, Morishima I, Shibahara T, Inanaga S, Tanaka K (2006) Enhanced tolerance to ozone and drought stresses in transgenic tobacco overexpressing dehydroascorbate reductase in cytosol. Physiol Plantarum 127:57–65

Eltayeb AE, Yamamoto S, Habora MEE, Yin L, Tsujimoto H, Tanaka K (2011) Transgenic potato overexpressing Arabidopsis cytosolic AtDHAR1 showed higher tolerance to herbicide, drought, and salt stresses. Breed Sci 61:3–10

Foyer CH, Noctor G (2011) Ascorbate and glutathione: the heart of the redox hub. Plant Physiol 155:2–18

Gallie DR (2013) The role of l-ascorbic acid recycling in responding to environmental stress and in promoting plant growth. J Exp Bot 64:433–443

Garcia V, Stevens R, Gil L, Gilbert L, Gest N, Petit J, Faurobert M, Maucourt M, Deborde C, Moing A (2009) An integrative genomics approach for deciphering the complex interactions between ascorbate metabolism and fruit growth and composition in tomato. Comptes Rendus Biol 332:1007–1021

Giannopolitis CN, Ries SK (1977) Superoxide dismutases: I. Occurrence in higher plants. Plant Physiol 59:309–314

Huang M, Xu Q, Deng XX (2014) l-Ascorbic acid metabolism during fruit development in an ascorbate-rich fruit crop chestnut rose (Rosa roxburghii Tratt). J Plant Physiol 171:1205–1216

Jiang YC, Huang CY, Wen L, Lin CT (2008) Dehydroascorbate reductase cDNA from sweet potato (Ipomoea batatas [L.] Lam): expression, enzyme properties, and kinetic studies. J Agric Food Chem 56:3623–3627

Jin R, Kim BH, Ji CY, Kim HS, Li HM, Ma DF, Kwak SS (2017) Overexpressing IbCBF3 increases low temperature and drought stress tolerance in transgenic sweetpotato. Plant Physiol Biochem 118:45–54

Kabir MH, Wang MH (2010) Expression pattern of two dehydroascorbate reductase genes from tomato (Solanum lycopersicum L.) in response to stress. J Korean Soc Appl Biol Chem 53:668–676

Kang L, Ji CY, Kim SH, Ke Q, Park SC, Kim HS, Lee HU, Lee JS, Park WS, Ahn MJ, Lee HS, Deng XP, Kwak SS (2017a) Suppression of the β-carotene hydroxylase gene increases β-carotene content and tolerance to abiotic stress in transgenic sweetpotato plants. Plant Physiol Biochem 117:24–31

Kang L, Kim HS, Kwon YS, Ke QB, Ji CY, Park SC, Lee HS, Deng XP, Kwak SS (2017b) IbOr regulates photosynthesis under heat stress by stabilizing IbPsbP in sweetpotato. Front Plant Sci 8:989

Kim SH, Ahn YO, Ahn MJ, Jeong JC, Lee HS, Kwak SS (2013) Cloning and characterization of an Orange gene that increases carotenoid accumulation and salt stress tolerance in transgenic sweetpotato cultures. Plant Physiol Biochem 70:445–454

Kim YS, Kim IS, Shin SY, Park TH, Park HM, Kim YH, Lee GS, Kang HG, Lee SH, Yoon HS (2015) Overexpression of dehydroascorbate reductase confers enhanced tolerance to salt stress in rice plants (Oryza sativa L. japonica). J Agron Crop Sci 200:444–456

Kim HS, Park SC, Ji CY, Park S, Jeong JC, Lee HS, Kwak SS (2016) Molecular characterization of biotic and abiotic stress-responsive MAP kinase genes, IbMPK3 and IbMPK6, in sweetpotato. Plant Physiol Biochem 108:37–48

Lee SK, Kader AA (2000) Preharvest and postharvest factors influencing vitamin C content of horticultural crops. Postharvest Biol Technol 20:207–220

Li MJ, Ma FW, Liang D, Li J, Wang YL (2010) Ascorbate biosynthesis during early fruit development is the main reason for its accumulation in kiwi. PLoS One 5:e14281

Li X, Zhong YL, Pang XY, Yuan YX, Liu YH, Zhang ZS (2018) Trypsin and ascorbic acid have a synergistic effect on the quality of apple processing by protecting apple cells from oxidative damage. J Food Biochem 42:e12582

Lin ST, Chiou CW, Chu YL, Yu H, Tseng YF, Chen YC, Chen HJ, Chang HY, Lee TM (2016) Enhanced ascorbate regeneration via dehydroascorbate reductase confers tolerance to photo-oxidative stress in Chlamydomonas reinhardtii. Plant Cell Physiol 57:2104–2121

Liu FF, Guo XH, Yao YC, Tang W, Zhang W, Cao SQ, Yi H, Liu YS (2015) Cloning and function characterization of two dehydroascorbate reductases from Kiwifruit (Actinidia chinensis L.). Plant Mol Biol Rep 34:1–12

Madzlan K, Hasnisa H, Sabeetha S, Dayana MN (2012) Extraction of starch and enzymatic production of high amylose starch from sweetpotato (Ipomea batatas) var. Telong. J Trop Agric Food Sci 222:203–210

Noshi M, Yamada H, Hatanaka R, Tanabe N, Tamoi M, Shigeoka S (2017) Arabidopsis dehydroascorbate reductase 1 and 2 modulate redox states of ascorbate-glutathione cycle in the cytosol in response to photooxidative stress. Biosci Biotechnol Biochem 81:523–533

Pradhan DMP, Mukherjee A, George J, Chakrabarti SK, Vimala B, Naskar SK, Sahoo BK, Samal S (2015) High starch, beta carotene and anthocyanin rich sweet potato: ascent to future food and nutrition security in coastal and backward areas. Int J Trop Agric 10:9–22

Qin AG, Shi QH, Yu XC (2011) Ascorbic acid contents in transgenic potato plants overexpressing two dehydroascorbate reductase genes. Mol Biol Rep 38:1557–1566

Shi J, Shi GA, Tian Z (2015) Effect of exogenous hydrogen peroxide or ascorbic acid on senescence in cut flowers of tree peony (Paeonia suffruticosa Andr.). J Hortic Sci Biotech 90:689–694

Smirnoff N, Wheeler GL (2000) Ascorbic acid in plants: biosynthesis and function. Crit Rev Biochem Mol Biol 19:267–290

Ushimaru T, Nakagawa T, Fujioka Y, Daicho K, Naito M, Yamauchi Y, Nonaka H, Amako K, Yamawaki K, Murata N (2006) Transgenic Arabidopsis plants expressing the rice dehydroascorbate reductase gene are resistant to salt stress. J Plant Physiol 163:1179–1184

Wang WB, Kim YH, Lee HS, Kim KY, Deng XP, Kwak SS (2009) Analysis of antioxidant enzyme activity during germination of alfalfa under salt and drought stresses. Plant Physiol Biochem 47:570–577

Wang WB, Qiu XP, Yang YX, Kim HS, Jia XY, Yu H, Kwak SS (2019a) Sweetpotato bZIP transcription factor IbABF4 confers tolerance to multiple abiotic stresses. Front Plant Sci 10:630

Wang WB, Yu H, Kim HS, Yang YX, Qiu XP, Kwak SS (2019b) Molecular characterization of a sweet potato stress tolerance-associated trehalose-6-phosphate synthase 1 gene (IbTPS1) in response to abiotic stress. Plant Biotechnol Rep 13:235–243

Yin LN, Wang SW, Eltayeb AE, Uddin MI, Yamamoto Y, Tsuji W, Takeuchi Y, Tanaka K (2010) Overexpression of dehydroascorbate reductase, but not monodehydroascorbate reductase, confers tolerance to aluminum stress in transgenic tobacco. Planta 231:609–621
Acknowledgements
This work was supported by the Basic Research Program of Shanxi Province (201801D121204), Cultivate Project of National Science Foundation of Shanxi Agricultural University (2017GPY06), Science Innovation Foundation of Shanxi Agricultural University (2018yz003), Doctoral Research Grant of Shanxi Agricultural University (XB2009002), China Scholarship Foundation (201508140087), Systems & Synthetic Agrobiotech Center (PJ01318401), the Biogreen 21 Project for the Next Generation, Rural Development Administration, Korea.
Additional information
Publisher's Note
Springer Nature remains neutral with regard to jurisdictional claims in published maps and institutional affiliations.
Electronic supplementary material
Below is the link to the electronic supplementary material.
About this article
Cite this article
Wang, W., Qiu, X., Kim, H.S. et al. Molecular cloning and functional characterization of a sweetpotato chloroplast IbDHAR3 gene in response to abiotic stress. Plant Biotechnol Rep 14, 9–19 (2020). https://doi.org/10.1007/s11816-019-00576-7
Received:

Accepted:

Published:

Issue Date:
Keywords
Sweetpotato

IbDHAR3

Ascorbic acid

Stress tolerance

Functional characterization