One-step ball milling-prepared nano Fe2O3 and nitrogen-doped graphene with high oxygen reduction activity and its application in microbial fuel cells
Abstract
Developing high activity, low-cost and long durability catalysts for oxygen reduction reaction is of great significance for the practical application of microbial fuel cells. The full exposure of active sites in catalysts can enhance catalytic activity dramatically. Here, novel Fe-N-doped graphene is successfully synthesized via a one-step in situ ball milling method. Pristine graphite, ball milling graphene, N-doped graphene and Fe-N-doped graphene are applied in air cathodes, and enhanced performance is observed in microbial fuel cells with graphene-based catalysts. Particularly, Fe-N-doped graphene achieves the highest oxygen reduction reaction activity, with a maximum power density of 1380±20 mW/m2 in microbial fuel cells and a current density of 23.8 A/m2 at −0.16 V in electrochemical tests, which are comparable to commercial Pt and 390% and 640% of those of pristine graphite. An investigation of the material characteristics reveals that the superior performance of Fe-N-doped graphene results from the full exposure of Fe2O3 nanoparticles, pyrrolic N, pyridinic N and excellent Fe-N-G active sites on the graphene matrix. This work not only suggests the strategy of maximally exposing active sites to optimize the potential of catalysts but also provides promising catalysts for the use of microbial fuel cells in sustainable energy generation.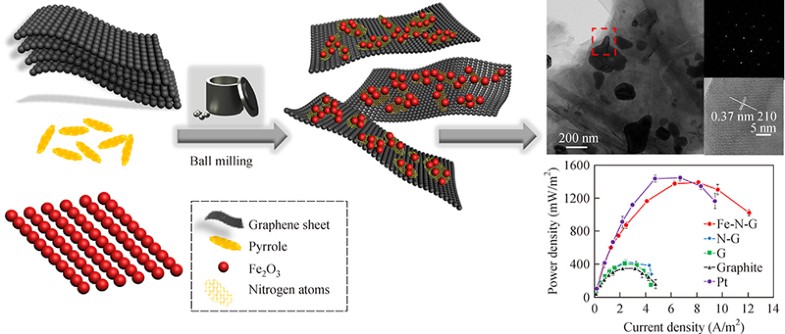 Keywords
Microbial fuel cells 
Air cathodes 
Nano Fe2O3 and nitrogen-doped graphene 
Oxygen reduction reaction 
Notes
Acknowledgements
This research was supported by the National Natural Science Foundation of China (Grant No. 51778326) and the special fund of Tsinghua University Initiative Scientific Research Program. We thank Prof. Rufan Zhang at Tsinghua University for valuable comments and suggestions.
Copyright information
© Higher Education Press and Springer-Verlag GmbH Germany, part of Springer Nature 2020