Pollution and biodegradation of hexabromocyclododecanes: A review
Abstract
Hexabromocyclododecanes (HBCDs) are the most common brominated flame-retardants after polybrominated diphenyl ethers. HBCDs can induce cancer by causing inappropriate antidiuretic hormone syndrome. Environmental contamination with HBCDs has been detected globally, with concentrations ranging from ng to μg. Methods to degrade HBCDs include physicochemical methods, bioremediation, and phytoremediation. The photodegradation of HBCDs using simulated sunlight or ultraviolet lamps, or chemical catalysts are inefficient and expensive, as is physicochemical degradation. Consequently, bioremediation is considered as the most cost-effective and clean approach. To date, five bacterial strains capable of degrading HBCDs have been isolated and identified: Pseudomonas sp. HB01, Bacillus sp. HBCD-sjtu, Achromobacter sp. HBCD-1, Achromobacter sp. HBCD-2, and Pseudomonas aeruginosa HS9. The molecular mechanisms of biodegradation of HBCDs are discussed in this review. New microbial resources should be explored to increase the resource library in order to identify more HBCD-degrading microbes and functional genes. Synthetic biology methods may be exploited to accelerate the biodegradation capability of existing bacteria, including modification of the degrading strains or functional enzymes, and artificial construction of the degradation microflora. The most potentially useful method is combining microdegradation with physicochemical methods and phytoremediation. For example, exogenous microorganisms might be used to stimulate the adsorption capability of plants for HBCDs, or to utilize an interaction between exogenous microorganisms and rhizosphere microorganisms to form a new rhizosphere microbial community to enhance the biodegradation and absorption of HBCDs.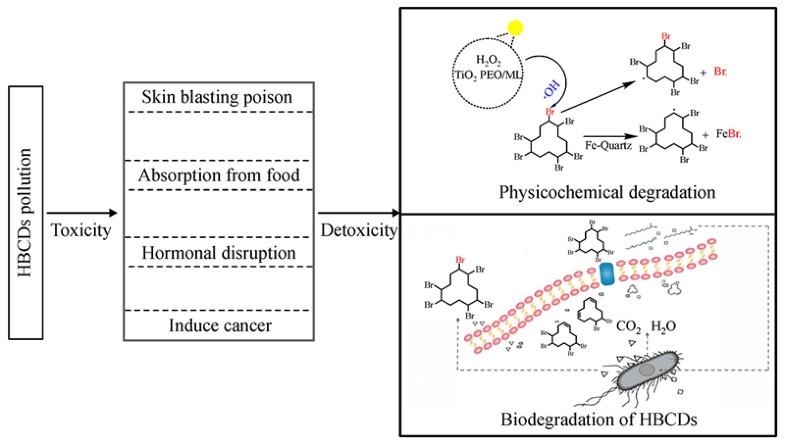 Keywords
Hexabromocyclododecane 
Biodegradation 
Bioremediation 
Phytoremediation 
Bacterium 
Notes
Acknowledgements
This study was supported by the National Key Research and Development Project (No. SQ2018YFA090024); "Shuguang Program" (No. 17SG09) supported by Shanghai Education Development Foundation and Shanghai Municipal Education Commission; National Natural Science Foundation of China (Grant No. 31770114); National Natural Science Fund for Excellent Young Scholars (No. 31422004); and Science and Technology Commission of Shanghai Municipality (No. 17JC1403300).
Copyright information
© Higher Education Press and Springer-Verlag GmbH Germany, part of Springer Nature 2019