Surface modification of mesoporous silica nanoparticle with 4-triethoxysilylaniline to enhance seawater desalination properties of thin-film nanocomposite reverse osmosis membranes
Abstract
Mesoporous silica nanoparticles (MSN), with higher water permeability than NaA zeolite, were used to fabricate thin-film nanocomposite (TFN) reverse osmosis (RO) membranes. However, only aminoalkyl-modified MSN and low-pressure (less than 2.1 MPa) RO membrane were investigated. In this study, aminophenyl-modified MSN (AMSN) were synthesized and used to fabricate high-pressure (5.52 MPa) RO membranes. With the increasing of AMSN dosage, the crosslinking degree of the aromatic polyamide decreased, while the hydrophilicity of the membranes increased. The membrane morphology was maintained to show a ridge-and-valley structure, with only a slight increase in membrane surface roughness. At the optimum conditions (AMSN dosage of 0.25 g/L), when compared with the pure polyamide RO membrane, the water flux of the TFN RO membrane (55.67 L/m2/h) was increased by about 21.6%, while NaCl rejection (98.97%) was slightly decreased by only 0.29%. However, the water flux of the membranes was much lower than expected. We considered that the enhancement of RO membrane permeability is attributed to the reduction of the effective thickness of the PA layer.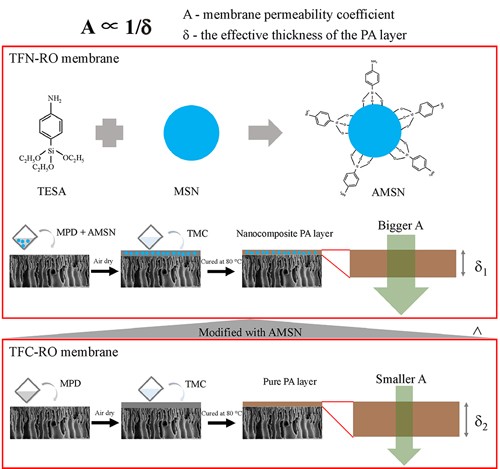 Keywords
Thin film nanocomposite membrane 
Reverse osmosis 
Seawater desalination 
Aminophenyl-functionalized mesoporous silica nanoparticles 
Notes
Acknowledgements
This work is supported by the National Key Research and Development Program of China (Grant Nos. 2017YFC0403903; 2017YFC0403901 and 2018YFC0408002), and the Special Fund for Basic Scientific Research Business of Central Public Research Institutes (No. K-JBYWF-2017-T12 and K-JBYWF-2018-HZ01), and the Young Taishan Scholars Program of Shandong Province.
Copyright information
© Higher Education Press and Springer-Verlag GmbH Germany, part of Springer Nature 2019