Decontamination of Cr(VI) facilitated formation of persistent free radicals on rice husk derived biochar
Abstract
This study investigated the facilitation of Cr(VI) decontamination to the formation of persistent free radicals (PFRs) on rice husk derived biochar. It was found that Cr(VI) remediation by biochar facilitated the production of PFRs, which increased with the concentration of treated Cr(VI). However, excessive Cr(VI) would induce their decay. Biochar with high pyrolysis temperature possessed great performance to Cr(VI) removal, which was mainly originated from its reduction by biochar from Inductively Coupled Plasma Optical Emission Spectroscopy and X-ray Photoelectron Spectroscopy. And the corresponding generation of PFRs on biochar was primarily ascribed to the oxidization of phenolic hydroxyl groups by Cr(VI) from Fourier Transform Infrared Spectroscopy analysis, which was further verified by the H
2
O
2
treatment experiments. The findings of this study will help to illustrate the transformation of reactive functional groups on biochar and provide a new insight into the role of biochar in environmental remediation.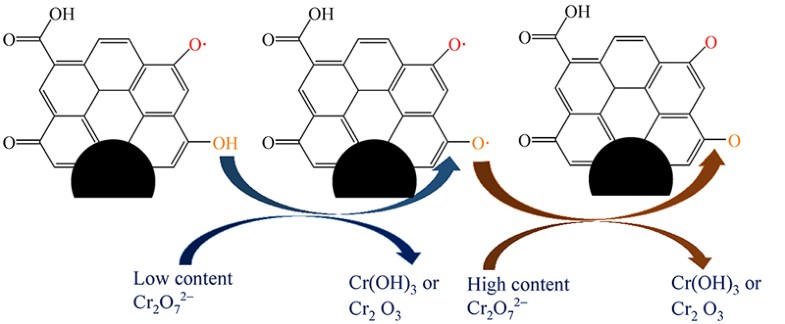 Keywords
Biochar 
Persistent free radicals 
Phenolic hydroxyl groups 
Cr(VI) reduction 
Notes
Acknowledgements
This work was supported by International Science & Technology Cooperation Program of China (Nos. 2013DFG50150 and S2016G6292) and the Innovative and Inter disciplinary Team at HUST (No. 2015ZDTD027). The authors thank the Analytical and Testing Center of HUST for the use of EA, FTIR, and XPS equipment.
Copyright information
© Higher Education Press and Springer-Verlag GmbH Germany, part of Springer Nature 2019