Augmented hydrogen production by gasification of ball milled polyethylene with Ca(OH)2 and Ni(OH)2
Abstract
Polymer thermal recycling for hydrogen production is a promising process to recover such precious element from plastic waste. In the present work a simple but efficacious high energy milling pretreatment is proposed to boost H2 generation during polyethylene gasification. The polymer is comilled with calcium and nickel hydroxides and then it is subjected to thermal treatment. Results demonstrate the key role played by the calcium hydroxide that significantly ameliorates hydrogen production. It reacts in solid state with the polyethylene to form directly carbonate and hydrogen. In this way, the CO2 is immediately captured in solid form, thus shifting the equilibrium toward H2 generation and obtaining high production rate (>25 L/mol CH2). In addition, high amounts of the hydroxide prevent excessive methane formation, so the gas product is almost pure hydrogen (~95%).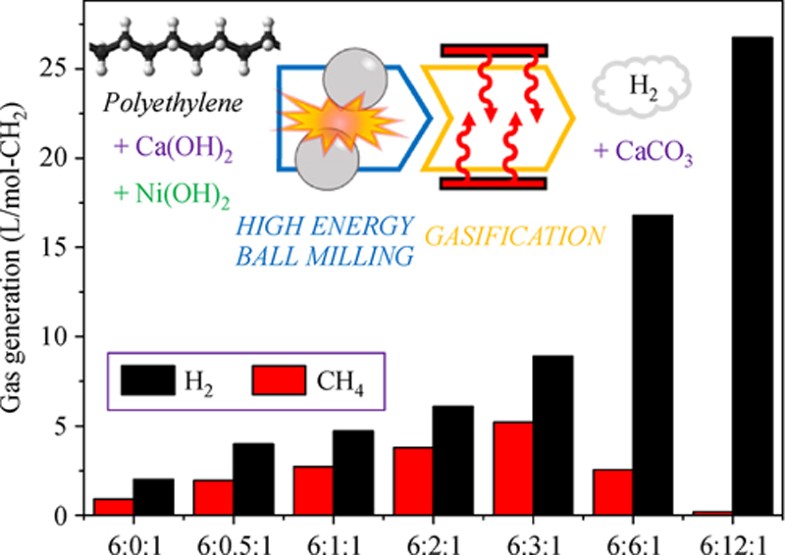 Keywords
Hydrogen production 
Gasification 
Plastic waste 
High energy ball milling 
Notes
Acknowledgements
This work was supported by the Major Science and Technology Program for Water Pollution Control and Treatment in China (Grant No. 2017ZX07202004).
Copyright information
© Higher Education Press and Springer-Verlag GmbH Germany, part of Springer Nature 2019