Characterization of CANON reactor performance and microbial community shifts with elevated COD/N ratios under a continuous aeration mode
Abstract
The effects of increasing COD/N on nitrogen removal performance and microbial structure were investigated in a SBR adopting a completely autotrophic nitrogen removal over nitrite process with a continuous aeration mode (DO at approximately 0.15–0.2 mg/L). As the COD/N increased from 0.1 to ≤ 0.59, the nitrogen removal efficiency (NRE) increased from 88.7% to 95.5%; while at COD/N ratios of 0.59–0.82, the NRE remained at 90.7%–95.5%. As the COD/N increased from 0.82 to 1.07, the NRE decreased continuously until reaching 60.1%.
Nitrosomonas
sp. (AOB) and
Candidatus Jettenia
(anammox bacteria) were the main functional genera in the SBR. As the COD/N increased from 0.10 to 1.07, the relative abundance of
Nitrosomonas
decreased from 13.4% to 2.0%, while that of
Candidatus Jettenia
decreased from 35% to 9.9% with COD/N <0.82 then increased to 45.4% at a COD/N of 1.07. Aerobic heterotrophic bacteria outcompeted AOB at high COD loadings (650 mg/L) because of oxygen competition, which ultimately led to deteriorated nitrogen removal performance.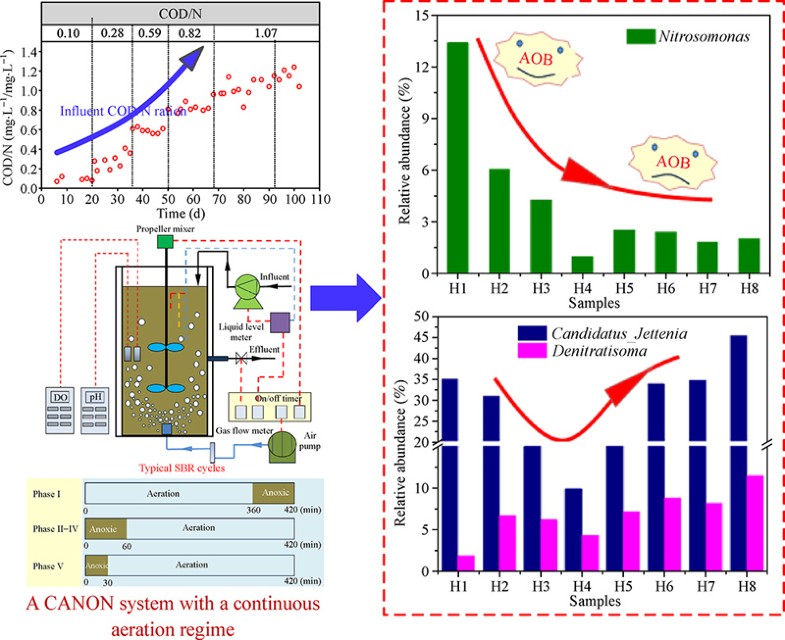 Keywords
CANON process 
COD/N ratio 
Anammox 
Ammonia oxidizing bacteria 
Aerobic heterotrophic bacteria 
Notes
Acknowledgements
This work was supported by the National Natural Science Foundation of China (Grant Nos. 51522809 and 51378370). The Foundation of the State Key Laboratory of Pollution Control and Resource Reuse (Tongji University), China (Grant No. PCRRT16005) is also acknowledged.
Copyright information
© Higher Education Press and Springer-Verlag GmbH Germany, part of Springer Nature 2019