Relations between indoor and outdoor PM2.5 and constituent concentrations
Abstract
Outdoor PM
2.5
influences both the concentration and composition of indoor PM
2.5
. People spend over 80% of their time indoors. Therefore, to assess possible health effects of PM
2.5
it is important to accurately characterize indoor PM
2.5
concentrations and composition. Controlling indoor PM
2.5
concentration is presently more feasible and economic than decreasing outdoor PM
2.5
concentration. This study reviews modeling and measurements that address relationships between indoor and outdoor PM
2.5
and the corresponding constituent concentrations. The key factors in the models are indooroutdoor air exchange rate, particle penetration, and deposition. We compiled studies that report I/O ratios of PM
2.5
and typical constituents (sulfate (SO
4
2–
), nitrate (NO
3
–
), ammonium (NH
4
+
), elemental carbon (EC), and organic carbon (OC), iron (Fe), copper (Cu), and manganese (Mn)). From these studies we conclude that: 1) sulfate might be a reasonable tracer of non-volatile species (EC, Fe, Cu, and Mn) and PM
2.5
itself; 2) particulate nitrate and ammonium generally desorb to gaseous HNO
3
and NH
3
when they enter indoors, unless, as seldom happens, they have strong indoor sources; 3) indoor-originating semi-volatile organic compounds sorb on indoor PM
2.5
, thereby increasing the PM
2.5
OC load. We suggest further studies on indoor-outdoor relationships of PM
2.5
and constituents so as to help develop standards for healthy buildings.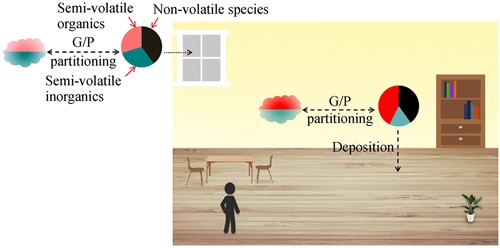 Keywords
Indoor air quality 
Exposure 
SVOC 
Reactive oxidative species 
Oxidative potential 
Chemical transport model 
Notes
Acknowledgements
This work was supported by the National Key Research and Development Program of China (No. 2017YFC0702700) and the Nature Science Foundation of China (Grant Nos. 51420105010 and 51808107). We thank Louise B. Weschler for English editing.
Copyright information
© Higher Education Press and Springer-Verlag GmbH Germany, part of Springer Nature 2018