Source attribution for mercury deposition with an updated atmospheric mercury emission inventory in the Pearl River Delta Region, China
Abstract
We used CMAQ-Hg to simulate mercury pollution and identify main sources in the Pearl River Delta (PRD) with updated local emission inventory and latest regional and global emissions. The total anthropogenic mercury emissions in the PRD for 2014 were 11,939.6 kg. Power plants and industrial boilers were dominant sectors, responsible for 29.4 and 22.7%. We first compared model predictions and observations and the results showed a good performance. Then five scenarios with power plants (PP), municipal solid waste incineration (MSWI), industrial point sources (IP), natural sources (NAT), and boundary conditions (BCs) zeroed out separately were simulated and compared with the base case. BCs was responsible for over 30% of annual average mercury concentration and total deposition while NAT contributed around 15%. Among the anthropogenic sources, IP (22.9%) was dominant with a contribution over 20.0% and PP (18.9%) and MSWI (11.2%) ranked second and third. Results also showed that power plants were the most important emission sources in the central PRD, where the ultra-low emission for thermal power units need to be strengthened. In the northern and western PRD, cement and metal productions were priorities for mercury control. The fast growth of municipal solid waste incineration were also a key factor in the core areas. In addition, a coordinated regional mercury emission control was important for effectively controlling pollution. In the future, mercury emissions will decrease as control measures are strengthened, more attention should be paid to mercury deposition around the large point sources as high levels of pollution are observed.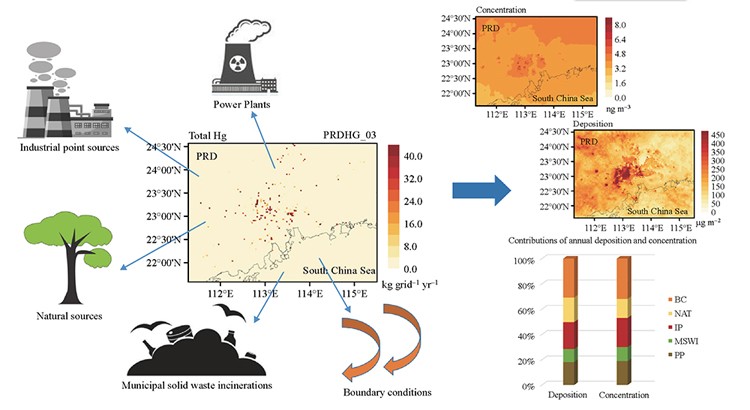 Keywords
Emission inventory 
Mercury deposition 
Pearl River Delta (PRD) 
Source attribution 
Control strategy 
Notes
Acknowledgements
This work was supported by the Natural Science and Technology Foundation of Guangdong Province, China (No. 2016A020221001), National Research Program For Key Issues In Air Pollution Control (No. DQGG0301), The National Key Research and Development Program of China (No. 2016YFC0207606) and the Fundamental Research Funds for the Central Universities (Nos. D2160320 and D2170150).
Copyright information
© Higher Education Press and Springer-Verlag GmbH Germany, part of Springer Nature 2018