Investigate of in situ sludge reduction in sequencing batch biofilm reactor: Performances, mechanisms and comparison of different carriers
Abstract
Biofilm is an effective simultaneous denitrification and in situ sludge reduction system, and the characteristics of different biofilm carrier have important implications for biofilm growth and in situ sludge reduction. In this study, the performance and mechanism of in situ sludge reduction were compared between FSC-SBBR and SC-SBBR with constructed by composite floating spherical carriers (FSC) and multi-faceted polyethylene suspension carriers (SC), respectively. The variation of EPS concentration indicated that the biofilm formation of FSC was faster than SC. Compared with SCSBBR, the FSC-SBBR yielded 0.16 g MLSS/g COD, almost 27.27% less sludge. The average removal rates of COD and NH4+-N were 93.39% and 96.66%, respectively, which were 5.21% and 1.43% higher than the average removal rate of SC-SBBR. Investigation of the mechanisms of sludge reduction revealed that, energy uncoupling metabolism and sludge decay were the main factors for sludge reduction inducing 43.13% and 49.65% less sludge, respectively, in FSC-SBBR. EEM fluorescence spectroscopy and SUVA analysis showed that the hydrolytic capacity of biofilm attached in FSC was stronger than those of SC, and the hydrolysis of EPS released more DOM contributed to lysis-cryptic growth metabolism. In additional, Bacteroidetes and Mizugakiibacter associated with sludge reduction were the dominant phylum and genus in FCS-SBBR. Thus, the effect of simultaneous in situ sludge reduction and pollutant removal in FSC-SBBR was better.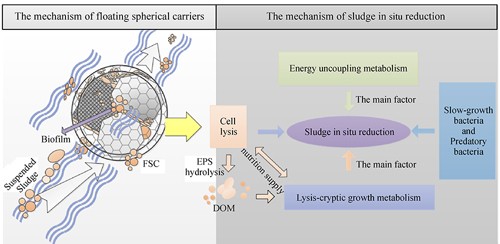 Keywords
In situ sludge reduction 
Biofilm 
Composite floating spherical carriers 
Microbial community 
SBBR 
Notes
Acknowledgements
This work was financially supported by the Natural Science Foundation of Shandong Province (ZR2016EEM32),the Doctoral Fund of Shandong Jianzhu University in 2015 (XNBS1511),and Scientific and technological Innovation Project of Planning and Design Institute of Huaihe River Basin Water Conservancy Administration Bureau of Shandong Province in 2018 (SFSJKY2018-01).
Copyright information
© Higher Education Press and Springer-Verlag GmbH Germany, part of Springer Nature 2018