Immobilization of NZVI in polydopamine surface-modified biochar for adsorption and degradation of tetracycline in aqueous solution
Part of the following topical collections:
Abstract
Polydopamine/NZVI@biochar composite (PDA/NZVI@BC) with high removal efficiency of tetracycline (TC) in aqueous solutions was successfully synthesized. The resultant composite demonstrated high reactivity, excellent stability and reusability over the reaction course. Such excellent performance can be attributed to the presence of the huge surface area on biochar (BC), which could enhance NZVI dispersion and prolong its longevity. The carbonyl group contained on the surface of biochar could combine with the amino group on polydopamine(PDA). The hydroxyl groups in PDA is able to enhance the dispersion and loading of NZVI on BC. Being modified by PDA, the hydrophilicity of biochar was improved. Among BC, pristine NZVI and PDA/NZVI@BC, PDA/ NZVI@BC exhibited the highest activity for removal of TC. Compared with NZVI, the removal efficiency of TC could be increased by 55.9% by using PDA/NZVI@BC under the same conditions. The optimal modification time of PDA was 8h, and the ratio of NZVI to BC was 1:2. In addition, the possible degradation mechanism of TC was proposed, which was based on the analysis of degraded products by LC-MS. Different important factors impacting on TC removal (including mass ratio of NZVI to BC/PDA, initial concentration, pH value and the initial temperature of the solution) were investigated as well. Overall, this study provides a promising alternative material and environmental pollution management option for antibiotic wastewater treatment.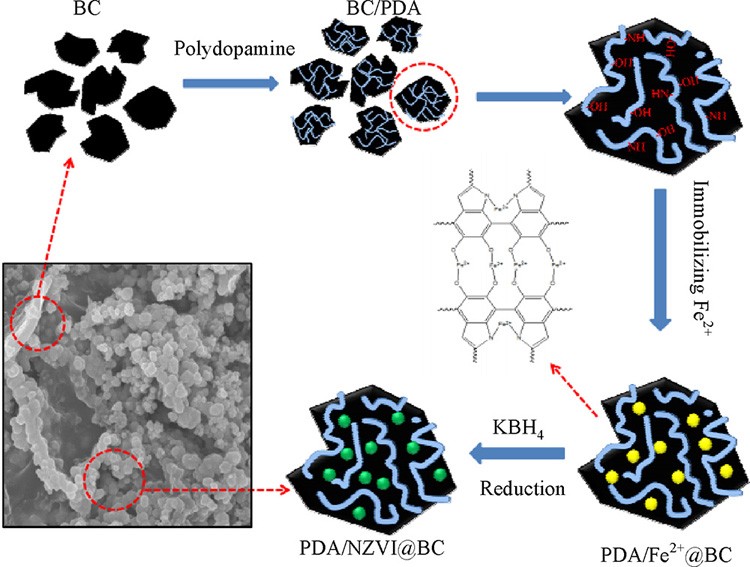 Keywords
Biochar 
Polydopamine 
NZVI 
Modification 
Tetracycline 
Notes
Acknowledgements
This research was supported by the National Nature Science Foundation of China (Grant Nos. 51368025 and 51068011).
Copyright information
© Higher Education Press and Springer-Verlag GmbH Germany, part of Springer Nature 2018