Comparative study on microbial community in intermittently aerated sequencing batch reactors (SBR) and a traditional SBR treating digested piggery wastewater
Part of the following topical collections:
Abstract
A traditional sequencing batch reactor (SBR) and two intermittently aerated sequencing batch reactors (IASBRs) were parallelly operated for treating digested piggery wastewater. Their microbial communities were analyzed, and the nitrogen removal performance was compared during the long–term run. IASBRs demonstrated higher removal rates of total nitrogen (TN) and ammonium nitrogen (NH4 +-N) than the SBR, and also demonstrated higher resistance against TN shock load. It was found that the more switch times between aerobic/anoxic in an IASBR, the higher the removal rates of TN and NH4 +–N. All the reactors were predominated by Thauera, Nitrosomonas and Nitrobacter, which were considered to be species of denitrifiers, ammonium oxidizing bacteria (AOB) and nitrite oxidizing bacteria (NOB), respectively. However, the abundance and diversity was of great difference. Compared with SBR, IASBRs achieved higher abundance of denitrification–related bacteria. IASBR 1# with four aerobic/anoxic switch times was detected with 25.63% of Thauera, higher than that in IASBR 2# with two aerobic/anoxic switch times (11.57% of Thauera), and much higher than that in the SBR (only 6.19%of Thauera). IASBR 2# had the highest percentage of AOB, while IASBR 1# had the lowest percentage. The denitrifiers abundance was significantly positive correlated with the TN removal rate. However, the NH4 +–N removal rate showed no significant correlation with the AOB abundance, but might relate to the AOB activity which was influenced by the average free ammonium (FA) concentration. Nitrobacter was the only NOB genus detectable in all reactors, and were less than 0.03%.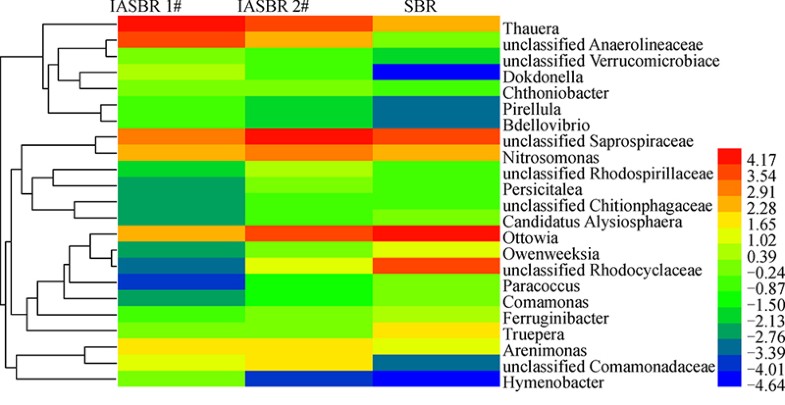 Keywords
Digested piggery wastewater 
Intermittent aeration 
Microbial community 
Partial nitrification–denitrification process 
Sequencing batch reactor (SBR) 
Notes
Acknowledgements
This work was funded by the NationalWater Pollution Control and Treatment Science and Technology Major Project of China (No. 2014ZX07305001), Major Science and Technology Projects of Zhejiang province (No. 2014C03022), Science and Technology Project of Jiaxing City (No. 2015AY23003), Mitsubishi MRC cooperation project and Youth Foundation of Yangtze Delta Region Institute of Tsinghua University.
Copyright information
© Higher Education Press and Springer-Verlag Berlin Heidelberg 2017