Development of source profiles and their application in source apportionment of PM2.5 in Xiamen, China
Part of the following topical collections:
Abstract
Ambient PM2.5 samples were collected at four sites in Xiamen, including Gulangyu (GLY), Hongwen (HW), Huli (HL) and Jimei (JM) during January, April, July and October 2013. Local source samples were obtained from coal burning power plants, industries, motor vehicles, biomass burning, fugitive dust, and sea salt for the source apportionment studies. The highest value of PM2.5 mass concentration and species related to human activities (SO4 2–, NO3 –, Pb, Ni, V, Cu, Cd, organic carbon (OC) and elemental carbon (EC)) were found in the ambient samples from HL, and the highest and lowest loadings of PM2.5 and its components occurred in winter and summer, respectively. The reconstructed mass balance indicated that ambient PM2.5 consisted of 24% OM (organic matter), 23% sulfate, 14% nitrate, 9% ammonium, 9% geological material, 6% sea salt, 5% EC and 10% others. For the source profiles, the dominant components were OC for coal burning, motor vehicle, biomass burning and sea salt; SO4 2– for industry; and crustal elements for fugitive dust. Source contributions were calculated using a chemical mass balance (CMB) model based on ambient PM2.5 concentrations and the source profiles. GLY was characterized by high contributions from secondary sulfate and cooking, while HL and JM were most strongly affected by motor vehicle emissions, and biomass burning and fugitive dust, respectively. The CMB results indicated that PM2.5 from Xiamen is composed of 27.4% secondary inorganic components, 20.8% motor vehicle emissions, 11.7% fugitive dust, 9.9% sea salt, 9.3% coal burning, 5.0% biomass burning, 3.1% industry and 6.8% others.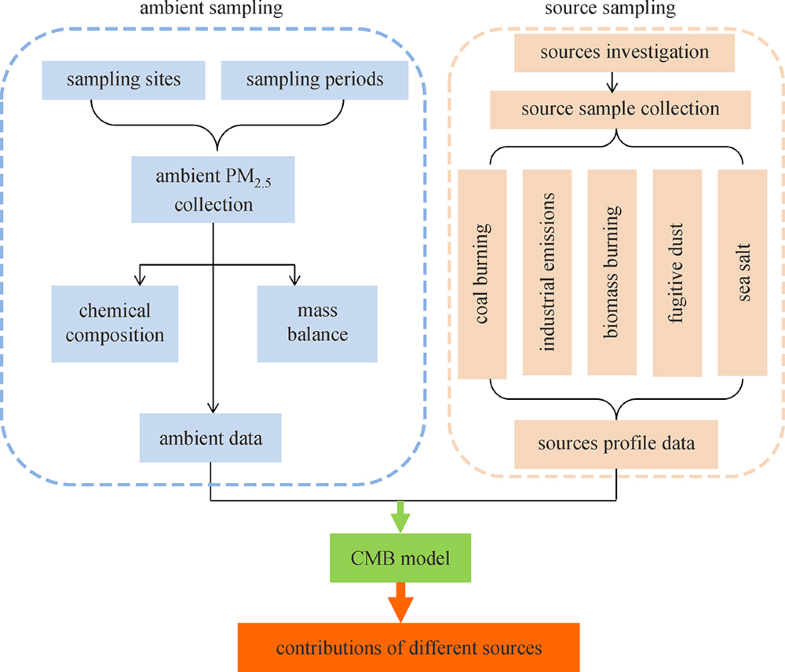 Keywords
PM2.5 
Source profile 
Source apportionment 
CMB 
Xiamen 
Copyright information
© Higher Education Press and Springer-Verlag Berlin Heidelberg 2016