Abstract
Purpose
Cancer-related fatigue (CRF) is a common and distressing symptom that can persist after cancer treatment has concluded. Bright light therapy has shown preliminary efficacy in reducing CRF, but its impact on other psychosocial factors is unclear. The purpose was to examine the impact of a 1-month light therapy intervention on fatigue, mood, and quality of life in cancer survivors with fatigue.
Methods
This 4-week blinded randomized controlled trial recruited cancer survivors who met diagnostic criteria for CRF. Participants were randomly assigned to receive a light therapy device that produced either bright white light (BWL; intervention) or dim red light (DRL; active control). Participants were instructed to use the device daily for 30 min upon waking for 28 days. The primary outcome, fatigue, was assessed weekly. Secondary outcomes assessed pre- and post-intervention included mood, depressive symptoms, and quality of life.
Results
A total of 81 participants were randomly assigned to receive BWL (n = 42) or DRL (n = 39). Analyses revealed a group-by-time interaction for fatigue (p = .034), wherein the BWL condition reported a 17% greater reduction in fatigue than those in the DRL condition (between group d = .30). There were also significant improvements over time for both groups on measures of mood, depressive symptoms, and quality of life (p's < .01).
Conclusions
BWL was associated with greater improvements in fatigue and both groups displayed improvements on secondary psychosocial outcomes.
Implications for cancer survivors
These findings, along with previous reports of light therapy for CRF, support the use of this intervention to improve fatigue in cancer survivors.
This is a preview of subscription content, log in to check access.
Access options
Buy single article
Instant access to the full article PDF.
US$ 39.95
Price includes VAT for USA
Subscribe to journal
Immediate online access to all issues from 2019. Subscription will auto renew annually.
US$ 99
This is the net price. Taxes to be calculated in checkout.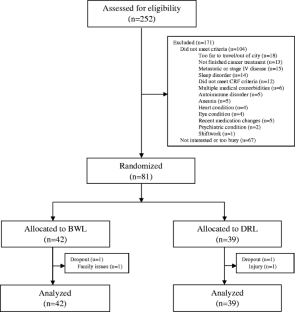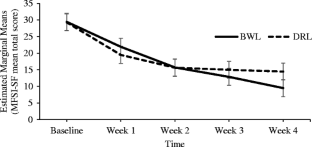 References
1.

Wang XS, Zhao F, Fisch MJ, O'Mara AM, Cella D, Mendoza TR, et al. Prevalence and characteristics of moderate to severe fatigue: a multicenter study in cancer patients and survivors. Cancer. 2014;120:425–32.

2.

Berger AM, Mooney K, Alvarez-Perez A, Breitbart WS, Carpenter KM, Cella D, et al. Cancer-related fatigue, version 2.2015. J Natl Compr Cancer Netw. 2015;13:1012–39.

3.

Bower JE, Bak K, Berger A, Breitbart W, Escalante CP, Ganz PA, et al. Screening, assessment, and management of fatigue in adult survivors of cancer: an American Society of Clinical Oncology clinical practice guideline adaptation. J Clin Oncol. 2014;32:1840–50.

4.

Berger AM, Mitchell SA, Jacobsen PB, Pirl WF. Screening, evaluation, and management of cancer-related fatigue: ready for implementation to practice? CA. Cancer J Clin. 2015;65:191–211.

5.

Hofman M, Ryan JL, Figueroa-Moseley CD, Jean-Pierre P, Morrow GR. Cancer-related fatigue: the scale of the problem. Oncologist. 2007;12:4–10.

6.

Curt GA, Breitbart W, Cella D, Groopman JE, Horning SJ, Itri LM, et al. Impact of cancer-related fatigue on the lives of patients: new findings from the fatigue coalition. Oncologist. 2000;5:353–60.

7.

Rastad C, Ulfberg J, Lindberg P. Improvement in fatigue, sleepiness, and health-related quality of life with bright light treatment in persons with seasonal affective disorder and subsyndromal SAD. Depress Res Treat. 2011;2011:1–10.

8.

Golden RN, Gaynes BN, Ekstrom RD, Hamer RM, Jacobsen FM, Suppes T, et al. The efficacy of light therapy in the treatment of mood disorders: a review and meta-analysis of the evidence. Am J Psychiatry. 2005;162:656–62.

9.

van Maanen A, Meijer AM, van der Heijden KB, Oort FJ. The effects of light therapy on sleep problems: a systematic review and meta-analysis. Sleep Med Rev. 2016;29:52–62.

10.

Shang J, Wenzel J, Krumm S, Griffith K, Stewart K. Who will drop out and who will drop in: exercise adherence in a randomized clinical trial among patients receiving. Cancer Nurs. 2012;35:312–22.

11.

Matthews EE, Schmiege SJ, Cook PF, Berger AM, Aloia MS. Adherence to cognitive behavioral therapy for insomnia (CBTI) among women following primary breast cancer treatment: a pilot study. Behav Sleep Med. 2012;10:217–29.

12.

Ancoli-Israel S, Rissling M, Neikrug A, Trofimenko V, Natarajan L, Parker BA, et al. Light treatment prevents fatigue in women undergoing chemotherapy for breast cancer. Support Care Cancer. 2012;20:1211–9.

13.

Redd WH, Valdimarsdottir H, Wu LM, Winkel G, Byrne EE, Beltre MA, et al. Systematic light exposure in the treatment of cancer-related fatigue: a preliminary study. Psychooncology. 2014;23:1431–4.

14.

Bower JE. Cancer-related fatigue: links with inflammation in cancer patients and survivors. Brain Behav Immun. 2007;21:863–71.

15.

Neikrug AB, Rissling M, Trofimenko V, Lawton S, Parker BA, Ancoli-israel S. Bright light therapy protects women from circadian rhythm desynchronization during chemotherapy for breast cancer. Behav Sleep Med. 2012;10:202–16.

16.

Monteleone P, Martiadis V, Maj M. Circadian rhythms and treatment implications in depression. Prog. Neuro-psychopharmacology. Biol Psychiatry. 2011;35:1569–74.

17.

Johnson JA, Garland SN, Carlson LE, Savard J, Simpson JSA, Ancoli-Israel S, et al. The LITE study: rationale and protocol for a randomized controlled trial of light therapy for cancer-related fatigue in cancer survivors. Contemp Clin Trials. 2016;

18.

Cella D, Peterman A, Passik S, Jacobsen P, Breitbart W. Progress toward guidelines for the management of fatigue. Oncology. 1998;12:369–77.

19.

Stein KD, Jacobsen PB, Blanchard CM, Thors C. Further validation of the multidimensional fatigue symptom inventory-short form. J Pain Symptom Manag. 2004;27:14–23.

20.

Shacham SA. Shortened version of the profile of mood states. J Pers Assess. 1983;47:305–6.

21.

Baker F, Denniston M, Zabora J, Polland A, Dudley WNAPOMS. Short form for cancer patients: psychometric and structural evaluation. Psychooncology. 2002;11:273–81.

22.

Radloff LS. The CES-D scale: a self-report depression scale for research in the general population. Appl Psychol Meas. 1977;1:385–401.

23.

Vodermaier A, Linden W, Siu C. Screening for emotional distress in cancer patients: a systematic review of assessment instruments. J Natl Cancer Inst. 2009;101:1464–88.

24.

Hann D, Winter K, Jacobsen P. Measurement of depressive symptoms in cancer patients: evaluation of the Center for Epidemiological Studies Depression Scale (CES-D). J Psychosom Res 1999;46:437–443.

25.

Cella DF, Tulsky DS, Gray G, Sarafian B, Linn E, Bonomi A, et al. The functional assessment of cancer therapy scale: development and validation of the general measure. J Clin Oncol. 1993;11:570–9.

26.

Ringash J, O'Sullivan B, Bezjak A, Redelmeier DA. Interpreting clinically significant changes in patient-reported outcomes. Cancer. 2007;110:196–202.

27.

Devilly GJ, Borkovec TD. Psychometric properties of the credibility/expectancy questionnaire. J Behav Ther Exp Psychiatry. 2000;31:73–86.

28.

Cohen JA. Power primer. Psychol Bull. 1992;112:155–9.

29.

Hedeker D, Gibbons RD, Waternaux C. Sample size estimation for longitudinal designs with attrition: comparing time-related contrasts between two groups. J Educ Behav Stat. 1999;24:70–93.

30.

Prue G, Rankin J, Allen J, Gracey J, Cramp F. Cancer-related fatigue: a critical appraisal. Eur J Cancer. 2006;42:846–63.
Acknowledgements
We would like to acknowledge and thank each participant who dedicated their time to be involved in this study. J.A. Johnson would like to acknowledge the following funding agencies for graduate training support: Alberta-Innovates Health Solutions, the Alberta Cancer Foundation, the Killam Trust, and Lloyd and Florence Cooper Trust.
Funding
This work was supported by Canadian Cancer Society Research Institute (Grant #: 2012-701425).
Ethics declarations
Conflict of interest
T.S. Campbell discloses speaker's honoraria from Abbvie, Janseen, Lifescan, NovoNorodisk and research funding from Abbvie. S. Ancoli-Israel consults for Merck, Pfizer, Ferring, and Janssen.
Ethical approval
All procedures performed in studies involving human participants were in accordance with the ethical standards of the institutional and/or national research committee and with the 1964 Helsinki Declaration and its later amendments or comparable ethical standards.
About this article
Cite this article
Johnson, J.A., Garland, S.N., Carlson, L.E. et al. Bright light therapy improves cancer-related fatigue in cancer survivors: a randomized controlled trial. J Cancer Surviv 12, 206–215 (2018). https://doi.org/10.1007/s11764-017-0659-3
Received:

Accepted:

Published:

Issue Date:
Keywords
Cancer-related fatigue

Fatigue

Light therapy

Cancer

Quality of life

Randomized controlled trial