The patients' experience of a bladder cancer diagnosis: a systematic review of the qualitative evidence
Abstract
Purpose
Bladder cancer (BC) is a common disease with disparate treatment options and variable outcomes. Despite the disease's high prevalence, little is known of the lived experience of affected patients. National patient experience surveys suggest that those with BC have poorer experiences than those with other common cancers. The aim of this review is to identify first-hand accounts of the lived experiences of diagnosis through to survivorship.
Method
This is a systematic review of the qualitative evidence reporting first-hand accounts of the experiences of being diagnosed with, treated for and surviving bladder cancer. A thematic analysis and 'best-fit' framework synthesis was undertaken to classify these experiences.
Results
The inconsistent nature of symptoms contributes to delays in diagnosis. Post-diagnosis, many patients are not actively engaged in the treatment decision-making process and rely on their doctor's expertise. This can result in patients not adequately exploring the consequences of these decisions. Learning how to cope with a 'post-surgery body', changing sexuality and incontinence are distressing. Much less is known about the quality of life of patients receiving conservative treatments such as Bacillus Calmette-Guerin (BCG).
Conclusions
The review contributes to a greater understanding of the lived experience of bladder cancer. Findings reflect a paucity of relevant literature and a need to develop more sensitive patient-reported outcome measures (PROMs) and incorporate patient-reported outcomes in BC care pathways.
Implications for cancer survivors
Collective knowledge of the patients' self-reported experience of the cancer care pathway will facilitate understanding of the outcomes following treatment.
Keywords
Bladder cancer 
Diagnosis 
Treatment 
Cystectomy 
Quality of life 
Patients' experience 
Introduction
Bladder cancer (BC) is the seventh most common cancer in the world [1] and is one of the most expensive to manage [2]. The disease is more common in males than females, reflecting the main etiological risk factors, i.e. cigarette smoking and occupational carcinogen exposure [3]. Despite advances in the epidemiology and treatment, relatively little is known about the experience of patients diagnosed with BC [4, 5]. Patient surveys have shown that the experience of those with BC is one of the poorest when compared to other cancers. Potential explanations for this include absence of care planning, emotional support and poor post-discharge care [6]. These factors may be compounded by the male predominance of BC and the tendency of men to internalise their illness behaviour [7].
Whilst most cancers affect the well-being and quality of life (QoL) of diagnosed individuals and their caregivers, the QoL for BC patients is not well known due to a lack of disease and treatment-specific validated measure(s) and a lack of large-scale analyses [8, 9, 10, 11, 12, 13]. Where data are available, reports are often restricted to small samples post-treatment [14, 15] and so limit the understanding of the BC patients' experience following diagnosis and pre-treatment experience of care (reviewed in [4]). Developing new measures which identify care needs across the patients' pathway will help improve clinical practice and assist them in the early stages of their diagnosis and treatment decision making [16]. Given that recent reviews have focussed upon quantitative data (e.g. [4]), we undertook a systematic review of the current status of qualitative data in patients with BC.
In 2010, the National Cancer Survivor Initiative (NCSI) published a 'vision' document [5] that reported a number of key shifts required in the approach to care for people living with and beyond cancer. One key vision was moving the focus from measuring clinical activity to measuring experience, concerns and outcomes for cancer survivors through routine use of patient-reported outcome measures (PROMs). The value of qualitative research in the development of PRO measures has been recognised for some time. For example, Duncan et al. [17] recently conducted a synthesis of the qualitative evidence to examine the QoL domains from the patients' perspective to facilitate PROM development in five specific health conditions. This article also presents a systematic search of the qualitative literature and a 'best-fit' framework synthesis [18] to classify and enhance the understanding of the experiences of BC from the patients' perspective. Findings may also assist future PROM development.
Method
Preferred Reporting Items for Systematic Reviews and Meta-Analyses (PRISMA) guidelines were followed, including reference to the 27-item checklist (where applicable) and four-phase item flow diagram [
19
] (see Fig.
1
).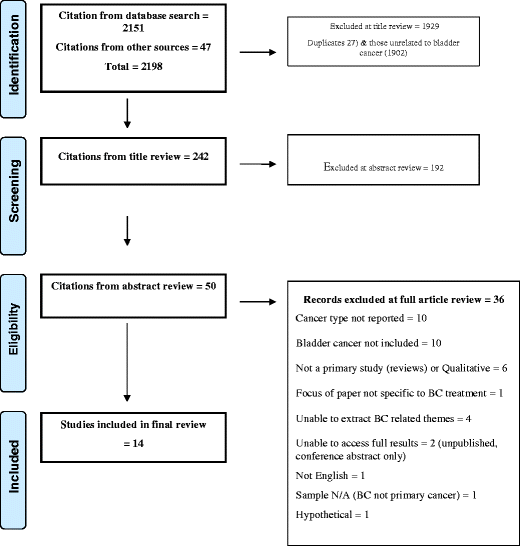 Literature search
Medline, PsycInfo, Embase, CINAHL, Cochrane Library, Global Health, Scopus, Pro Quest (Health & Medicine) and Google Scholar were searched for articles published between January 2000 and January 2016. A combination of keywords to describe the patient, patients' experience, BC, treatment and research method was used (for example, to describe the patient [patient, cancer patient, surgical patient, hospitalised patient], their experience [acceptance, attitude, beliefs, opinion, satisfaction, QoL, quality of care, understanding, feelings], the cancer [BC, urinary bladder neoplasms, bladder, carcinoma], the treatment [intravesical immunotherapy, BCG vaccine, cystectomy, surgery] and the research method [interview, case studies, observations, focus group, thematic analysis], see online resource 1 for sample search strategy). In addition, reference lists and citations of included studies were scanned and specific urology journals were hand searched (Current Opinion in Urology, European Urology, Urology Practice, Journal of Urology, Urology, Scandinavian Journal of Urology and Nephrology and Scandinavian Journal of Urology and Asian Journal of Urology). Lead authors (identified from the searches/included studies) and conference abstracts (APOS, BPOS) were searched. English language restriction was applied to the search.
Study selection
All primary studies detailing self-reported accounts of the experience of being diagnosed and treated for BC (primary cancer) were included in the review, meaning that results are based upon the narratives of individuals with BC. Studies that reported survey data only or hypothetical data were excluded. Two authors (AE and JB) reviewed the titles and abstracts to apply the inclusion criteria, and potentially eligible full-text articles were evaluated by AE, JB and MT for eligibility and quality. Each article was assessed for quality using the Critical Appraisal Skills Programme (CASP) assessment tool for qualitative research [20]. All studies were included in the review regardless of their quality rating, but the rating was used as an indication of the strength of the evidence and to inform standards required for future research into the qualitative experiences of people diagnosed with BC. Disagreements were resolved by discussion.
Data synthesis
Data regarding population, age range, participant numbers, diagnosis, treatment, data collection approach and derived themes were extracted using a standardised form. A thematic analysis of all the identified lived experiences of BC, using a 'best-fit framework synthesis' [18], was undertaken starting with very similar themes to those described by Beitz and Zuzelo [21], which were experience of diagnosis, acute care and treatment, post-treatment and the new normal. These informed the framework as they encompassed the patients' pathway from diagnosis to survivorship and adapting (or not) to life and thereby fit with the aims of this review. Initial allocation of experiences to the framework was undertaken by AE aided by discussion with JB and MT in uncertain cases.
Discussion
This is the first systematic review of qualitative evidence focusing upon first-hand accounts of the lived experience of BC. The review identified the significant impact of this disease upon the patient and their next of kin and that currently, there is little attention paid to this by BC care practitioners. Most of the data reported events at the beginning (at diagnosis) and end (life after treatment) of the patients' pathway, and there was an over-representation of patients undergoing radical surgery, when the majority of patients receive non-radical (conservative) treatments. As the concerns of those undergoing conservative treatments cannot be assumed to be the same as those of the RC population, the review highlights the need for more qualitative research to inform understanding of the experiences of this population.
Sexual concerns were especially common with an unmet need for information and support [21, 23, 26, 27, 32, 35], which support the findings of a recent PROM pilot report [36]. The fact that very few patients reported receiving help for sexual distress is a concern [27] and suggests perhaps that the shift towards exploring the patients' holistic experience, in particular their sexual experience, as set out by the National Cancer Survivorship vision has not yet been reached [5]. The findings of the review suggest that health professionals need to be more proactive in eliciting areas of distress and, given the gender-specific concerns highlighted in this review, tailored interventions would be more appropriate [27].
Body image was an important concern for those undergoing surgery. Patients reported experiencing significant alteration to their body [32], and women in particular reported feeling unsexual [23, 27, 32, 35]. Visibility of the stoma was problematic and resulted in patients altering clothing and social activities [32]. Concerns about body image were also reported in the PROM pilot report, and the findings of this review evidence that conclusion [36]. Only one (excluded) study found body image not to be important [37], but this may be due to those authors asking patients to consider a future event (impact of surgery) on body image; it is not clear whether patients were specifically asked about appearance post-surgery, and given the duration of the interviews (16 min on average), it seems unlikely that any discussion would have been in-depth. Encouraging patients to reflect on their experiences in some depth enables a more valid disclosure of concerns [32], which might account for the disparate findings.
Less frequently described but nonetheless explored was patients' experience of acute care and discharge, and this review highlights how some of the most basic acts of kindness, such as holding a patient's hand on waking from surgery, can make such a difference to their experience.
This review identifies a relatively neglected area of cancer and the poor level of evidence in this field. It offers an understanding of the patients' experience pre-diagnosis through to survivorship, complementing a recent BC PROM pilot [36] and ongoing work in BC QoL development to develop ways to comprehensively assess sexual [8] and body image issues in particular [38]. It also serves as a useful starting point for developing teaching/training materials. Knowledge of the patients' experience from diagnosis through to survivorship and highlighting the challenges in reporting concerns are valuable to new and existing health professionals tasked with shifting the focus from clinical activity to patients' experience. Finally, it is a response to patients' hopes for professionals to better understand their experience and in particular the impact of bodily and sexual changes [23].
Limitations
The review only included articles in the English language, and most of the included studies were carried out in North America (within a specific healthcare system). As such, it may limit the understanding of a more global picture of patients' experience with BC. The review applied a date limitation from 2000 to present. Although this will have restricted our search and subsequently missed articles of relevance, it was an attempt to capture patients' contemporary experiences of clinical services and treatments. In synthesising the data from all the studies, irrespective of their cancer stage and treatment, subtleties in relation to QoL, need, etc. associated with certain treatments or extent of illness will have been missed. Nevertheless, several themes identified in the review are expected to be common throughout the illness trajectory and helpful in addressing future care irrespective of stage/treatment.
Recommendations
The findings of this review are relevant and important to the field but reflect a paucity of relevant literature. Prior to the development of any new measure, a clear conceptual framework is needed [39, 40, 41], and this review suggests that there are gaps in our understanding that need to be filled before high-quality, sensitive measure of QoL can be developed for this population. This article offers the beginnings of a conceptual framework (see online resource 3); however, to develop a robust framework, more research is needed. Future research should aim to improve reporting of qualitative findings relating to BC, should include larger numbers of patients (and caregivers) receiving non-radical treatments and should include longitudinal studies to capture change over time. With this in mind, authors are now undertaking longitudinal surveys into the QoL in patients being treated for and after a diagnosis of BC, e.g. the OTIS study [http://www.abdn.ac.uk/hsru/research/assessment/interventional/otis/].
Implications for practice
The review highlights that a better understanding of the patients' experience throughout each stage of their pathway could be gleaned. It is clear that patients' experience varies and some require more or less support than others at different points along the their pathway. Support and informational needs may be gender specific and may differ in intensity, for example, for those who may not have support from family and/or friends.
Conclusion
The findings contribute, through a qualitative synthesis, to a greater understanding of the lived experience of BC. The review has pooled the evidence making it more accessible to individual centres where numbers of patients with BC may be small, thus restricting knowledge of the full effects of cancer for this group of patients. This might also explain why the patients' experience for this group of patients has received less attention, compared to other cancer types (e.g. breast). It is noteworthy that these experiences are identified from self-reports, which suggest that discussion of them might be incorporated into the clinical pathway when appropriate. The findings identify the impact of BC upon the lived experience and suggest a need to embed PROMs within care pathways and to encourage care providers to understand their importance.
Notes
Acknowledgements
This work was funded by Yorkshire Cancer Research (grant number S388).
Compliance with ethical standards
Conflict of interest
The authors declare that they have no conflict of interest.
Funding
This work was funded by Yorkshire Cancer Research (grant number S388).
Copyright information
© The Author(s) 2017
Open Access This article is distributed under the terms of the Creative Commons Attribution 4.0 International License (http://creativecommons.org/licenses/by/4.0/), which permits unrestricted use, distribution, and reproduction in any medium, provided you give appropriate credit to the original author(s) and the source, provide a link to the Creative Commons license, and indicate if changes were made.