Abstract
Purpose
Cancer survivors are recommended to perform 150 min/week of moderate or 75 min/week of vigorous aerobic exercise, but it remains unclear how moderate and vigorous intensities can be prescribed. Therefore, it was investigated whether and how intensity prescriptions for healthy adults by the American College of Sports Medicine (ACSM) need to be adapted for breast cancer survivors.
Methods
Fifty-two breast cancer survivors (stage 0–III, age 52 ± 9 years, BMI 25.4 ± 3.5 kg/m2) performed cardiopulmonary exercise tests at the end of primary therapy. Intensity classes defined as percentages of maximal heart rate (HRmax), heart rate reserve (HRR), and maximal oxygen uptake (VO2max) were compared to the ACSM's intensity classes using oxygen uptake reserve as reference.
Results
The prescriptions for moderate and vigorous exercise intensities were significantly different between breast cancer survivors and healthy adults when using VO2max (moderate 50–66 vs. 46–63 and vigorous 67–91 vs. 64–90 % VO2max) or HRR (moderate 26–50 vs. 40–59 and vigorous 51–88 vs. 60–89 % HRR), but not when using HRmax (moderate 65–76 vs. 64–76 and vigorous 77–94 vs. 77–95 % HRmax).
Conclusions
In breast cancer survivors, intensity prescriptions for healthy adults result in considerably too intense training if HRR is used as guiding factor. Prescriptions using VO2max result in a slightly too low exercise intensity, whereas recommendations in percentages of HRmax appear valid.
Implications for Cancer Survivors
Cancer survivors should not uncritically adopt exercise intensity prescriptions for healthy adults. Specific prescriptions for the studied population are provided.
This is a preview of subscription content, log in to check access.
Access options
Buy single article
Instant unlimited access to the full article PDF.
US$ 39.95
Price includes VAT for USA
Subscribe to journal
Immediate online access to all issues from 2019. Subscription will auto renew annually.
US$ 99
This is the net price. Taxes to be calculated in checkout.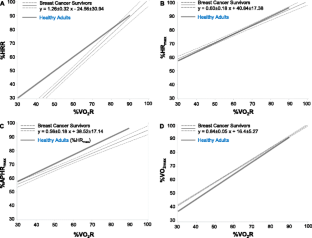 References
1.

Schmitz KH, Courneya KS, Matthews C, Demark-Wahnefried W, Galvao DA, Pinto BM, et al. American College of Sports Medicine roundtable on exercise guidelines for cancer survivors. Med Sci Sports Exerc. 2010;42(7):1409–26.

2.

Irwin ML, Mayne ST. Impact of nutrition and exercise on cancer survival. Cancer J (Sudbury, Mass). 2008;14(6):435–41.

3.

Holmes MD, Chen WY, Feskanich D, Kroenke CH, Colditz GA. Physical activity and survival after breast cancer diagnosis. JAMA. 2005;293:2479–86.

4.

Rock CL, Doyle C, Demark-Wahnefried W, Meyerhardt J, Courneya KS, Schwartz AL, et al. Nutrition and physical activity guidelines for cancer survivors. CA Cancer J Clin. 2012;62(4):243–74.

5.

Hayes SC, Spence RR, Galvao DA, Newton RU. Australian Association for Exercise and Sport Science position stand: optimising cancer outcomes through exercise. J Sci Med Sport. 2009;12(4):428–34.

6.

Jones LW. Evidence-based risk assessment and recommendations for physical activity clearance: cancer. Appl Physiol Nutr Metab. 2011;36(S1):S101–12.

7.

Physical Activities Guidelines Advisory Committee. Physical activity guidelines advisory committee report. Washington: US Department of Health and Human Services; 2008.

8.

Garber CE, Blissmer B, Deschenes MR, Franklin BA, Lamonte MJ, Lee IM, et al. American College of Sports Medicine position stand. Quantity and quality of exercise for developing and maintaining cardiorespiratory, musculoskeletal, and neuromotor fitness in apparently healthy adults: guidance for prescribing exercise. Med Sci Sports Exerc. 2011;43(7):1334–59.

9.

Musanti R. A study of exercise modality and physical self-esteem in breast cancer survivors. Med Sci Sports Exerc. 2012;44(2):352–61.

10.

Dimeo F, Fetscher S, Lange W, Mertelsmann R, Keul J. Effects of aerobic exercise on the physical performance and incidence of treatment-related complications after high-dose chemotherapy. Blood. 1997;90(9):3390–4.

11.

Courneya KS, Stevinson C, McNeely ML, Sellar CM, Friedenreich CM, Peddle-McIntyre CJ, et al. Effects of supervised exercise on motivational outcomes and longer-term behavior. Med Sci Sports Exerc. 2012;44(3):542–9.

12.

Lakoski SG, Eves ND, Douglas PS, Jones LW. Exercise rehabilitation in patients with cancer. Nat Rev Clin Oncol. 2012;9(5):288–96.

13.

Jones LW, Haykowsky M, Peddle CJ, Joy AA, Pituskin EN, Tkachuk LM, et al. Cardiovascular risk profile of breast cancer patients treated with anthracycline-taxane containing adjuvant chemotherapy and/or trastuzumab. J Clin Oncol. 2006;24(18S):666.

14.

Jones LW, Courneya KS, Mackey JR, Muss HB, Pituskin EN, Scott JM, et al. Cardiopulmonary function and age-related decline across the breast cancer survivorship continuum. J Clin Oncol. 2012;30(20):2530–7.

15.

Klassen O, Schmidt M, Scharhag-Rosenberger F, Sorkin M, Ulrich CM, Schneeweiss A, et al. Cardiorespiratory fitness in breast cancer patients undergoing adjuvant therapy. Acta Oncol. 2014;53(10):1356–65.

16.

Schneider CM, Repka CP, Brown JM, Lalonde TL, Dallow KT, Barlow CE, Hayward R. Demonstration of the need for cardiovascular and pulmonary normative data for cancer survivors. Int J Sports Med. 2014.

17.

Potthoff K, Schmidt ME, Wiskemann J, Hof H, Klassen O, Habermann N, et al. Randomized controlled trial to evaluate the effects of progressive resistance training compared to progressive muscle relaxation in breast cancer patients undergoing adjuvant radiotherapy: the BEST study. BMC Cancer. 2013;13:162.

18.

Schmidt ME, Wiskemann J, Krakowski-Roosen H, Knicker AJ, Habermann N, Schneeweiss A, et al. Progressive resistance versus relaxation training for breast cancer patients during adjuvant chemotherapy: design and rationale of a randomized controlled trial (BEATE study). Contemp Clin Trials. 2013;34(1):117–25.

19.

Midgley AW, McNaughton LR, Polman R, Marchant D. Criteria for determination of maximal oxygen uptake: a brief critique and recommendations for future research. Sports Med. 2007;37(12):1019–28.

20.

Cunha FA, Midgley AW, Monteiro WD, Farinatti PT. Influence of cardiopulmonary exercise testing protocol and resting VO2 assessment on %HRmax, %HRR, %VO2max and %VO2R relationships. Int J Sports Med. 2010;31(5):319–26.

21.

Koch B, Schaper C, Ittermann T, Spielhagen T, Dorr M, Volzke H, et al. Reference values for cardiopulmonary exercise testing in healthy volunteers: the SHIP study. Eur Respir J. 2009;33(2):389–97.

22.

Glass S, Dwyer GB. ACSM's metabolic calculations handbook. Philadelphia: Lippincott Williams & Wilkins; 2007.

23.

Wilmore JH, Stanforth PR, Gagnon J, Rice T, Mandel S, Leon AS, et al. Heart rate and blood pressure changes with endurance training: the HERITAGE Family Study. Med Sci Sports Exerc. 2001;33(1):107–16.

24.

Tanaka H, Monahan KD, Seals DR. Age-predicted maximal heart rate revisited. J Am Coll Cardiol. 2001;37(1):153–6.

25.

Jones LW, Eves ND, Haykowsky M, Joy AA, Douglas PS. Cardiorespiratory exercise testing in clinical oncology research: systematic review and practice recommendations. Lancet Oncol. 2008;9(8):757–65.

26.

Meyer T, Gabriel H, Kindermann W. Is determination of exercise intensities as percentages of VO2max or HRmax adequate? Med Sci Sports Exerc. 1999;31(9):1342–5.

27.

Scharhag-Rosenberger F, Meyer T, Gassler N, Faude O, Kindermann W. Exercise at given percentages of VO2max: Heterogeneous metabolic responses between individuals. J Sci Med Sport. 2010;13(1):74–9.

28.

Jones LW, Eves ND, Spasojevic I, Wang F, Il'yasova D. Effects of aerobic training on oxidative status in postsurgical non-small cell lung cancer patients: a pilot study. Lung Cancer. 2011;72(1):45–51.

29.

Jones LW, Peddle CJ, Eves ND, Haykowsky MJ, Courneya KS, Mackey JR, et al. Effects of presurgical exercise training on cardiorespiratory fitness among patients undergoing thoracic surgery for malignant lung lesions. Cancer. 2007;110(3):590–8.

30.

Dimeo F, Tilmann MH, Bertz H, Kanz L, Mertelsmann R, Keul J. Aerobic exercise in the rehabilitation of cancer patients after high dose chemotherapy and autologous peripheral stem cell transplantation. Cancer. 1997;79(9):1717–22.

31.

Dolan LB, Gelmon K, Courneya KS, Mackey JR, Segal RJ, Lane K, et al. Hemoglobin and aerobic fitness changes with supervised exercise training in breast cancer patients receiving chemotherapy. Cancer Epidemiol Biomarkers Prev. 2010;19(11):2826–32.

32.

Vincent F, Labourey J-L, Leobon S, Antonini M-T, Lavau-Denes S, Tubiana-Mathieu N. Effects of a home-based walking training program on cardiorespiratory fitness in breast cancer patients receiving adjuvant chemotherapy: a pilot study. Eur J Phys Rehabil Med. 2013;49:319–29.

33.

MacVicar MG, Winningham ML, Nickel JL. Effects of aerobic interval training on cancer patients' functional capacity. Nurs Res. 1989;38(6):348–51.

34.

Colberg SR, Swain DP, Vinik AI. Use of heart rate reserve and rating of perceived exertion to prescribe exercise intensity in diabetic autonomic neuropathy. Diabetes Care. 2003;26(4):986–90.

35.

Pinet BM, Prud'homme D, Gallant CA, Boulay P. Exercise intensity prescription in obese individuals. Obesity. 2008;16(9):2088–95.

36.

Brawner CA, Keteyian SJ, Ehrman JK. The relationship of heart rate reserve to VO2 reserve in patients with heart disease. Med Sci Sports Exerc. 2002;34(3):418–22.
Acknowledgments and Funding Information
The BEST study was funded by the Interdisciplinary Research Funding Program (intramural) of the National Center for Tumor Diseases (NCT) Heidelberg and supported by the Foundation "Stiftung Leben mit Krebs." Dr. Wiskemann was personally supported by the Manfred-Lautenschlaeger-Foundation.
Conflict of interest
The authors declare that they have no competing interests.
Additional information
Karen Steindorf and Joachim Wiskemann shared last authorship.
About this article
Cite this article
Scharhag-Rosenberger, F., Kuehl, R., Klassen, O. et al. Exercise training intensity prescription in breast cancer survivors: validity of current practice and specific recommendations. J Cancer Surviv 9, 612–619 (2015) doi:10.1007/s11764-015-0437-z
Received:

Accepted:

Published:

Issue Date:
Keywords
Cancer patients

Supportive therapy

Physical activity

Endurance training

Aerobic training

Aerobic exercise