Abstract
Objective
Lung autotransplantation was originally developed to avoid pneumonectomy for centrally located lung cancer. We herein report our experience with lung autotransplantation for the treatment of various types of lung diseases.
Methods
This is a single-center case series of lung autotransplantation with ex vivo bench surgery. Five patients underwent lung autotransplantation between September 2014 and October 2018. A common surgical technique was as follows: pneumonectomy was first completed. The intact lobes were then separated ex vivo, flushed using cold ET-Kyoto solution on a back table, and reimplanted.
Results
The indications for lung autotransplantation were postpneumonectomy-like syndrome, locally advanced lung cancer, pulmonary artery sarcoma, central lung cancer, and bronchopleural fistula after right upper bronchial sleeve lobectomy. No major post-transplant complications were observed except for mild stenosis of bronchial anastomosis in one case that required bronchial intervention. One patient died of recurrence of pulmonary artery sarcoma 14 months after surgery. The other patients are alive without any recurrence of the native respiratory diseases or symptoms.
Conclusions
Lung autotransplantation following ex vivo bench surgery was found to be technically feasible for various lung diseases, showing a favorable early post-transplant outcome.
This is a preview of subscription content, log in to check access.
Access options
Buy single article
Instant unlimited access to the full article PDF.
US$ 39.95
Price includes VAT for USA
Subscribe to journal
Immediate online access to all issues from 2019. Subscription will auto renew annually.
US$ 99
This is the net price. Taxes to be calculated in checkout.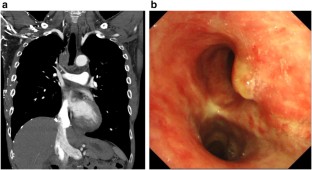 References
1.

Tanaka S, Sugimoto S, Soh J, Oto T. Long-term outcomes of pneumonectomy, back-table lung preservation, double-sleeve resection and reimplantation for advanced central lung cancer: the Oto procedure. Eur J Cardiothorac Surg. 2019;56:213–4.

2.

Watanabe Y, Sato M, Nakamura Y, Hoshikawa Y, Harada A, Nagata T, et al. Right lower lobe autotransplantation for locally advanced central lung cancer. Ann Thorac Surg. 2015;99:323–6.

3.

Oto T, Kiura K, Toyooka S, Miyoshi S. Basal segmental auto-transplantation after pneumonectomy for advanced central lung cancer. Eur J Cardiothorac Surg. 2012;42:579–81.

4.

Tryfon S, Zarogoulidis P, Tsavlis D, Tsirgogianni K, Zissimopoulos A, Kioumis I, et al. Ex situ reimplantation technique, in central lung tumors. Ann Transl Med. 2015;3:178.

5.

Karube Y, Chida M, Nishihira M, Inoue T, Araki O, Kobayashi S, et al. Back-table procedure and auto-lung transplantation for locally advanced lung cancer: a case report. J Cardiothorac Surg. 2016;11:3.

6.

Hamaji M, Chen-Yoshikawa TF, Date H. Completion pneumonectomy and auto-transplantation for bronchopleural fistula. J Thorac Cardiovasc Surg. 2019;158:e121–e123123.

7.

Chen F, Takahagi A, Sakamoto K, Date H. Lung autotransplantation technique for postpneumonectomy-like syndrome. J Thorac Cardiovasc Surg. 2015;150:e45–e4747.

8.

Date H, Aoe M, Nagahiro I, Sano Y, Andou A, Matsubara H, et al. Living-donor lobar lung transplantation for various lung diseases. J Thorac Cardiovasc Surg. 2003;126:476–81.

9.

Date H, Sato M, Aoyama A, Yamada T, Mizota T, Kinoshita H, et al. Living-donor lobar lung transplantation provides similar survival to cadaveric lung transplantation even for very ill patients†. Eur J Cardio-Thoracic Surg. 2015;47:967–73.

10.

Yamashita T, Hamaji M, Nakanobo R, Aoyama A, Chen-Yoshikawa TF, Sonobe M, et al. Ex vivo sleeve lobectomy and autotransplantation after chemoradiation. Ann Thorac Surg. 2019;107:e341–e343343.

11.

Jiang F, Xu L, Yuan F, Huang J, Lu X. Lung autotransplantation technique in the treatment for central lung cancer of upper lobe. J Thorac Oncol. 2008;3:609–11.

12.

Reardon MJ, Walkes J-CM, Rice DC. Autotransplantation for central non-small-cell lung cancer in a patient with poor pulmonary function. Tex Heart Inst J. 2004;31:360–2.

13.

Mussot S, Ghigna M-R, Mercier O, Fabre D, Fadel E, Le Cesne A, et al. Retrospective institutional study of 31 patients treated for pulmonary artery sarcoma†. Eur J Cardio-Thoracic Surg. 2013;43:787–93.

14.

Yin K, Zhang Z, Luo R, Ji Y, Zheng D, Lin Y, et al. Clinical features and surgical outcomes of pulmonary artery sarcoma. J Thorac Cardiovasc Surg. 2018;155(1109–1115):e1.

15.

Grazioli V, Vistarini N, Morsolini M, Klersy C, Orlandoni G, Dore R, et al. Surgical treatment of primary pulmonary artery sarcoma. J Thorac Cardiovasc Surg. 2014;148:113–8.

16.

Deng L, Zhu J, Xu J, Guo S, Liu S, Song Y. Clinical presentation and surgical treatment of primary pulmonary artery sarcoma. Interact Cardiovasc Thorac Surg. 2018;26:243–7.

17.

Krüger I, Borowski A, Horst M, de Vivie E, Theissen P, Gross-Fengels W. Symptoms, diagnosis, and therapy of primary sarcomas of the pulmonary artery. Thorac Cardiovasc Surg. 1990;38:91–5.
Ethics declarations
Conflict of interest
The authors have no conflicts of interest to disclose.
Additional information
Publisher's Note
Springer Nature remains neutral with regard to jurisdictional claims in published maps and institutional affiliations.
Electronic supplementary material
Below is the link to the electronic supplementary material.
Supplementary file1 (MP4 56730 kb)
About this article
Cite this article
Nakajima, D., Ohsumi, A., Hamaji, M. et al. Expanded indications for auto-lung transplant technique. Gen Thorac Cardiovasc Surg (2020). https://doi.org/10.1007/s11748-020-01289-3
Received:

Accepted:

Published:
Keywords
Lung autotransplantation

Pneumonectomy

Lung cancer

Ex vivo surgery