Abstract
Scimitar syndrome is a rare congenital anomaly in which the right lung is hypoplastic and a scimitar vein is draining into the inferior vena cava. It is known to be sometimes complicated with pulmonary sequestration. However, a right single pulmonary vein draining normally into the left atrium is rare. Here, we report a case of variant scimitar syndrome complicated by intralobar pulmonary sequestration containing an adenocarcinoma. In this case, the aberrant arteries from the abdominal aorta were ligated and the pulmonary sequestration containing adenocarcinoma was completely removed through wedge resection. Twenty months after the surgery, the patient was alive without cancer recurrence. An elaborate preoperative plan is important for safety in cases with vascular malformation.
This is a preview of subscription content, log in to check access.
Access options
Buy single article
Instant unlimited access to the full article PDF.
US$ 39.95
Price includes VAT for USA
Subscribe to journal
Immediate online access to all issues from 2019. Subscription will auto renew annually.
US$ 99
This is the net price. Taxes to be calculated in checkout.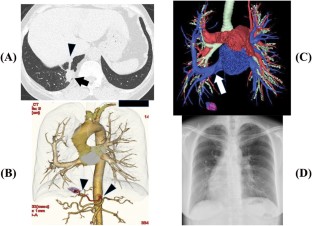 References
1.

Cukier A, Kavakama J, Teixeira LR, Terra-Filho M, Vargas FS. Scimitar sign with normal pulmonary venous drainage and systemic arterial supply: scimitar syndrome or bronchopulmonary sequestration? Chest. 1994;105:294–95.

2.

Gonzalez M, Bize P, Ris HB, Krueger T. Scimitar syndrome in association with intrapulmonary sequestration. Eur J Cardiothorac Surg. 2011;40:273.

3.

Siu CW, Cheung SCW, Chan CWS, Jim MH, Tse HF. Contrast-enhanced computed tomography of adult scimitar syndrome (variant form). Asian Cardiovasc Thorac Ann. 2009;17:662.

4.

Bo I, Carvalho JS, Cheasty E, Rubens M, Rigby ML. Variants of the scimitar syndrome. Cardiol Young. 2016;26:941–7.

5.

Legras A, Guinet C, Alifano M, Lepilliez A, Régnard JF. A case of variant scimitar syndrome. Chest. 2012;142:1039–41.

6.

Wang TKM, Oh T, Ramanathan T. Thoracoscopic lobectomy for synchronous intralobar pulmonary sequestration and lung cancer. Ann Thorac Surg. 2013;96:683–5.

7.

Belchis D, Cowan M, Mortman K, Rezvani B. Adenocarcinoma arising in an extralobar sequestration: a case report and review of the literature. Lung Cancer. 2014;84:92–5.
Ethics declarations
Conflict of interest
The authors declare that they have no competing interests.
Additional information
Publisher's Note
Springer Nature remains neutral with regard to jurisdictional claims in published maps and institutional affiliations.
Electronic supplementary material
Below is the link to the electronic supplementary material.
Video 1. The wedge resection of intralobar pulmonary sequestration through VATS was performed. The aberrant artery arising from the abdominal aorta was divided into two vessels in the right thoracic cavity, and each artery was ligated first. Then, the boundary between normal lung parenchyma and intralobar pulmonary sequestration was divided with linear stapler. Finally, the resected specimen was introduced in a bag and removed from the thorax cavity. (MPG 283336 KB)
About this article
Cite this article
Kayawake, H., Motoyama, H. & Date, H. Variant scimitar syndrome with intralobar pulmonary sequestration containing adenocarcinoma. Gen Thorac Cardiovasc Surg 68, 74–76 (2020). https://doi.org/10.1007/s11748-019-01098-3
Received:

Accepted:

Published:

Issue Date:
Keywords
Pulmonary sequestration

Scimitar syndrome

Variant

Adenocarcinoma