Abstract
We present a rare case of common carotid artery with acute type A aortic dissection. A 72-year-old woman underwent emergent aortic arch repair using Antegrade selective cerebral protection. Bottom-tapped cannulae were inserted into three orifices of arch vessels, however, regional cerebral oxygen saturation decreased after rewarming. We found that arch branches were in order from front to back, right subclavian artery, common carotid trunk, and left subcravian artery. The patient complicated stroke in the right middle cerebral artery.
This is a preview of subscription content, log in to check access.
Access options
Buy single article
Instant unlimited access to the full article PDF.
US$ 39.95
Price includes VAT for USA
Subscribe to journal
Immediate online access to all issues from 2019. Subscription will auto renew annually.
US$ 99
This is the net price. Taxes to be calculated in checkout.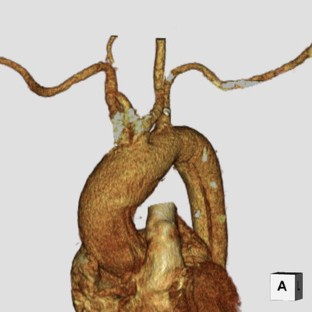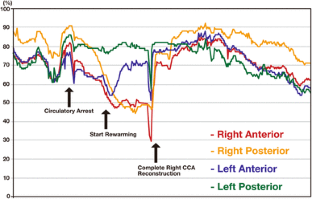 References
1.

Ehren H, Wells TR, Landing BH. Association of common origin of the carotid arteries with anomalous origin of the left coronary artery from the pulmonary artery. Pediatr Pathol. 1985;4:59–66.

2.

Natsis KI, Tsitouridis IA, Didagelos MV, Fillipidis AA, Vlasis KG, Tsikaras PD. Anatomical variations in the branches of the human aortic arch in 633 angiographies: clinical significance and literature review. Surg Radiol Anat. 2009;31:319–23.

3.

Urbanski PP, Lenos A, Lindemann Y, Weigang E, Zacher M, Diegeler A. Carotid artery cannulation in aortic surgery. J Thorac Cardiovasc Surg. 2006;132:1398–403.
Ethics declarations
Conflict of interest
Yuki Ikeno has no conflict of interest; Masamichi Matsumori has no conflict of interest. Koki Yokawa has no conflict of interest. Soichiro Henmi has no conflict of interest. Hidekazu Nakai has no conflict of interest. Takashi Matsueda has no conflict of interest. Katsuhiro Yamanaka has no conflict of interest. Takeshi Inoue has no conflict of interest. Hiroshi Tanaka has no conflict of interest. Yutaka Okita has no conflict of interest.
Electronic supplementary material
Below is the link to the electronic supplementary material.
Supplementary material 1 (MP4 46452 KB)
About this article
Cite this article
Ikeno, Y., Matsumori, M., Yokawa, K. et al. A case of type A acute aortic dissection with a common carotid trunk. Gen Thorac Cardiovasc Surg 67, 637–639 (2019). https://doi.org/10.1007/s11748-018-0953-7
Received:

Accepted:

Published:

Issue Date:
Keywords
Aortic arch anomaly

Vascular ring

Acute type A dissection

Aortic arch repair