Abstract
Objective
The variety and incidence of postoperative complications seem to have changed with recent progress in thoracic surgery. This study attempted to improve our recognition of postoperative bleeding.
Methods
Among 1143 patients undergoing pulmonary resection for pulmonary nodules, ten underwent surgical treatment for postoperative bleeding. Clinical and pathologic data were analyzed. Additionally, the relationship between the bleeding point and an increased amount of drained bloody effusion before the second operation was analyzed.
Results
The bleeding point was recognized in eight cases: the intercostal artery (n = 4), the lung (n = 2), aberrant vessel of the apex of the lung (n = 1) and the bronchial artery (n = 1). The bleeding points were unknown in two cases in whom the decision to perform a second operation was delayed. Potential reasons or influential factors for bleeding were stapling complications (n = 4), low coagulation ability (n = 2) and intraoperative injury (n = 1). We experienced two cases in which intercostal arterial bleeding was induced by scratching the thoracic wall or the vertebra with the edge of the reinforced stapling line or the sharp edge of a broken staple at the first operation. We divided patients into three groups based on the interval between operations. Bleeding from the arteries seemed to show a higher rate of bleeding per hour than that from the lung parenchyma.
Conclusion
The bleeding points and speculated reasons for bleeding varied among patients. We were able to cure all ten cases. It might be dependent on the rapid decision of reoperation in cases with arterial bleeding was suspected.
This is a preview of subscription content, log in to check access.
Access options
Buy single article
Instant access to the full article PDF.
US$ 39.95
Price includes VAT for USA
Subscribe to journal
Immediate online access to all issues from 2019. Subscription will auto renew annually.
US$ 99
This is the net price. Taxes to be calculated in checkout.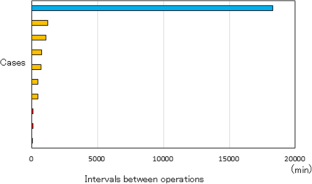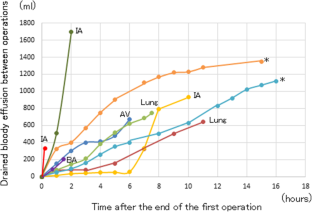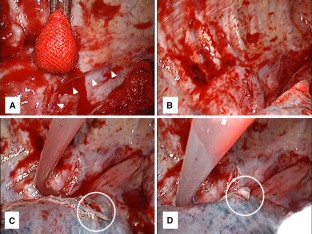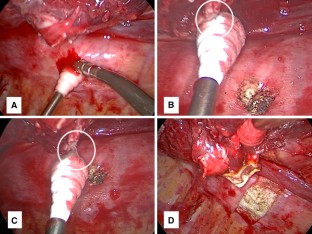 References
1.

Péterffy A, Henze A. Haemorrhagic complications during pulmonary resection. A retrospective review of 1428 resections with 113 haemorrhagic episodes. Scand J Thorac Cardiovasc Surg. 1983;17:283–7.

2.

Sirbu H, Busch T, Aleksic I, Lotfi S, Ruschewski W, Dalichau H. Chest re-exploration for complications after lung surgery. Thorac Cardiovasc Surg. 1999;47:73–6.

3.

Foroulis CN, Kleontas A, Karatzopoulos A, Nana C, Tagarakis G, Tossios P, et al. Early reoperation performed for the management of complications in patients undergoing general thoracic surgical procedures. J Thorac Dis. 2014;6(Suppl 1):21–31.

4.

Yang Y, Gao W, Zhao H, Yang Y, Shi J, Sun Y, et al. Risk factors and consequences of perioperative reoperation in patients undergoing pulmonary resection surgery. Surgery. 2016;159:591–601.

5.

Solaini L, Prusciano F, Solaini L, Carletti M. Video-assisted thoracoscopic surgery for postoperative hemothorax. Thorac Cardiovasc Surg. 2011;59:475–8.

6.

Yano M, Iwata H, Hashizume M, Shigemitsu K, Adachi K, Tokui T, et al. Adverse events of lung tissue stapling in thoracic surgery. Ann Thorac Cardiovasc Surg. 2014;20:370–7.

7.

Yano M, Takao M, Fujinaga T, Arimura T, Fukai I, Ota S, et al. Adverse events of pulmonary vascular stapling in thoracic surgery. Interact Cardiovasc Thorac Surg. 2013;17:280–4.

8.

Yano M, Yokoi K, Numanami H, Kondo R, Ohde Y, Sugaya M, et al. Complications of bronchial stapling in thoracic surgery. World J Surg. 2014;38:341–6.

9.

Qu J, Chen G, Xie B, Ding J, Jiang G. Progressive chest wall bleeding caused by bronchial stump nails after lobectomy. Thorac Cardiovasc Surg. 2015;63(1):77–9.
Ethics declarations
Conflict of interest
All authors declare no conflicts of interest in the present study.
Additional information
Publisher's Note
Springer Nature remains neutral with regard to jurisdictional claims in published maps and institutional affiliations.
About this article
Cite this article
Yano, M., Numanami, H., Akiyama, T. et al. Reoperation for postoperative bleeding following pulmonary resection: a report of a single-center experience. Gen Thorac Cardiovasc Surg 67, 608–614 (2019). https://doi.org/10.1007/s11748-018-01060-9
Received:

Accepted:

Published:

Issue Date:
Keywords
Reoperation

Postoperative bleeding

Pulmonary resection